ClassyBeef is a streaming project from Malta that consists of four members. The boys make videos in which they play slots for real money. Having started to stream live videos about one and a half years ago, they rapidly gained popularity thanks to their entertaining and exciting content. Now ClassyBeef is one of the largest casino streaming projects. They have ninety thousand followers on Twitch, with the total hours streamed being more than 5,200 (as of June 16, 2020). The number of views on the ClassyBeef channel exceeds 5,7 million.
Obviously, the guys started with small stakes. Now they bet various amounts (including, for example, €10 per spin), but as a rule, they make bets which are affordable for most average people. Sometimes, though, ClassyBeef takes really big risks (such as bonus buys), which is very interesting to watch. Still, the most impressive live streams are when the lads bet small amounts and hit huge wins.
The first live stream to be made by ClassyBeef got 11 viewers (February 6, 2019). Now the streamers have thousands of views almost every day. The peak was recorded on August 31 — 38,669 viewers.
ClassyBeef Team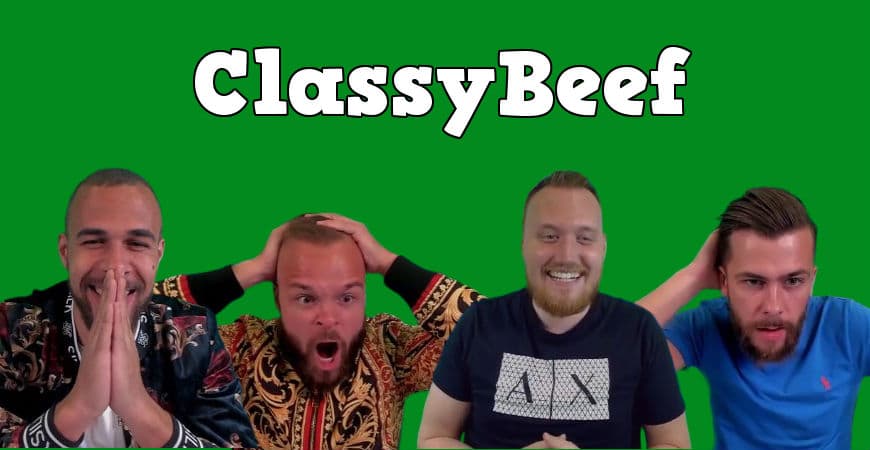 As has been mentioned, ClassyBeef currently consists of five members. These are:
Joe;
Espen;
Nando;
Jonte;
Lamar.
It was Espen and Joe who created the project. The lads met at work and decided to launch their own casino streaming channel, where they would play slot machines for real money. As a result, it proved a success, so they agreed to hire new employees. Thus, now the team has three other members as well: Jonte, Lamar, and Nando. The newest of them are Jonte and Lamar — they joined ClassyBeef in October 2020. In the video where both of them were introduced, they express the hope that viewers will like them.
ClassyBeef had other members: Marko (markoLASSO) and Kevin, but they are no longer in the team. You can find some videos of them on the boys' channel.
Apart from spinning reels, the members of ClassyBeef go karting, enjoy Thai massage, and, of course, eat beef!
Other streamers: Roshtein: A Fake or a Real Winning Player?
Is ClassyBeef a fake?
It is not. They play for their own money; sometimes casinos give them bonuses, but that's all. ClassyBeef gambles on large casinos, which would just lose the license in case of promoting fake gambling.
The boys can lose plenty of money in a month and then get it back in another from a different source. Note that they don't announce how much they earn in general.
The streamers from ClassyBeef play fair and don't fool people.
Biggest Wins of ClassyBeef Streamer
ClassyBeef is notable for hitting big prizes. They are not afraid to take their chances and make some serious bets, though most of the time their stakes are moderate. No wonder the reactions of the guys are funny to look at — they manage to get big winnings out of small bets. The members of ClassyBeef constantly try new slots, so you won't be bored when watching their numerous videos. What's more, the streamers tend to explain the mechanics of the slots they play as well as provide different tips on them. Their content is not entertaining only — it is informative as well.
Now, we'd like to present three great videos by ClassyBeef where they get huge winnings. The figures in brackets mean multiplying the bet size, preceded by the name of the slot. Keep in mind that these videos are only highlights from longer sessions.
3rd place: Punk Rocker (3302Х)
The video features Joe, who made a bet of €10 per spin — and bought a bonus round for as much as €2,440! This round called Civil War gave Joe eight free spins and 729 pay lines (the standard number being 243). Unlike the other Punk Rocker bonus game Anarchy, which costs €800, Civil War gives 4 Wild symbols instead of 3. It also adds the sixth reel to the standard five. Furthermore, this round comes with five bonus features. You can see a subway train above the reels, where carriages represent different modifiers to the reels, including Wild Multiplier of up to 25x. These modifiers are activated on the reels with Jumping Wilds (the Scatter).
During the first spin, Joe gets two 2x and wins €48. Then again two 2x and… €8. The next drop gives Joe one bonus spin, 2x, and €75. Finally, he gets lucky, hitting 25x and getting five Mixing Board symbols together, which gives him €3,120. Then 5x and a great many Molotov Cocktail symbols: 28,800 euros! Joe is over the moon, exclaiming, "28K! Holy f**k! Oh my God, 28K was that! Who said this game couldn't pay?" The last two spins bring Joe another €488 coupled with €400, as well as €10 in the very end. So, Joe's total win in this game amounts to 33,029 euros, which is 3302x his bet size!
2nd place: Vikings Unleashed Megaways (4172X)
As is the case with the previous game, the video starts with Joe using the bonus buy function. This time, he bought it for €500, betting €5 per spin. Vikings Unleashed Megaways has a peculiar feature: once you get free spins, you can gamble on the initial multiplier and number of spins. Fortunately, Joe was able to achieve the best result possible, that is, twenty-seven spins and a 10x multiplier. Here we go!
The first spin gave Joe €120 and increased the multiplier to 11x. Next, there were many dead spins (more than ten), which gave nothing. Joe was getting frustrated, saying, "You've got to be sh***ing me." When there remained five spins, the only progress achieved was a multiplier of 17x and €270. Joe seemed to be losing all hope, his comments being "F**k this game. I don't know what to say." Then, all of a sudden, when his multiplier was 20x, he got an extremely cool combination, which resulted in more than twenty thousand euros! His delight was unspeakable. He yelled, "Oh, redemption! 20K in one hit! Holy… Gave me the money back!" The last drops were of no great significance, but it doesn't matter ‒ Joe received €20.859, which is 4172x his stake.
1st place: Fruit Party (5000X)
This one was played by Nando, the newest member. He bet €20. What is funny about this video is that Nando won a huge amount of money and managed to miss it as he was distracted by another game, Extra Chilli. He was calmly watching it and suddenly noticed — Fruit Party gave him 100 thousand euros in one drop! The reels of this 7×7 slot got a great combination of Apple symbols, which resulted in the biggest win and 5000x the bet size. Nando nearly went crazy with happiness, starting to call Joe to share his success.
So that's what the fellows from ClassyBeef get. Of course, it's not every day the streamers manage to win such amounts: often you have to lose before you gain. But isn't it worth it?
ClassyBeef Socials
Apart from the Twitch streaming platform, the guys have accounted for ClassyBeef on several social networking services as well as YouTube. Speaking of the latter, their ClassyBeef Twitch Highlights has 5,7K followers and almost a million views. The figures are pretty good, taking into account the channel was registered there months ago. It is used to share the biggest wins and the funniest moments from their live streams.
The boys have ClassyBeef pages on Twitter and Instagram, where they share interesting information about their recent games, wins, and so on. There was also the Facebook community, though it seems to be unavailable now. As for Reddit, it is either not public or just doesn't exist.
Other Streamers: Casinodaddy ‒ a Real Charismatic Influencer in Gambling
Bottomline on ClassyBeef Project
ClassyBeef is a relatively young and rather successful project that streams cool videos about playing slot machines. Their content is really entertaining thanks to the big winnings they get now and again. Besides, the amusing reactions of the guys add to the positive nature of their videos. The channel is getting the more popular and exciting, being nice leisure for gamblers and ones who are just fond of watching good live videos.