Have you ever dreamt about winning big sums? Perhaps, yes. People who really love gambling, ask themselves how to do it. Here is an article about a guy who plays and wins regularly. Like many other streamers, this one makes videos about slots. But RistikaksiCom has just begun streaming, so he is not yet that popular.
Anyway, if you are familiar with names like Roshtein, you will like the new streamer. Watch his videos and learn which games to play or strategies to apply. Besides, you can get some useful advice about playing slots.
People like watching streams because they find it interesting to observe others' playing. You can also join them and discuss the sessions in the live chat. Along with that, it's possible to register on the streamer's website and chat with other players.
RistikaksiCom's Career Beginning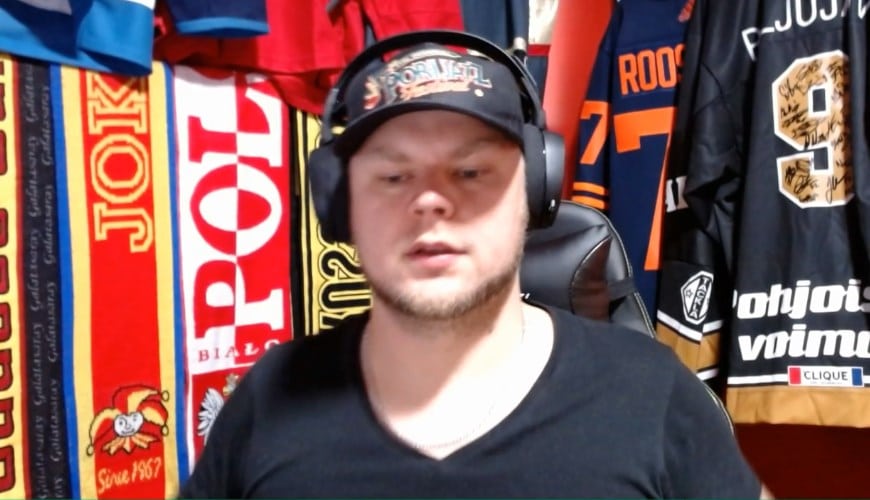 This streamer shared his personal information, so we have a lot to tell about him. First of all, there are two people working on the project. They are Stobe and Roosteeni, coming from Finland. As they say, their goal is to be the largest casino streaming channel in Finland. Well, we hope they will do it.
This team began to work one month ago. Right now, they stream approximately 4-5 times a week, but they are not going to stop here. Indeed, RistikaksiCom Streamer has something to look forward to. This ambitious team is planning to extend its business.
They spent a year developing their own website devoted to casino games. The work they've done is impressive. We will cover this topic later, and now just look at these numbers.
The streamer has 230 subscribers on Facebook, 112 on Twitter, and 1383 on Twitch. It's not the biggest audience ever, but it's pretty good for beginners. As you see, the RistikaksiCom Twitch account is the main one. There are the majority of streams. Though there is a YouTube channel, the streamer doesn't have a lot of videos there. But he achieved great results for a month.
RistikaksiCom Is Becoming Popular
It's hard to say now that RistikaksiCom Casino Streamer is extremely well-known. But he's working hard and attracting more new viewers. Besides, his website is a good way of career promotion. Right now, there are more than 400 customers. The team has posted more than 160 different reviews about game providers. Moreover, they reviewed more than 900 slots, 100 bookmakers, 300 online casinos, and so on. It seems like these guys are not going to stop here.
Still, the YouTube channel was created in July 2019. There are 85,321 views for that period! The most viewed videos are those where the streamer wins. We believe that this streamer will achieve great success one day.
This is a fine example of how big efforts bring big benefits. Perhaps, this streamer will encourage you to create your own streaming channel.
RistikaksiCom's Website
We've already mentioned the site before. It deserves special attention. The homepage contains brief information about the latest events, winnings, and articles' annotations. The players can also see that there are useful guides about games' rules and strategies.
Generally, RistikaksiCom streams about slots. But the site is devoted to traditional games and betting as well. For example, there is a lot of useful information about blackjack, sports betting, and so on.
The section "Tips" comes next. The name speaks for itself. Here RistikaksiCom Streamer posts some educational articles and guides. Those who have just begun to play can learn a lot from there. Mainly, information about sports betting is described there.
Let's move to the "Casino" section. The streamer has listed several trustworthy brands there. New players frequently don't know which one to select. This is a perfect help for beginners. There are several categories of recommended casinos. They are the best, instant, and the newest ones. Besides, Finnish brands are naturally represented there. If you are interested, visit the website.
"Daily Bargains" is another section. It contains the list of brands where you can create an account for further deals. Players can offer their own deals if they wish to.
"Bonuses" is probably the most visited section. RistikaksiCom recommends various brands which provide many bonuses. As usual, they are free spins, cash, or chips. The streamer explains why they are useful.
The last section is called "Winning Images". Lucky players can share the screenshots with other users. You can see how much they have won. The sums vary from €40 to €1,800. At least, this is what the site shows first. There are many more pictures.
Biggest Wins of RistikaksiCom
What a streamer wouldn't share his largest wins and the luckiest sessions? This one is no exception. We are going to share the videos with the biggest wins of the RistikaksiCom Casino Streamer. These are cool results for a novice.
484X on Jungle Spirit
Here one of these guys plays at Jungle Spirit. A beautifully designed game is not that easy to win. The player should collect as many tigers as possible. In the middle of this short video, he got a fantastic combination. The won amount of money is €2420 (484X). The original stake was just €5!
969X on Razor Shark
Here Roosteeni plays. The game's name is Razor Shark. The stake's size is €5. Various shark symbols provide a larger win when collected together. The main wild symbol is the Razor Shark. This short video shows an amazing example of winning. The streamer won €4849 (969X).
1649X on Danger High Voltage
Roosteeni plays again. Danger High Voltage is an exciting slot game where he tries to win. The stake is €4. He uses 13 free spins. The goal is to collect the symbols called "Wild". Funny, but there are just letters "Wide", no special picture, or something. At last, RistikaksiCom wins €6597,4 (1649X).
During all the videos, the viewers discuss the session in the live chat. They are really happy with the streamer. The man himself is very emotional and funny. You can see that his reactions are sincere. You may think that other streamers like ClassyBeef have won bigger sums. But this is just the beginning of his career.
Overview
Let us make a conclusion. There are plenty of other famous streamers. But this one surely deserves your attention. RistikaksiCom is just a beginner, but he has a big audience after a month of streaming. He spent a lot of time and effort on the site, which looks really attractive and useful.
He has several accounts on social media platforms. RistikaksiCom Twitter profile contains relevant news about the latest streams and videos. There are 112 people who read this profile. RistikaksiCom Facebook account has a few more subscribers (240). The team shares posts about their wins and upcoming streams.
We believe that if you're interested in gambling, you could support this streamer. But there is a little drawback – he streams in Finnish only. Still, even non-natives can understand what the video is about. The slot games are usually typical and don't differ a lot.
By the way, this streamer shared his personal information (quite a rare thing). This shows that he's an open person who likes to communicate with his audience. Very few streamers tell a lot about themselves for some reason.
On the whole, this guy has a lot of prospects in the future. We see that he's very ambitious and purposeful. It can be clearly understood after visiting the website. RistikaksiCom involved a lot of experienced specialists to develop a useful resource. All they had dealt with casino games for decades.
FAQ
❓
Are There Any Bonuses and Promotions?
✔️ Yes, RistikaksiCom Streamer regularly posts information about reliable casinos with many bonuses. They are listed on his website. The brands are even categorized. Just visit the site and check it for the newest companies with generous promotions.
❓ Why to Watch Him?
✔️ Though he's a beginner, his team works hard on improving the streams. He tries to make them fascinating and attractive. As he claims, his goal is to become the top streamer of Finland. He tries to create the biggest gambling community in the country.
❓
Where to Watch His Streams?
✔️ RistikaksiCom streams on Twitch mainly. Apparently, this platform suits more than YouTube for this purpose. Each video has hundreds of views. The schedule is not yet regular, but he streams at least 3 times a week.
❓ Why Does Roosteeni Streamer More Frequently?
✔️ We don't know the reason, but we can suggest that he's the founder of the project. Probably, Stobe is his close friend or just an assistant which helps him from time to time.