Who Is Roshtein? A Genius Businessman or a Trickster?
In the time of the Internet a lot of people gain their popularity via video content they produce through the web. One of such videobloggers is a guy with a nickname Roshtein. He earned his name in an exciting and very risky field ‒ recording streams during his game in various online casinos. But Roshtein is not limited to glory: he also became a multimillionaire, and at the same time ‒ one of the key influences of the gambling world.
His viewers have various attitudes towards Roshtein: some openly admire his manner of playing, interesting content and original style of the streamer himself, he annoys others, and still, there are people who watch his streams but consider the Internet product Roshtein to be fake. If you are interested in some casino's reviews or streams of a lot spinning you have probably seen at least one of videos where a guy in a remarkable black hat wins overwhelming jackpots. Do you?
There is no doubt that Roshtein is a king of phenomena in today's Internet culture but if he is really a self-made man or a sophisticatedly customed product of marketing strategy of some casinos? We decided to make or own investigation on this streamer's activity.
And to begin with, let us introduce you Roshtein as a digital media star and as a real person.
A Bit of Real Info about Roshtein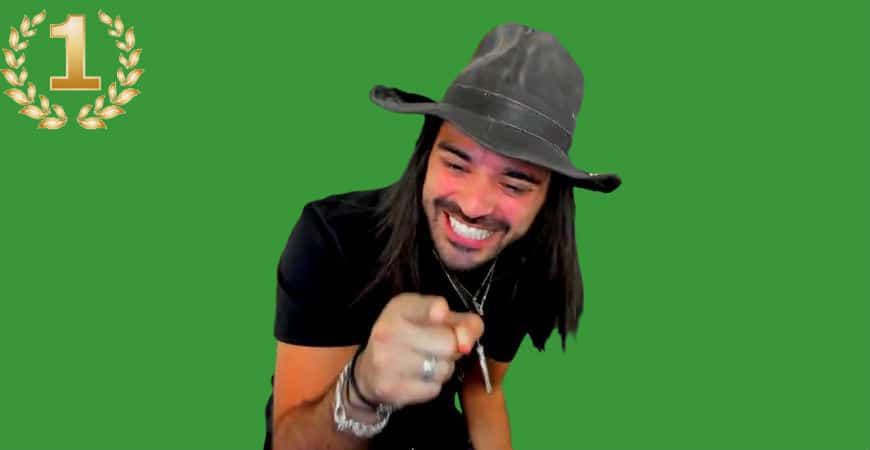 Believe it or not, Roshtein's Twitch account is only about 5 years old. And we can say that over these 5 years he has acquired an impressive number of followers, which has exceeded the mark of 200,000+ people. By the way, it was the Twitch platform that became gold-bearing for the streamer. He also has his own channel on the largest YouTube video platform but there his popularity is slightly lower. Either the matter is in comfort for Roshtein himself, or, maybe, his potential audience thinks with him on the same wavelength and really actively watches a video on Twitch.
If YouTube and Twitch channels for Roshtein are part of his work, then we can learn about the streamer's personal life from his Instagram. By the way, it was his Instagram account that became the main weapon for haters against Roshtein: he is constantly criticized for defiantly expensive purchases, too pronounced acting style and for attempts to elevate himself to the rank of a celebrity. However, why should he try to do that if Roshtein is already the celebrity of the digital world, especially among its gambler part?
What do we know about Roshtein's offline life? A little bit, we can say. Roshtein real name is Ishmael Swartz. He is probably Sweden or lived in Swede for some years. But due to his name and appearance, it is also possible him being of a Jewish origin. All the info we can get about his private life is that he definitely likes traveling and travels a lot, that he is gladly communicating with his fans and followers in Instagram and Twitch and that he has a good sense of humor. Well, that's enough to picture him as a personality that shows out only his bright sides. And that is quite obvious if you see Roshtein Instagram.
How Does He Do That?
From the first video that appeared on Twitch in 2015, we can see that Roshtein gets a king's ransom – he had won 5000 euros and then – 900 euros in just less than a half of an hour. Is it a real chance or a trick? Opinions differ.
The fact is that in his 5-year stream making career, Roshtein has already gained the average yearly income of $680,400. But those numbers are just probably not final.
What is a secret of his popularity and really outstanding luck? We can say that his prospect is based on a few reasons:
He really works hard to make cool content while streaming. And it is not only spending time in high-class online casinos like Kassu Casino but also in improving his video editing skills, making his streams more lively and informative. That is a path he follows since the beginning and he gains great results on it.
He is surely doing great work analyzing and developing game strategies while spinning slots. There is no secret that some gamblers use math principles or thoroughly count on how to bet with minimal losses and maximum profit. Should we tell that Roshtein Twitch streams are a result of his skills and knowledge combined with amazing charisma and a bit of luck?
He is communicating with his audience to make it interested in his streams. And that is both verbal and non-verbal communication that makes his fans pissing out with each stream.
Besides his breakneck wins, there is one more thing that makes him rich – and that is the monetization of his blogging activity. 230000 followers on Twitch, merely 49000 subscribers for his Instagram account and twice biggest auditory on Youtube is a matter to say that each second he translates on the Internet is pure gold. Even Roshtein's Twitter has 17K+ followers! Then, why do his haters hate him?
What Suspects Roshtein a Fake Streamer?
There are some reasons why that guy increases a wave of hate. And the first one is that people envy him. From the first look, it seems so easy – just take a webcam, turn it and spin a slot with some comments. But it is a real hard promo and self-improving work that leads to great success.
But the biggest clamor kinda "Roshtein – Fake" began after the streamer was playing in N1 casino and while turning to the demo-version his deposit balance that was actually $5000 at the moment hasn't changed. That fact gave other gamblers a reason to claim that Roshtein fake money amount both on his general and demo accounts was sponsored by a casino and the streamer is making fake spins to promote N1 casino.
Well, we cannot definitely say if it is true or a false but there are contra facts:
Roshtein is already promoting casinos he is dealing with. He gets money for his promos and there is no reason to get more for fake streams.
Roshtein also describes in his Instagram comments how much he gets bonuses from each casino. And the sum is considerable. So it is possible that his bonus account for demo-version and his main account was fulfilled for a constant sum each.
And it is also possible that is was just a game bug that routed to such a scandal.
Biggest Wins on Roshtein Casino Streamer
We have collected few of Roshtein's biggest wins to present you.
9202X Big Win on Dead or Alive 2
Here, we can see that the streamer is spinning a Dead or Alive 2 slot and after getting a few bonus spins his winning upraises to the point of €92 280.
129K Hit on Mahjong 88
The next video was shot merely at the beginning of 2019. And here Roshtein while playing the Mahjong 88 slot was also getting additional spins but not three but twelve at once. Here the game process was held step by step so the streamer only by his sixth additional spin began to get a considerable winning. And the last three spins have multiplied his winning thrice. So the full jackpot was €129 325.
107K Win on Book of Dead
And one more video that now is on the third place shows us his winning in Book of Dead Slot where he had won 107k euros.
Each video shows a real delight and stormy emotions that Roshtein translates while playing so we cannot say that he is playing a role. Except he is a genius actor worth Academy Award at least.
Some Kind of Summary about Roshtein's Personality
Summing up, we can say the following. Roshtein is one of the modern digital media products. He not only makes money thanks to his streams but he also creates unique content in his field that allows him to make a profit.
Of course, such a quick success could not go unnoticed, and in addition to the army of fans, the streamer appeared no less than an army of haters. This is quite predictable, especially in a field such as gambling, where everyone believes that winning of another player is a fake or a trick. Therefore, there are enough envious people among less successful players.
But few people take into account the industriousness and efforts that the streamer himself makes to delight the audience with his videos, not to lose in the dust and at the same time keep the attention of the audience. And as to whether Roshtein is fake, we can say this: even if he cooperates with the casinos in which he plays, then most likely he will be given increased bonuses, not fake amounts on accounts. In addition, Roshtein obviously has its own affiliate program with many casinos, including N1 Casino, Casoola Casino etc. And due to his promos, he gets quite good money, as well as through the monetization of his accounts in Twitch and YouTube.