You'll see that 22bet is quick to establish a solid reputation. Despite using a straightforward structure, the online casino is powered by dozens of developers. As a result, one of the most comprehensive collections of games is now available to users online. The 2018-released 22bet Casino is accessible thanks to a license from Curaçao eGaming. For even more online betting opportunities, it has a comprehensive sportsbook in addition to the sizable online casino sector.
Pros
Wide game selection
Mobile compatibility
Live dealer option
Multilingual support
Generous bonuses and promotions
Secure and reliable platform
Multiple payment options
Cons
Restricted access: The availability of 22Bet Casino may be limited in certain countries or regions due to legal restrictions. Players should check the legality of online gambling in their jurisdiction before accessing the casino.
Registration Process
The 22Bet online casino's sign-up or registration process is simple and user-friendly for beginners. The process of opening an account and gaining access to the many fascinating 22Bet online services, such as virtual sports, online casinos, and sports betting, just takes around two minutes. Follow the steps listed below carefully to sign up for 22Bet Casino.
Visit the company's website.
Access the green Registration tab by going to the landing page's right-hand top corner.
A registration form requesting client information, including name, email address, password, nation of residence, and preferred currency, will show on the screen.
In order to open an account at 22Bet, users can also use social media and messaging services.
Accept the casino's terms and conditions and privacy statement.
To finish the registration process, enter Register.
Every participant on 22Bet must confirm their identification by providing papers or activating the betting account by validating the link supplied to the registered email ID in order to play. Players will be able to access all the features of 22Bet casino once the verification process is finished.
First Deposit Bonus
Experience the perfect start at 22Bet Casino with the First Casino Deposit Bonus – "The Perfect Start with 22Bet." To avail of this exciting offer, simply register on the 22Bet website and ensure that you fill in all the required fields in your My Account section. Once you've completed the registration process, make a deposit of at least €/$1 to qualify for the bonus.
With "The Perfect Start with 22Bet," you can enjoy a 100% bonus on your first deposit, up to a maximum of €/$300 for the casino. The bonus amount will be automatically credited to your account right after your deposit has been successfully made. Please note that if you do not wish to receive any bonuses, you can simply tick the box that states "I do not want any bonuses" during the deposit process.
Terms and Conditions:
This offer is valid for new customers only and is limited to one 100% first deposit bonus per customer.
To be eligible for the bonus, a minimum deposit of €/$1 is required.
The maximum casino bonus that can be obtained through this promotion is €/$300.
After the first deposit is made, the bonus will be credited to the customer's account automatically, unless the customer has opted out by ticking the "I do not want any bonuses" box.
In order to withdraw funds from the customer account, the bonus must be redeemed (wagered) according to the specified requirements.
If the bonus has been credited to the customer's casino bonus account, a wagering requirement of 50 times the bonus amount applies.
Make your first deposit with 22Bet Casino and embark on a thrilling gaming journey with "The Perfect Start with 22Bet" – your gateway to amazing casino bonuses and endless entertainment. Good luck and enjoy your gaming experience!
Discover a World of Thrills and Rewards with 22Bet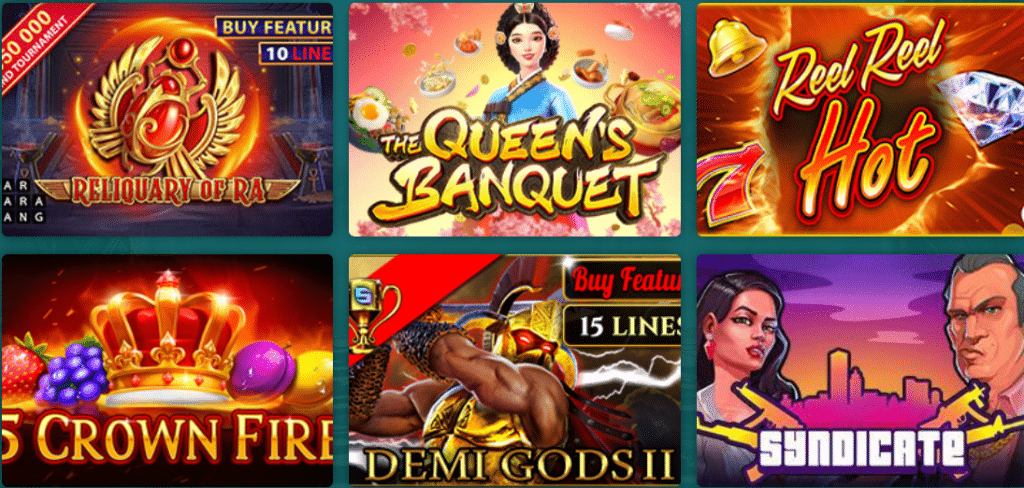 Welcome to 22Bet, the ultimate destination for gaming enthusiasts. Immerse yourself in a vast array of captivating games and exhilarating betting options that will keep you entertained for hours on end. With a multitude of categories to choose from, 22Bet offers an unparalleled gaming experience tailored to suit every player's preferences.
Sports Betting
For sports aficionados, 22Bet is a haven of excitement. Our reliable sportsbook provides a wide range of betting options, featuring competitive odds and an abundance of bonuses and promotions. Whether you're a fan of football, cricket, ice hockey, or table tennis, you'll find thousands of betting possibilities at your fingertips. With events spanning across the globe, you can dive into the thrilling world of sports betting like never before.
Esports Adventures
Indulge your passion for esports and bet on your favorite games. From the adrenaline-pumping battles of Dota2 and Counter-Strike to the strategic clashes in League of Legends and CS:GO, the realm of esports awaits. Immerse yourself in the excitement of renowned tournaments, such as the Indian Premier League, and place your bets on the outcome. Additionally, explore unique betting options like tv games, Hunting and Fishing, and more, adding an extra layer of excitement to your gaming journey.
Experience the Thrill of Live Betting
At 22Bet, the thrill doesn't stop when the game begins. Engage in live betting, where you can place wagers as the action unfolds before your eyes. With a diverse range of sports available, including football, basketball, tennis, and more, you can analyze the proceedings and make informed predictions, maximizing your chances of success. Even virtual sports enthusiasts can enjoy the live betting experience with popular titles like Dota2, Counter-strike, World of Tanks, and FIFA.
Immerse Yourself in the Allure of Casino Games
If live casino games are your passion, look no further than 22Bet Casino. Indulge in an extraordinary selection of games, with live dealer options stealing the spotlight. Engage in captivating sessions of poker, baccarat, blackjack, and roulette, all hosted by professional dealers who bring the thrill of a real casino directly to your screen. Don't miss out on the chance to explore thrilling titles like Dragon tigers, Live drops and win, and an array of exciting slot games.
Chase the Ultimate Jackpot
Dreaming of big wins? 22Bet offers an array of jackpot games that could turn your aspirations into reality. Engage in online football betting, where you can predict the outcomes of prestigious matches like the Premier League and UEFA Champions League. By making accurate predictions, you can climb the leaderboard and secure real money prizes that will leave you exhilarated.
Uncover a World of Endless Possibilities
Beyond the realms of sports, esports, live betting, and casino games, 22Bet has even more to offer. Immerse yourself in the enchanting world of bingo, featuring live dealers, animated games, roulette, and keno, all crafted by top providers. Explore the diverse realm of 22Games, where you can enjoy specialty games, slots, lotteries, and more, while earning cashback and bonus offers through exciting challenges. Engage in thrilling accumulator bets and 24/7 live lotto games with TV Games. For a fast-paced adventure, dive into Fast Games, featuring Lady Luck games, provably fair games, turbo games, Spribe Aviator, and much more.
With 22Bet, the possibilities are endless. Whether you're a fan of hunting, fishing, scratch cards, poker, or any other gaming preference, you'll find a world of excitement awaiting
Payment Options
In our comprehensive evaluation of 22Bet India, we were astounded by the extensive array of payment methods accessible to players. The versatility offered by 22Bet enables you to effortlessly withdraw your funds utilizing the same payment method employed for your initial deposit.
It is vital to note that 22Bet strictly adheres to the policy of not accepting deposits from third parties, ensuring the security of your transactions. When it comes to depositing and withdrawing funds, you have a wide range of options at your disposal:
Visa: A globally recognized and widely accepted payment card that provides swift and convenient transactions.
MasterCard: Another highly reputable and widely used payment card that grants you seamless financial transactions.
Neteller: A prominent eWallet service that facilitates swift and secure online money transfers.
Skrill: An acclaimed digital payment platform renowned for its efficiency and reliability in managing online transactions.
Credit/Debit Card: Apart from Visa and MasterCard, you can utilize other credit and debit cards to conveniently deposit and withdraw funds.
Cryptocurrencies and more: In line with the evolving landscape of digital finance, 22Bet embraces the use of cryptocurrencies and additional payment methods, offering you greater flexibility and accessibility.
The processing time for eWallet deposits typically averages around 15 minutes, while cryptocurrency transactions may take up to 24 hours to complete. However, please be aware that the deposit and withdrawal durations may vary depending on the specific payment method you choose.
Regarding withdrawal options, if you opt for credit or debit card transactions, it is important to note that the process may take up to 7 business days before the funds are successfully credited to your account. On the other hand, utilizing digital banking methods like eWallets or cryptocurrencies allows for a more expedient withdrawal process, with your funds being credited to your 22Bet account within 24 hours.
In the event that you have not received the amount within the stipulated time frame, you can promptly reach out to the dedicated support team, providing them with adequate proof of payment to swiftly resolve any potential issues
Mobile Casino
Immerse yourself in a world of unparalleled excitement with 22Bet Mobile Betting Online. This cutting-edge online casino boasts an extraordinary array of top-notch casino games that can be enjoyed seamlessly across various devices and operating systems. As we delved into our comprehensive 22Bet app review, we were thrilled to discover that the mobile betting experience rivals that of its desktop counterpart.
With dedicated iOS and Android options, this platform ensures lightning-fast performance while offering the full spectrum of features available on the desktop version. Its responsive design flawlessly adapts to your screen, granting you effortless navigation and instant accessibility.
Prepare to embark on a thrilling adventure as you explore an extensive collection of thousands of slots, video poker machines, and captivating table games—all at your fingertips, just a few clicks away. Experience the epitome of mobile betting excellence with 22Bet, where every wager brings you closer to exhilarating victories and unforgettable moments.
Security & License
Discover the undeniable legitimacy and security of 22Bet, your ultimate destination for online gambling. With its official license from the esteemed Curacao Gambling Authority, this reputable bookmaker and casino operator, Tech Solutions N.V., (Registration Number 144920), ensure a trustworthy and regulated gambling experience. Holding the Curacao-registered sportsbook license (license number 8048/JAZ), 22Bet guarantees compliance with the highest industry standards.
Rest assured, your safety is of paramount importance to 22Bet. The online casino employs state-of-the-art security measures, including cutting-edge 128-bit SSL encryption protocols, to safeguard your personal and financial information from any unauthorized access. Furthermore, two-factor authentication adds an extra layer of protection, fortifying access security for all users.
At 22Bet, fairness and randomness are key principles. The website boasts a collection of games that undergo rigorous testing, thanks to the employment of RNG (Random Number Generator) technology by trusted software providers. With these measures in place, every game's outcome is provably fair and completely random, ensuring an authentic and exciting gameplay experience.
Join 22Bet today and embark on a thrilling gambling journey, knowing that your security, fairness, and entertainment are at the forefront of their operations.
Support
In this comprehensive 22Bet review, we explore the various avenues available for users to connect with the support team. Among these options, the Live chat feature stands out as the easiest and most convenient method. However, for alternative means of reaching out for assistance, simply click on the "Contacts" button located at the footer of the website. Here, you will discover a selection of five distinct email addresses tailored to address different types of inquiries, as well as a user-friendly contact form for connecting with the customer support team.
For specific concerns, the following email options are available:
During our evaluation of 22Bet, we thoroughly tested the live chat functionality and were pleased to find that the response time was remarkably swift, with a connection established within a mere two minutes. It's worth noting, however, that no telephone or phone call support appears to be offered. Nonetheless, players will find solace in the presence of a comprehensive FAQ section, designed to address common queries and provide quick resolutions.
Conclusion
Embarking on a comprehensive evaluation of the 22Bet sportsbook and casino, our diligent team emerges truly astounded by the platform's prowess. The 22Bet site proudly flaunts an extensive array of captivating games, encompassing thousands of options to satiate every avid player's thirst for excitement.
Complementing this captivating selection, the platform embraces a multitude of user-friendly payment methods, facilitating seamless transactions for all patrons. Additionally, the remarkable bonus offerings and the commendable responsiveness of the customer support team further accentuate 22Bet's allure.
Nonetheless, it is worth mentioning that those inclined towards cryptocurrency usage shall discover the absence of tailored bonus incentives for their preferences, while the option for telephone support remains regrettably unavailable.
Despite these minor shortcomings, the paramount importance of user security remains a focal point for 22Bet, as evidenced by the mandatory two-factor authentication, involving the use of your personal phone number prior to accessing the platform. Furthermore, catering to a global audience, the 22Bet site extends its welcoming embrace by providing multilingual support, accommodating over 60 languages for an inclusive user experience.
Drawing upon our own expert analysis and extensive perusal of 22Bet reviews from other knowledgeable individuals, we ardently recommend this unparalleled platform. We implore you to embark on your own thrilling journey by exploring the wonders of 22Bet.
FAQs
Q: Is 22Bet Casino a licensed and regulated online casino?
A: Yes, 22Bet Casino is a licensed and regulated online casino. It holds a valid gambling license from a reputable regulatory authority, ensuring fair gameplay and player protection.
Q: What types of casino games are available at 22Bet Casino?
A: 22Bet Casino offers a wide range of casino games, including slot machines, table games (such as blackjack, roulette, and baccarat), video poker, live dealer games, and more. There are hundreds of titles to choose from, catering to different preferences.
Q: Can I play casino games for free at 22Bet Casino?
A: Yes, at 22Bet Casino, you can play many of the casino games for free in a demo mode. This allows you to try out the games without risking real money and get familiar with their features before deciding to play for real.
Q: What payment methods are accepted at 22Bet Casino?
A: 22Bet Casino supports a wide range of payment methods, including credit/debit cards, e-wallets (such as Skrill and Neteller), bank transfers, and cryptocurrency options. The exact availability of payment methods may vary depending on your location.
Q: Is customer support available at 22Bet Casino?
A: Yes, 22Bet Casino provides customer support services to assist players with any questions or issues they may have. You can reach the support team through live chat, email, or phone, and they are available 24/7 to provide prompt assistance.