Deadwood (Nolimit City) Slot Game Review
Nolimit City is constantly changing the online casino industry with its modern releases and bold ideas. They develop exciting games that the casino community takes with close interest and delight. In 2019, the company released Deadwood online slot. In fact, this is a sequel to the popular Tombstone game that attracted thousands of players. The slot machine has a maximum win of 13,950 times per stake. The RTP of 96% provides players with regular winnings.
Deadwood offers players a variety of interesting features. Visual effects will impress even the most demanding gamers. At the same time, authentic music and sound effects will create a genuine Wild West atmosphere. In this Deadwood slot review, we'll cover all aspects of this game: design, music, gameplay, volatility, bonuses, and other features.
Where to Play the Deadwood Slot
Briefly about Deadwood
Deadwood is a Wild West-style online slot developed by Nolimit City. In fact, such a theme is quite popular in the gambling industry. Now in any casino, you can definitely find several online slots that focus on this era. But only a small number of games represent the charm and allure of the Wild West. Nolimit City has managed to do that ‒ Deadwood is an exciting online slot that shows all its royalty and dynamism.
Deadwood free slot is the sequel to Tombstone. Like its predecessor, this is an incredibly popular slot that provides the best gaming experience. Almost all players point out significantly improved visuals that are much more atmospheric. In the background is a faded western town, which is very common in this kind of slot. The reel set contains many small details, and players see simple tumbleweed animation in the background. In general, Nolimit City impresses with its graphics as always, and visually this slot looks very appealing.
This slot machine can be played from 10 cents to 100 dollars, so it is suitable both for regular players and high rollers. The playtable is a little unusual with the 3-4-4-4-3 reel set that contains as many as 576 winning options. Low paying symbols are represented in royals from 10 to A. High paying symbols include watches, shotguns, whiskey, safes, and bars of gold. The last option is the most profitable since the winnings are 3.75x the bet.
Deadwood provides numerous bonus rounds and other features. Players can choose between bonuses with different volatility, thereby deciding whether they want to win more often or have more winning potential.
Volatility & RTP
Deadwood's RTP is 96.02%. But if players take advantage of the Nolimit Bonus function, this figure can be raised to 96.03%. This is a very volatile slot machine, so wins range from very small to huge. Despite the high volatility, this game has a high hit rate of 40.17%. So, you should expect a lot of small wins in this game with a certain chance of big payouts. The maximum winnings are 13,950x your stake. In this regard, Deadwood is quite similar to the Chaos Crew slot that also has enormous volatility as well as an amazing maximum win.
Gameplay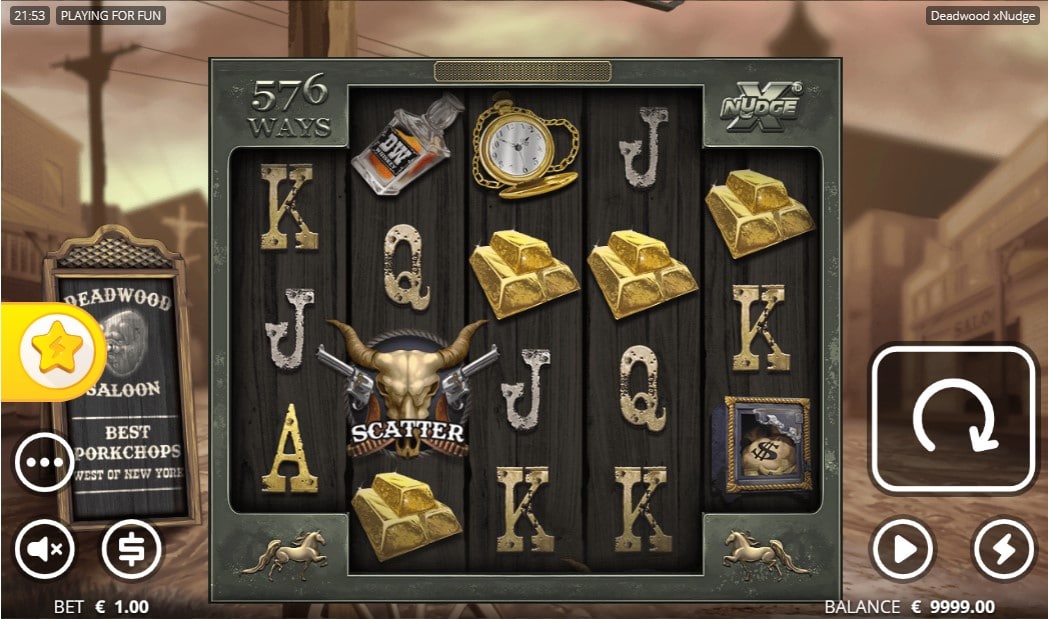 In terms of gameplay, the Deadwood casino game is not much different from most standard slots. The game has 5 reels and 576 paylines. There are 13 symbols in total. Low-paying symbols include royals from 10 to A. Premium symbols include guns, whiskey, safes, watches, and gold bars. In addition to these symbols, there is a hunter wild, a sheriff, and a scatter. The highest paying symbol is the gold bar that pays out 3.75 times for 5 on a payline. Winning combinations can consist of three, four, and five identical symbols and winning lines are paid from left to right.
Players can speed up the game if they so wished. There is an autoplay function that allows you to select up to 1000 auto spins. This function comes in different settings. For example, players can stop autoplay if the win exceeds the value you have chosen and if the balance is below 50% or 75% or above 150%, 200%, or 500%.
Deadwood can be played for real money or completely for free. Many online casinos offer the Deadwood free play option, and gamblers can test it. Thus, you will be able to understand the gameplay and learn more about its features.
Design
It can be said that the game has a typical western atmosphere. There are old houses and saloons, which are very common among similar slot machines. On the left, you can see a Deadwood's chalk plaque, while a tumbleweed is moving along the dirt road. The game is made in sepia style, which gives it a vintage look.
When you are spinning the reels, additional graphics and animations appear on the screen. Indeed, in those moments when the player hits a huge win, the entire playing area is engulfed in a red flame ‒ it looks very impressive. Overall, the visuals are awesome, and this is undeniable.
Music
It's safe to say that the music in the game is magnificent. There are several different soundtracks that change during the game. When you trigger Deadwood free spins or win large sums of money, the music and sound effects become more thrilling. Thus, thanks to the atmospheric soundtrack, you can fully immerse yourself in the game.
Bonus Game (Free Spins)
All players are crazy about various bonuses and mini-games that are available in slots. Of course, all of this is available in Deadwood. It offers several features, and players can choose between them. Now let's look at all Deadwood free bonus games in more detail.
Deadwood Free Spin Feature
This bonus game is triggered when the scatter hits the first, second, and third reel. In such a case, you will be awarded eight additional pins. After that, you can choose between two variants of volatility.
Hunter Free Spins rounds are less volatile. According to the rules, you are ensured to trigger at least one wild symbol each spin. It will constantly move to the full reel position. While playing Hunter Free Spins, you have a good chance to get extra spins. You will be awarded an extra spin if the sheriff lands on first or fifth reels. In that case, if the symbol lands simultaneously on these two reels the bonus round will be boosted to the Gunslinger Free Spins feature, and reels will remain locked.
The most volatile is the Gunslinger bonus. It has a lot in common with Hunter Spins but players are not guaranteed to get a wild symbol. This means that you will win less often, but you will have the opportunity to hit a huge jackpot.
Shootout Free Spin Feature
Shootout spins feature is triggered when a sheriff lands on the first and fifth reels at the same time as scatter lands on the second, third, and fourth reels. After that, you will be rewarded with ten extra spins.
Shootout Hunter Spins is the lower volatile option, and you can expect more frequent wins. The major distinction is that the sheriff will remain locked, and any low-paying symbol will act as a wild. The Shootout Gunslinger is considered the most volatile feature in this slot machine. This means that there is a chance for a huge win, which will increase your initial bet thousands of times.
Other Features
Besides several bonus rounds, there are additional features. They include:
Hunter Wilds. This feature is the most frequent. Wilds land on the second, third, and fourth reels, and they will nudge to cover the entire column. These symbols can replace all items, except for other bonus symbols;
Shoot Out. To trigger the feature, you need to land the sheriff symbol on the first or fifth reel. During the game, all low paying symbols become wild;
Feature buy. If a player wishes to get a bonus, he can purchase the free spins features. The purchase price depends on the bet amount and the selected feature that you want to buy. For example, the most expensive one is worth as many as 750x of the bet. To better understand how it works, you can try Deadwood bonus buy in the demo version.
Biggest Win at Deadwood Slot
There are many striking wins in the Deadwood slot game, and you can see these videos on YouTube. But the highest jackpot was hit by Daskelelele, who regularly streams different online slot machines. The record win is almost 110 thousand euros, which is an incredible result. When Daskelelele got the free spin bonus, he decided to take a risk and chose the Gunslinger free spins bonus. Since this feature provides the best winning potential, he was very lucky to win such a big jackpot.
Advantages & Disadvantages
As you can see, Deadwood has a lot of advantages. Among them:
576 paylines;
The max win is over 13,950x;
Amazing gameplay;
Deadwood demo version;
Several free spin rounds with different volatility;
Great visuals and music.
Disadvantages:
Conclusion
As you can see, Deadwood has a lot in common with its forerunner, Tombstone. They have many similarities, in particular, in terms of the main functions. But in many ways, Deadwood is a completely different game. You will win much more often here, but the winnings will generally be smaller. However, if you are lucky, the maximum winnings can be up to 13,950 times the stake. Users can play Deadwood for free or for real money. Besides, the game is playable from 10 cents to 100 dollars, so the game is suitable for every kind of player.
Overall, it is an outstanding slot that will live up to the expectations even of the most sophisticated players. The most notable of the updates are of course the visuals. From first sight, players will see that the graphics are top-notch. Animations also look very attractive, but they don't distract from the game itself.
With first-class gameplay and amazing effects, customers will have a unique and engaging gaming experience. Even if you are not a huge fan of the Wild West, we strongly recommend you to play Deadwood and enjoy its numerous features.
FAQ
❓ Where I Can Play Deadwood?
✔️ Deadwood online slot is a highly best online slots, so it's available in numerous online casinos. The game can be played in those clubs where the developer NoLimit City is represented. If you are looking for a casino where to play the game, simply go to the page with providers and check if the casino cooperates with the provider.
❓ Is Deadwood Available on Mobile Devices?
✔️ Deadwood, like all modern casino games, is available on mobile devices. It doesn't matter whether you have Android or iOS, you can open the game on any smartphone or tablet. You can play without restrictions from anywhere with an internet connection. Just go to the casino and select the Deadwood slot in the list of games, and it will load in just a few seconds.
❓ What Is the Deadwood RTP?
✔️ The RTP in the Deadwood slot is 96.02%. This is a fairly high indicator, so players have a good chance of winning. But generally, the winnings will be small. Besides, if you trigger the Nolimit Bonus feature, the RTP raises to 96.03%.
❓ What Is the Max Win in Deadwood Online Slot?
✔️ The maximum payout is 13,950 times the stake. By this parameter, this game slightly exceeds its forerunner Tombstone. As for the maximum win in this slot, the streamer Daskelelele won almost 110 thousand euros.
❓ What Features Does Deadwood Slot Have?
✔️ This slot machine offers players several bonus rounds. Gunslinger spins provide very high volatility, while Hunter free spins have slightly lower volatility. It all depends on whether you prefer huge wins or a higher chance. Also, the bonus buy function deserves attention as you can directly move on to the mini-game.