Following the overwhelming success of Bonanza, Big Time Gaming have done their best to release their next hit Extra Chilli. Players weren't disappointed as this slot machine combines all the great features of its predecessor. Extra Chilli uses Megaways technology and boasts an RTP of nearly 96,82%. As it could be expected from a Megaways slot, this game provides almost countless paylines, great winnings, and the possibility to purchase bonus rounds.
Read our Extra Chilli slot review and find out information about all its aspects: graphics, gameplay, bonus rounds, and other features.
Briefly about Extra Chilli
Extra Chilli is a great slot machine that was released in 2018. It features the Megaways technology and provides as many as 117 649 ways to hit the winning combination. The number of ways varies on each spin as reels can display from 2 to 7 symbols in each column.
The action of the game takes place in the local Mexican market, and you will hear the noise of the streets and a loud jingle when you are spinning the reels. The background reflects the unique atmosphere with a lot of products such as carrots, garlic, and, of course, chili.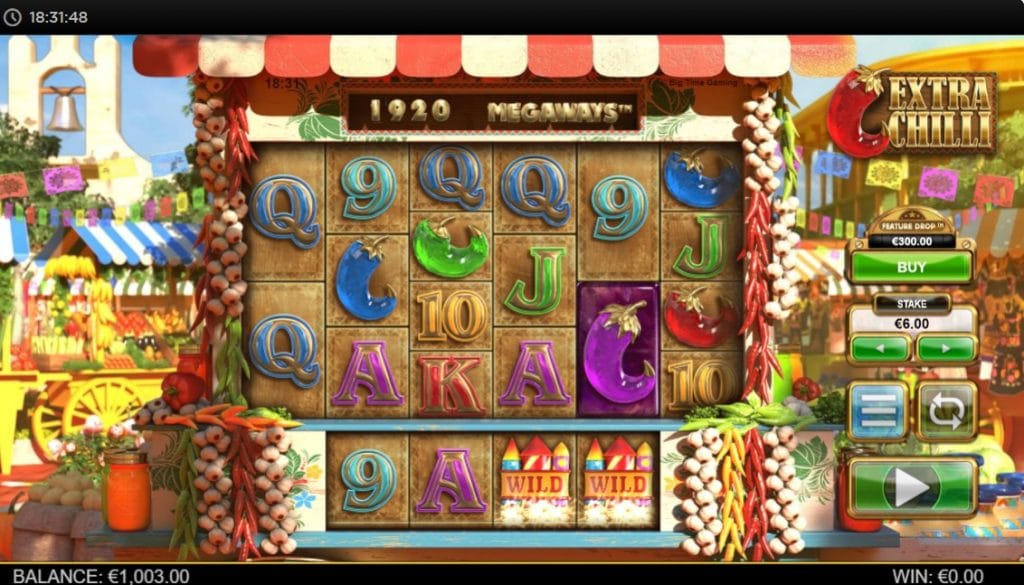 The game is perfect for both ordinary players and high rollers ‒ you can bet from 0.20 dollars to 50 dollars per round. The Extra Chilli max bet is a bit higher compared to the original Bonanza slot ‒ this means that players have higher winning potential. As well as other slots developed by Big Time Gaming, this game offers symbol drops, replacing winning symbols, and free spin rounds. But the main feature is the possibility to purchase bonuses ‒ players will receive at least 8 extra spins. The cost of this function is x50 of the player's bet.
As Extra Chilli is an HTML-5 based online slot, it is perfectly adapted for all mobile devices. You can open the game just in the browser of your smartphone or tablet and no download is required. Moreover, you can launch the game even on old Android and iOS devices ‒ this game doesn't require the latest version of the operating system or the newest smartphone model.
Volatility and RTP
It seems that RTP is one of the most important indicators that players focus on when choosing a slot machine. Each user wants to get the maximum profit and therefore most of them choose slots with a large RTP. The return to the player in Extra Chilli is 96,76%. This is a very high figure, as most slot machines have an RTP of around 95-96%.
With respect to volatility, Extra Chilli is a high-variance slot machine. This means that winnings can be uncommon and scarce, but it is enough to land a combination of high-paying symbols once to earn a very good winning. The maximum payout is more than x20 000 and up to 100 000 coins ‒ such a big amount can be reached during the free spins feature.
Gameplay
The slot configuration is based on 6 main reels. The number of rows on each reel varies from 2 to 7, and also there is an extra row below the main grid. This way, the slot provides 117 649 ways to win, just like Bonanza does.
The Extra Chilli slot comes with two kinds of symbols: low-paying and high-paying. As in most modern online slots, low-paying symbols include 6 playing cards from 9 to A. 9 is a symbol that pays least of all: if you trigger a full line of these symbols, you will only be paid with 0.8x of your stake. At the same time, A pays 1.75 for 6 symbols in a row. High-paying symbols include peppers in four colors. The violet symbol pays the highest amount ‒ you will get 50x for 6 in a row.
It is possible to multiply the initial stake 20 0000 times. As you can bet from 0.20 USD to 50 USD, the slot is a great choice for all types of players. To change the bet per round, you need to click on the left and right arrows, which are located in the lower-left corner. This slot offers other control options that will greatly simplify the gameplay. For example, there is an auto-spin feature that allows to automatically play up to 100 rounds. Also, players are able to set a loss limit and a single bet limit ‒ auto spins will stop when you have a certain amount of money in your account.
The demo mode is especially interesting, and it can be activated in the game settings. It gives you the opportunity to play for free on virtual chips. The free game feature will allow you to have fun without the risk of losing real money. Also, you can play a free version to improve strategy and understand all the rules of the slot. The only thing you need to do is to register at the online casino.
Design
Stunning graphics ‒ this is exactly what distinguishes the games developed by Big Time Gaming. Every detail of the background is carefully thought out, and all of them together create a very interesting picture. The reels of the game are cleverly placed inside a market stall with chili peppers and other products. The animation is outstanding, as the symbols move quickly up and down the reels, and then abruptly explode when they make a winning combination.
Music
The music in Extra Chilli fits very well into the overall picture. While spinning the reels, you can hear classic Mexican songs, and after you trigger the winning combination, it becomes even more fun and amazing.
Other Features
As well as many other Megaways slots, Extra Chilli provides special bonus features. But in contrast to most of them, Extra Chilli offers not one or two but numerous profitable features. All of them will provide players with free spins and great winnings. So, let's take a closer look at all features of Extra Chilli.
Cascading Reels
Extra Chili provides a cascade reel feature that is quite common in modern slots. Every time the player hits a winning combination, symbols will disappear, and they will be replaced by new ones. This will continue for as long as you trigger winning combinations.
Extra Reel
The extra reel is a traditional feature for many games developed by Big Time Gaming. It occupies the entire horizontal row below the main grid. All the symbols that appear on the bonus reel adhere to the same paytable.
Free Spins Feature
The scatter symbol is represented by the letters H, O, and T. Accordingly, if you will see the word HOT, you will trigger a bonus. You will have at least 8 free spins and every additional scatter symbol will supply you with 4 spins.
Additionally, you have an opportunity to spin a wheel where you get as many as 24 spins. A successful gamble will give you 4 extra spins but an unsuccessful one will reset the number of spins to zero. As you understand, choosing to gamble free spins can be a very risky business. At the first spin of the wheel, there are 5 winning and 5 losing sections. All further gambles have 6 winning sections and 4 losing sections, which slightly increases your chances of winning.
After you determine how many free spins you want to take, you can start the free spins feature. The process is exactly the same as in the base game, but every time you win, the multiplier will be increased by x1. This way, you can get a serious multiplier, and this gives you the opportunity to get a massive multiple of your bet and win a considerable amount of money.
Feature Drop
Following all the new trends in the gaming industry, Big Time Gaming has added the ability to buy bonus rounds at Extra Chilli. If you decide to use this option, then just click on the Buy button. On the next spin, 3 scatter symbols are guaranteed to appear on the reels, and you will receive the free spins feature. The cost of this function is 50 times higher than the initial bet.
Biggest Win on Extra Chilli Slot
As Extra Chilli is a Megaways slot machine, any player can hit a considerable jackpot. At the same time, you have to be very lucky to get a really big win that will multiply the initial bid hundreds of times. You can find plenty of videos with striking jackpots on YouTube. Some players do not even expect to hit a jackpot ‒ you can see the genuine emotions and their joy of such a win. For example, CasinoDaddy hit a great jackpot ‒ he increased his initial bet by more than 1000 times!
Advantages and Disadvantages
Advantages:
Up to 117,649 ways to win;
A fairly high RTP of 96.82%;
Amazing graphics and sound effects;
You can try the game in a demo mode;
The maximum possible winnings are 20,000x;
The slot machine provides a lot of bonus features.
Disadvantages:
Extra Chilli is a highly volatile slot.
Conclusion
Extra Chilli has everything you need to get a great gaming experience. Thanks to the unique Megaways technology developed by Big Time Gaming, you are guaranteed to get incredible emotions. This game brings together all of the Bonanza features you love, for example, free spins, feature drop, insane win multipliers, and a total of 117 649 ways to win. Another advantage of Extra Chilli is the visuals and animation the combination of which creates a unique and unforgettable atmosphere.
If you are able to handle this highly volatile slot machine and are patient enough to wait for big wins, this extra-spicy game is definitely for you. Also, we recommend you check out this slot machine if you haven't already played such games.
FAQ
❓ Where Can I Find the Extra Chilli Slot Machine Rules?
✔️ If you want to understand in more detail all the rules of this slot and learn about its features and special symbols, then you need to click on the blue tab located under the reels. You will find information about payouts, plus plenty of details about how all bonus features can be triggered.
❓ Can I Play Extra Chilli on Mobile Devices?
✔️ Of course, you can play Extra Chilli on mobile devices. As well as all Big Time Gaming slots, this game is fully mobile-optimized, so you can launch it on any Android or iOS device. No downloads required ‒ just open a casino website in the browser.
❓ What is the Potential Maximum Win in Extra Chilli?
✔️ The maximum win in Extra Chilli is 20,000x of the initial stake. But such wins are very rare, and you need to be incredibly lucky to trigger it. To increase your chances, we recommend that you do not bet large amounts, but focus on smaller bets, as due to high volatility, winnings can be very rare.
❓ What Features does Extra Chilli Have?
✔️ Extra Chilli has a few great bonus features. First and foremost, free spins will provide players with high multipliers and great winnings ‒ you just need to trigger three scatter symbols to start the bonus round. Another feature is feature drop that allows you to purchase extra rounds.
❓ Is there an Extra Chilli Free Play Version?
✔️ Yes, you can test the game in a demo mode. This way, you will be able to evaluate all the aspects of the game and decide whether you want to gamble it for real money. Also, the free play version is a great choice for novice players who haven't played slot games before.