Where to Play the Jammin Jars Slot
Jammin Jars (Push Gaming) Slot Game
Today we are going to talk about one famous slot game Jammin Jars. This slot has already won a large number of fans around the world. It won them with its unusual design and thoughtful gameplay. The number of bonuses that are available in the game is simply incredible, and how they work and add up to each other is better to see with your own eyes.
The slot can be classified as revolutionary slots. As soon as you enter this game, everything will start to sparkle and blink. The most important thing is that all this does not distract you from the gameplay, but rather adds interest to the game.
Immediately, we note that the game is made of very high quality and it is clear that the developers are going to support it in the future. So, this game can become a favorite game of many people for years to come.
Briefly about Jammin Jars
The slot itself is made in the structure of 8×8 symbols. All symbols are made in the form of berries and fruits. Blueberry, plum, apple, raspberry, orange, and the rarest and expensive character in this game ‒ red strawberries. Also, in this slot, as in many slot games, you are accustomed to, there is a Wild symbol that replaces the missing symbols, it is presented in the form of a jar with jam.
This Wild symbol should be noted separately. It makes the game more interesting and allows you to get winning combinations when you don't have enough regular symbols to win. The most interesting thing is that it is reusable, and after you receive your bonus with this symbol, it will move to the next cell and receive a multiplier x2. If you win again, the x2 multiplier will work and the symbol will grow by one position again.
Another distinguishing feature of this slot is that it is designed in 8×8 slot mode. This is quite unusual for this type of game. This structure of the game allows you to create giant characters.
Volatility& RTP
One of the most significant values for many players in the slot game is the RTP in these games. This is a value that shows the percentage of return to the player. Today's Jammin Jars slot also has a fairly high rate, namely 96.83%.
You should never conclude the game only from this indicator since most of the wins are quite small and they are awarded for winning combinations of symbols. The player can get really big winnings in bonus rounds.
The RTP level is a rather volatile concept. All because gambling is built by chance and miscalculation is almost impossible. Of course, this indicator is calculated by the same program, which makes it easier to analyze the activity of another algorithm. But still, in the case of gambling, you should pay more attention to bonus rounds, the real winnings of other players, and reviews.
Gameplay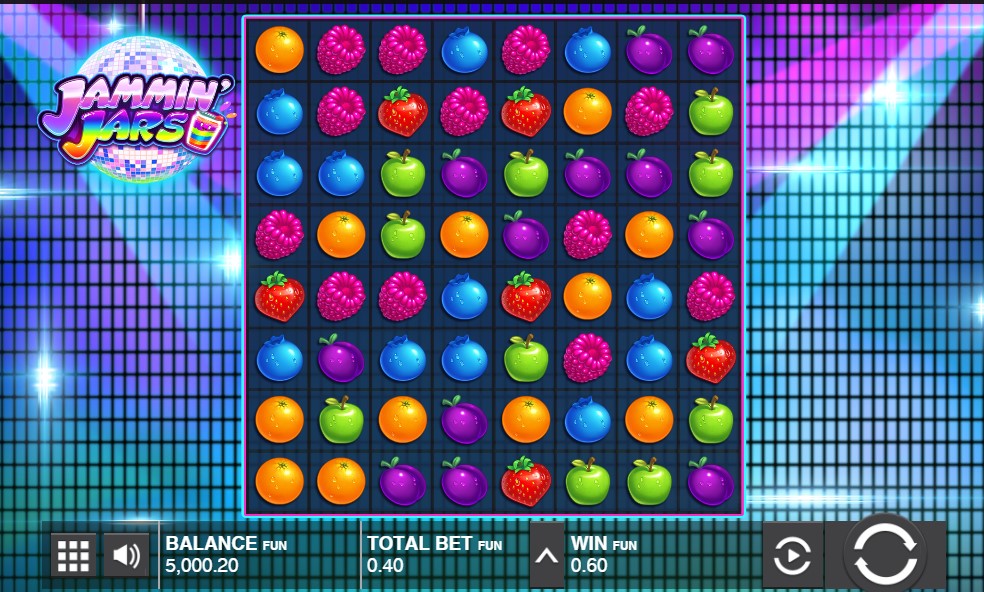 With each game, symbols in the form of fruits and berries will descend from top to bottom onto the playing field. Those symbols that will form winning combinations will burn out.
The game is built on a cascading principle, which means that new symbols take the place of those that have already burned out in the previous round. The amounts you win with the new fruits will be added to your current winnings for that spin.
Design
As we have already said, the design of the game is made in an interesting and rather original style. Throughout the game, you will be chased by twinkling lights, a disco ball, and fruit and berries. An unusual combination, don't you agree? In short, the design of Jammin Jars can be called a fruit disco.
The slot immerses you in a very fun atmosphere that you can enjoy for hours. Interesting features from Push Gaming complement this atmosphere and allow you to enjoy it even more.
All animations and icons in the game are drawn perfectly and you will not have any difficulties while playing, and your eyes will not get tired of low-quality graphics. Even such an element of the game as fruits that fall are made very clearly and colorfully. There are a large number of different visualizations of winnings that look high quality and pleasing to the eye.
Music
As for the soundtrack, everything is ambiguous. If you are a fan of the funky genre, then this slot will be the best in the world for you. The music in the game is unobtrusive, but not for everybody.
For some, it will be unpleasant that you cannot turn off only the music. You can only turn off all the sounds of the game at once, which will prevent you from listening to the system sounds of the gameplay.
But they are done very well in the game. They are somewhat reminiscent of the sounds in the most advanced phone. The same high quality and pleasant for any user.
In short, if you do not like the music in this game, you just need to turn down the overall sound in order not to lose the overall impression of the game, which is perfectly complemented by sound effects.
Bonus Game (Free Spins)
The bonus game in any slot is a great opportunity to quickly increase your winnings at times. This slot also has such an opportunity.
You can get into the bonus round if 3 Wild symbols (jars with jam) appear on your field at once.
The player immediately as of the beam 6 FS. Such a nice bonus can make your round quite profitable.
During all free spins, the Wild symbol, which is included in the winning combination, is moved to the place that is released after the combination is completed. When new symbols hit the field again, Wild stays in place, and during the next spin, it moves to one of the nearest cells.
Keep in mind that several such Wilds and cascades of ordinary symbols can bring you incredible winnings. Also, do not forget about the x2 multiplier, which you can get if you make a combination with the Wild symbol. This multiplier will only grow over time and will be calculated from the previous amount. If you know even a little math, you will immediately understand that these amounts can be very large.
Other Features
In the game, the developers have thought out several options for bonuses. One of them is the already familiar Wild. This jar of jam will allow you to build a winning combination if you don't have enough symbols to do it.
If the Wild symbol participates in a winning combination, the player receives a multiplier to his winnings. Your second win with this symbol will double your winnings, and your third win will triple, and so on. All the time when new symbols appear ‒ the Wild symbol remains on the field. With the help of such combinations, the player can get a colossal increase in the initial deposit. The number of Wild symbols at one time on your field is not limited. This means that your field can even be half-filled with only these symbols, which will give you an incredible multiplication of your winnings.
Rainbow is a special function that is activated if a cluster is not formed during the re-spin, after which the game reels are filled with a rainbow, and one or more Giant Fruit Symbols are added to the playing field. As a result of this each cell, which covers these same symbols is obtained, the characters as Giant Fruit. It should be noted that this function gives a second chance to a player who is unlucky enough to build a pay line.
This feature is not found in all online slot games. It will allow you to win even if you did not have any combinations at all.
In short, Push Gaming has provided a huge number of ways to win. The number of combinations in which you can win good money is incredible.
Of course, all these bonuses give you a small increase to the initial bet, but think about what will happen if you have about 10 such bonuses in a row? Your bet will turn into compound interest and your winnings will be incredible.
Biggest Win on Jammin Jars Slot
After reading this part of the article, many players have probably thought about the big wins that can be obtained in this slot game. For all that we have told not to remain only in words, we will give an example of the biggest win.
In May of this year, you may have come across a YouTube video from a famous blogger, CasinoDaddy. This is a young guy who reviews online slots and films like this. The video we are talking about today gained more than 67 thousand views and received a huge number of positive comments.
As for this video, the blogger played Jammin Jars. From the very beginning, you can watch how the player gets several Wild symbols. And the player starts getting big wins. But you can see from his face that he does not think about the fact that he will soon receive a big win.
After a couple of minutes, the player realizes that he is incredibly lucky and begins to behave very emotionally. By the end of the video, the player receives about 98 thousand Euros! Just think about this figure. The player received such a win due to an incredible coincidence of circumstances and a large number of Wild symbols throughout the game.
So, you can see for yourself that it is possible to win a large sum in this game, and so everyone can be lucky.
Advantages & Disadvantages
Like any online gambling game, Jammin Jars has its pros and cons. Immediately we would like to note that the number of advantages is much greater than the disadvantages. The game showed itself only from the best side and received a large number of good reviews.
Advantages:
high RTP level;
great graphics;
thoughtful interface;
a large number of bonuses;
availability in many online casinos.
Disadvantages:
the inability to turn off only part of the sounds.
Conclusion
Game Jammin Jars ‒ it's a great game that is suitable for both new players who are just starting to get acquainted with the online slots as well as for experienced players who want to just relax while playing a nice slot.
The slot was developed by one of the leading developer companies that have already earned the recognition of players for their other games.
The game is very well thought out and will be pleasant and unobtrusive for any player, no matter what style of play you like. The number of different bonuses and special rounds will also not leave you indifferent to this game.
We strongly recommend that you try the online slot game Jammin Jars to see what a well-executed and well-designed game should look like. Perhaps she will become your favorite.
FAQ
❓
Is there a demo version of Jammin Jars?
✔️ Yes, Jammin Jars is one of the best online slots in the world. Therefore, demo mode of this slot is available even on our website.
❓
Is there a winning strategy for this game?
✔️ All online slot games are based on random combinations. This means that no one can guess which symbol you will see next. Their algorithms are very complex. If someone offers you a winning strategy for slot games ‒ don't believe it, it's cheating!
❓
How much should I wager to win the jackpot?
✔️ You have already seen in our article that large sums can be won even starting from the minimum bet. It all depends on the case. You can either lose everything by betting a large amount or win a lot of money starting from the minimum bet. There is no pattern for winnings.