Players of the Roman Legion slot can expect the exhilaration of charging into battle at the head of a Roman cohort. They'll fight to keep the barbarians at bay while amassing loot and wealth along the way. Read on to find out all the details!
What Is the Roman Legion Slot?
Roman Legion online offers above-average chances for impressive payouts and is capable of a huge jackpot up to 2,500 times your bet. But to see the greatest returns, aspiring centurions will need to take advantage of the games' various mechanics, such as wilds and scatters, and even bonus gambling features.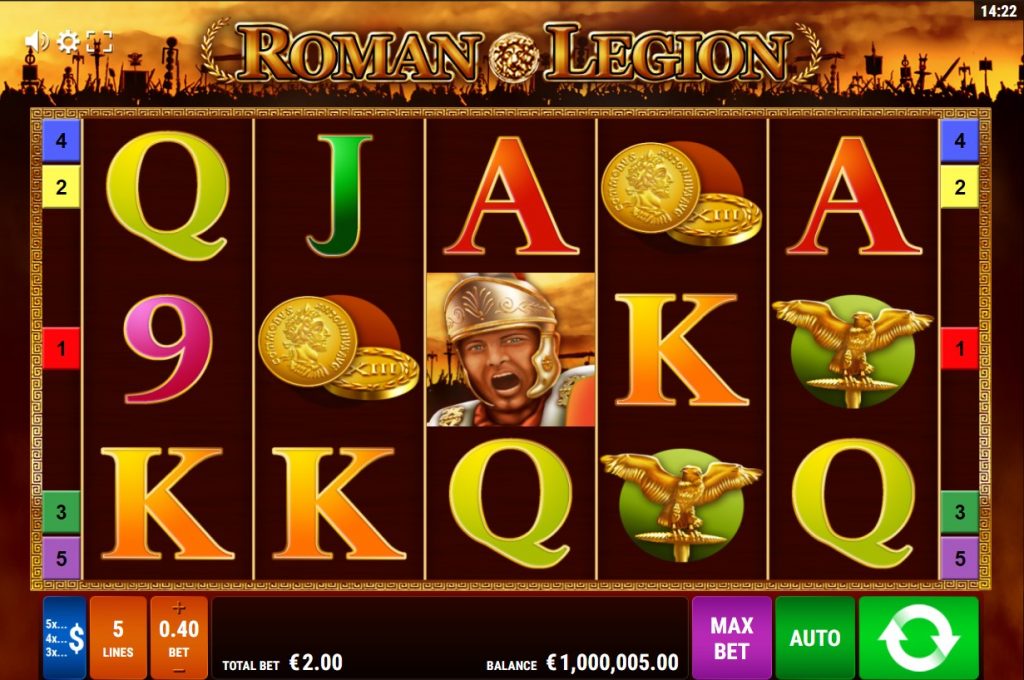 Game Type
As a standard slot, Roman Legion Slot's wins begin from the leftmost reel, paying left to right for any identical symbols players are able to obtain on adjacent reels. On each line, only the highest win is counted. Scatters pay out regardless of position, and wins from scatters are added to players' line wins; only the highest scatter win is counted.
RTP & Volatility
In this Roman Legion slot machine review, the game's above-average RTP of 96.16% distinguishes the game's stakes from other slot machines of similar volatility, offering players more frequent, if not smaller, payouts.
Paylines
Our Roman Legion review will show that the thematic slot game offers players 5 reels and 3 rows, with 5 paylines, all fixed. What sets Roman Legion free play apart is the slot's coin value, which can be adjusted from as low as 0.01 coins up to 0.6 coins; this gives players stakes of up to 3 coins for any single spin.
To secure a win, players will need to acquire a combination of two to five symbols in a streak, and the range of payouts is from 5 to 1,000 times your line bet deposit; getting a combination of 5 wilds will reward lucky players with an impressive return of 2,500 times your line bet deposit.
Software Developer
If you enjoy Roman Legion Slot or even just the Roman Legion Demo, you might want to know more about the software developer. Roman Legion slot machine was created by Gamomat, which is a German company founded ten years ago.
Autoplay Option
Roman Legion free play includes an autoplay feature; however, players should be wary, as, in the event of a winning spin, the game's bonus gambling features are disabled during autoplay.
Graphics & Theme
While the soundtrack is admittedly somewhat lackluster, the graphics of the different symbols, such as Roman coins, banners, centurions, and legionnaires, as well as the game's background of Roman banners against a red sky, bring to mind the great conquests of Rome, offering you a taste of Rome's glory from the comfort of your own home and chance to win both wealth and glory.
How to Play Roman Legion Slot
Playing the Roman Legion slot is easy and highly simplified, as players need not worry about the game's payline parameter, which remains fixed at 5. Low- to mid-tier bettors will be satisfied with the minimum stakes of 0.01 coins per line; however, high-rollers may find the 3-coin maximum stakes somewhat inadequate.
There are two icons at the top left of the screen: a full-screen button and a cog to open a window with an additional 3 controls. The remainder of the controls is located at the bottom of the screen. Also located at the bottom of the screen is a display showing your total bet value and balance.
To view the Roman Legion slot machine paytable, press the blue button at the bottom left of the screen. After opening the game's paytable, you can press the "i" button for even more information on how to win.
Here are a few shortcuts to make playing the game more enjoyable:
Tap your spacebar to quickly spin the reels;
Hit the Max Bet button to immediately set the bet per line to 0.60;
Remember to make use of the Auto button to spin continuously. To stop the game from auto spinning, simply press the auto button again.
Symbols
Nines, tens, Jacks, and Queens are worth 3x your bet for 3 of a kind, 20x for 4 of a kind, and 100x your bet for 5 of a kind, while Aces and Kings are a little bit more valuable at 3x, 32x, and 150x your bet for 3 of a kind, 4 of a kind, and 5 of a kind, respectively.
Keeping with the Roman Legion slot theme, the three most valuable symbols are the Roman coins, eagles, and banners. A streak of 5 banners is worth 1,000x your bet, while streaks of 3 and 4 are worth 30x and 400x, respectively. Lastly, Roman eagles and coins are worth 750x your bet for 5 of a kind, 120x for 4 of a kind, and 15x for 3 of a kind.
There are also two special Roman Legion slot machine signs:
The Wild – presented as a Roman Centurion on foot, this symbol serves as a stand-in for any other symbol except for the Scatter, and it connects with any other regular symbol for payouts of up to 500x the stake.
The Scatter – presented as a Roman legionnaire on horseback, this symbol is required to obtain free spins. This symbol appears on reels 1, 3, and 5, and you're going to need to secure at least three of these to be rewarded with 10 free spins.
Where to Play Roman Legion Slot Machine for Free
Aspiring legionnaires looking to try the Roman Legion Slot machine for free can play the Roman Legion demo here. Players can spend an infinite amount of demo coins to gain an understanding of the game's features and payouts system to fully prepare themselves to start playing for real money.
Special Features
Free Spins
Scoring at least 3 Scatter symbols —the mounted legionnaire— will award players with 10 free spins while making all Wilds sticky. While the free spins are sure to provide players with a rush of adrenaline, additional free spins cannot be won during the free spins.
Sticky Wild
During the free spins, any Wild Centurion symbols remain sticky throughout all 10 free spins. This means that whenever you obtain a Centurion during a free spin, it will remain in that position for the duration of your free spins. This gives players the chance to rake in massive wins of up to 2500 times the stakes.
Gamble Feature
After securing any normal line win, players can gamble their winnings for the chance of even greater rewards in two ways: card gamble and ladder gamble. These allow players to increase the prize won, with a maximum reward of 300 coins.
From there, players gamble their winnings by betting on the color of the next card for a 50-50 chance at double or nothing. Guess the color of the next card correctly to instantly double your winnings, guess incorrectly and lose it all.
With the ladder gamble, players can go up and down the steps while being able to collect their winnings whenever they choose. Win the gamble, and you move up to the highlighted step above your current step; lose, and you'll move down to the highlighted step below.
Mobile Version of Roman Legion Slot
Roman Legion Slot Machine is completely mobile-compatible and can be played on any device. This includes both Android and iPhone.
Pros and Cons
Pros
The payouts and gambling bonuses are intuitive, simple, and easy to understand.
Sticky Wilds create the possibility for tremendous winnings for the most fortuitous payers.
Cons
The graphics and soundtrack, while thematic, are somewhat basic and offer little in terms of audiovisual stimulation
The simplicity of the game's rules and bonuses means there isn't much variety on offer, making the Roman Legion Slot less appealing to gambling veterans.
Roman Legion Slot Verdict
All in all, the game is sure to be of the most interest to both beginners and gamblers of intermediate experience for its convenience and simplicity. High-rollers, on the other hand, may find the game's maximum stake and average payouts less impressive but may still be interested in Roman Legion Slot's high RTP and the possibility of relatively large winnings for smaller stakes.
The Roman Legion Slot machine may not be the flashiest or the most engrossing slot, but for those interested in acquiring a taste of the history of ancient Rome, it is certainly worth a look – particularly with its above-average 96.16% RTP.
FAQ
❓ What Is the Biggest Win Available on Roman Legion?
✔️ The game's 5 paylines, coupled with its bonus gambling feature, work out to a maximum payout per spin of 250 – 25,000.
❓ Does Roman Legion Slot Have Free Spins?
✔️ Yes. By landing a minimum of 3 scatters, players will be awarded 10 free spins.
❓ What Is the RTP of Roman Legion Slot?
✔️ Roman Legion Slot has an RTP of 96.16%.
❓ How Volatile Is Roman Legion?
✔️ The volatility of the Roman Legion Slot Machine is high.