There are many online casino games nowadays, with new ones being released on a near-daily basis. Also, the most popular type of casino games that are being developed and gaining popularity are slots. Among the various and newest games, Cubes 2 is a true gem. Let's discuss what makes it great in this Cubes 2 slot review.
Cubes 2 Overview
Cubes 2 is one of the popular and newest video slot games in the online gambling industry. It is an adorable and fun game to play and is provided by the reputable Hacksaw Gaming. Despite its simple and clean interface, the game has lots to offer and has a good reputation among players.
| | |
| --- | --- |
| Provider | Hacksaw Gaming |
| Game Type | Video Slot |
| RTP | 96,33% |
| Mobile | Available |
| Volatility | High |
| Max Win | 10,500x |
| Reels | 11 |
| Paylines | 11 |
| Release Date | February 11, 2021 |
The symbols in the Cubes 2 slot machine are also represented by colors ‒ six colors to be exact with the same values, instead of images or symbols like other slot machines. The colors include: yellow, blue, pink, green, red, and purple.
When playing, the slot machine has a 5×5 grid size at the start of each spin. This game aims to make combinations of at least five identical symbols, either horizontally or vertically. And with every combination and connection, the spin will continue, and the grid will expand with new symbols on the sides.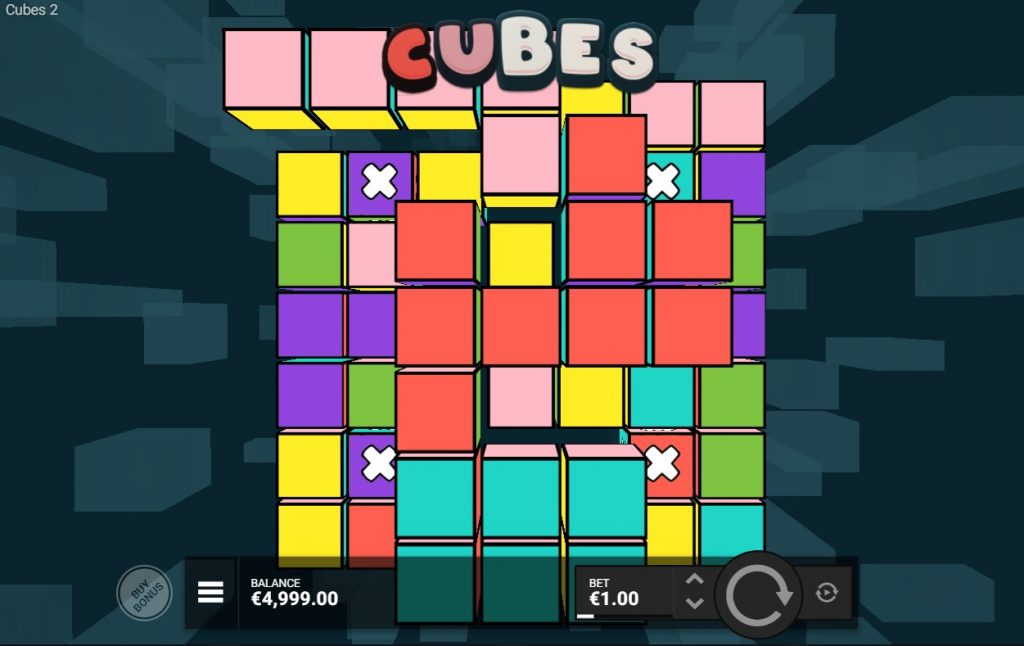 Additionally, there are four "X" symbols or crosses on the symbols on the four corners of the first grid set up. Later in the game, these Xs will serve as the modifiers, and their values can vary depending on the number of symbols involved in connection with the symbols.
Paylines
Cubes 2 is a new online slot game in a 5×5 grid format but can expand to 11 paylines with 11 reels. For a clearer view of how many times a stake can be multiplied for every match of symbols, here is a Cubes 2 slot machine payline table:
| | |
| --- | --- |
| Match of 5 | Bet x 0.10 |
| Match of 6 | Bet x 0.2 |
| Match of 7 | Bet x 0.3 |
| Match of 8 | Bet x 1.5 |
| Match of 9 | Bet x 3 |
| Match of 10-11 | Bet x 4 |
| Match of 12-14 | Bet x 10 |
| Match of 15-19 | Bet x 24 |
| Match of 20-24 | Bet x 32 |
| Match of 25 and more | Bet x 40 |
RTP
The video slot has an RTP of 96.33%. This value, however, is just a small drop from the original payout percentage of 96.35%, so the difference isn't that much.
Volatility
In terms of volatility, the Cubes 2 slot has high volatility, even higher than the original and first Cubes of Hacksaw. This means that the variance in this game is high, so players need patience in winning.
Software Provider
Cubes 2, like its original version, Cubes, is a game developed by Hacksaw Gaming. Hacksaw Gaming is a reputable software developer and provider with different types of games like slots, scratchcards, and other games with large prizes, so you can also expect great prizes from Cubes 2.
Type of Game
Cubes 2 is just a new video slot game, released only early this year. As a video slot, players can surely enjoy this more than classic slot games since it has more creativity and fun, both in the interface and the features.
Min and Max Bet
The minimum and maximum stakes a player can place in Cubes 2 are 0.20 and 100, respectively. Additionally, there is a feature in the game that can allow players to reach and win as huge as 10,500x their stakes.
Themes and Graphics
Video slots are known for their unique and cool themes and designs. Cubes 2 has excellent visuals and sound effects. If you love retro-like and colorful styles, you will surely like this game. Cubes 2 has a vintage theme, and the graphics are cartoonish. Everything seems out of a retro drawing. Due to this, the gameplay gives off a fun vibe and will boost your mood every time you look at the screen.
The background has three-dimensional cubes pointing towards a certain direction and is monochromatic in color, highlighting the machine itself. The grids are colorful, and you can even see an adorable "X" here and there.
Cubes 2 Slot Machine Features
To win in this game, you can utilize and enjoy the Cubes 2 slot bonus it offers. Generally, to win in this game, you need to land matching symbols that are clustered in at least five. And every time you hit a good win, the game will expand with new borders of symbols, expanding more with new reels. This can continue up until the game has an 11×11 grid.
Corner Multipliers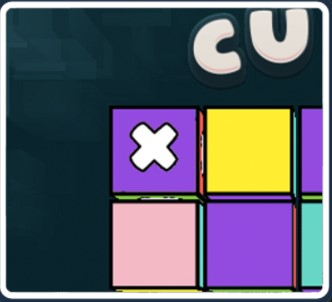 Unlike other common video slots, Cubes 2 doesn't have any wilds. Instead, it has Corner Multipliers. The Cubes 2 initially has a 5×5 grid, and an X marks each corner. Here is how this feature works: hitting a win with one of the symbols will make the X the number of symbols in the cluster. And if there are more symbols in the cluster, the number also increases. Furthermore, once the spin ends, the number will be applied as the modifiers to your win.
Buy Bonus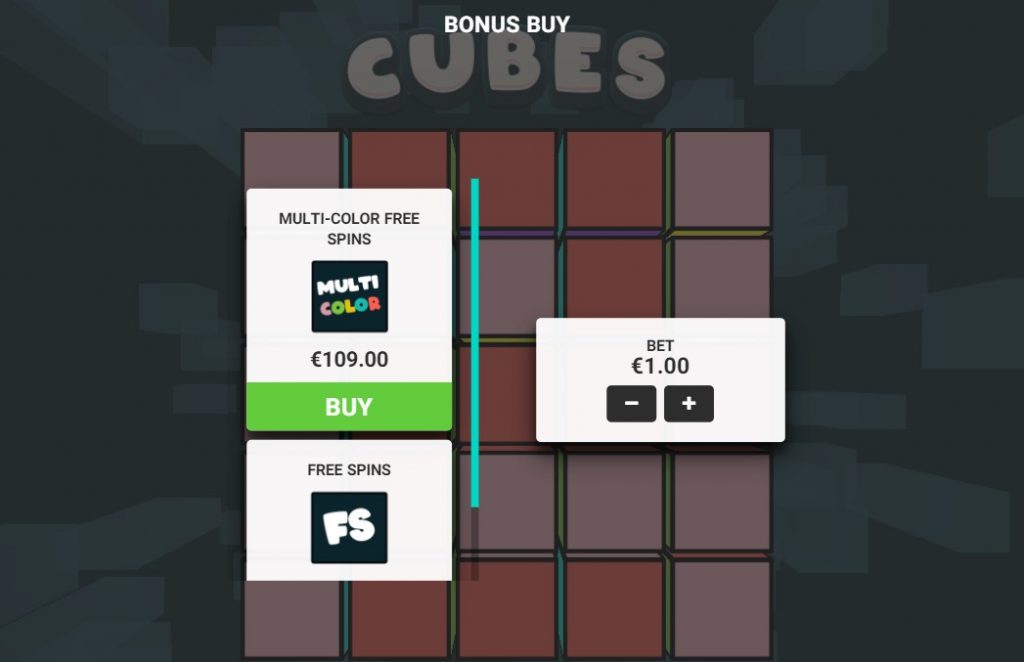 This feature or button is for those players that are not patient enough and want to buy the bonuses instead of landing them. Cubes 2 allows players to buy bonuses to speed up their progress. The buying options they can choose from are: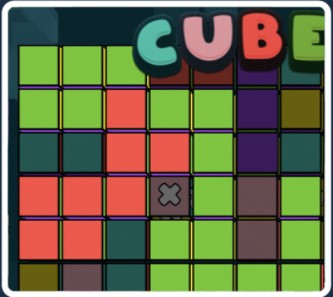 This is one of the bonuses in Cubes 2 that is triggered when the same colors are present on all four corners of the starting grid or setup. If players want to buy this, it would cost them 109 times their starting stakes. And if they bought this, five cubes will appear behind other colors, with their color and number of spins hidden.
This option can cost more than the multi-color. Players would need to pay 129 times their stakes instead.
The previously chosen colors from the previous round will become sticky and stay at their positions, frozen, during the whole bonus and extra spins duration. Furthermore, the grid will increase up to 11×11 grids during the same round and will not reset not until the extra spin feature ends.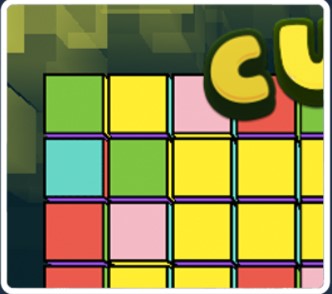 This is one of the best and main features of the Cubes 2 slot machine. To trigger this free spins feature, the player must hit five wins in a row with five various colors. You can track this through the game's title since a letter is going to lit up for every color that a win is created.
With this bonus, five spaces will appear, and players can receive a maximum of 12 free spins. This feature will only start when a color is revealed, which will be the reference symbol for the entire bonus duration and will be sticky. And during the free spins round, the grid size isn't going to reset, so if you have an 11×11 grid, you can play with it for the entire duration.
With this feature, five mini boxes will be added. Players will have to pick one in order to reveal the extra spins that are hidden. This feature will only stop once the colored box appears. With the Pick-Up feature, a player can win up to 10 free spins.
Different Platforms Compatibility
Not many online casino games are compatible with different platforms. Fortunately, Cubes 2 has great compatibility with different platforms like PCs and a smartphone. And it can be played with no problem. Also, in a mobile platform, the layout of Cubes 2 on the screen can be in portrait or landscape.
Cubes 2 Slot Review and Final Verdict
Despite being relatively new, Cubes 2 is a good online slot game. It offers excellent features and bonuses that allow any player to win more than what they have expected. However, the players must have long patience since the game is highly volatile. Being compatible with different platforms is also a good thing about Cubes 2 since there are players who want to play using different devices. Overall, Cubes 2 is an excellent slot machine and will surely continue to gain popularity.
FAQs
❓
How Do the Corner Multipliers Work?
✔️ When a cluster is formed around the X in the corners of the grid, it will transform into the corresponding number of boxes in that cluster. The number will also be the multiplier and will multiply the winnings or coins.
❓
Is There a Free Spins Bonus in Cubes 2?
✔️ Yes, there is a Free Spins Bonus in Cubes 2. The Free Spins bonus in the game rewards various numbers of free spins, with five as a minimum and 12 as the maximum, to a player.
❓
What Is the RTP of Cubes 2?
✔️ Cubes 2 has an RTP of 96.33%, only slightly different from the first version, Cubes, which has a 96.35% RTP.
❓
Is the Cubes 2 Slot Compatible with Mobile Devices?
✔️ Cubes 2 is compatible with many platforms and devices, including mobile devices. Moreover, with a mobile, players can even choose between a portrait layout or a landscape one.
❓
What Are the Special Features of Cubes 2?
✔️ Cubes 2 has some rare features in store. Some of these special features include the free spins features, sticky colors feature, and bonuses like a color blast and multi-color.