A promising and electrifying slot machine – Danger High Voltage, isn't your typical slot because it's inspired by an American hit song from the rock band Electric Six in 2002.
| | |
| --- | --- |
| Reels | 6 |
| Rows | 4 |
| Paylines | 4096 |
| Minimum Bet | 0.20 |
| Maximum Bet | 40.00 |
| Gamble | No |
| Jackpot | Yes |
| Software | Big Time Gaming |
| Autoplay | Yes |
| Volatility | High |
| RTP% | 95.67%-96.22% |
About Big Time Gaming
Danger High Voltage slot was developed by Big Time Gaming in 2017. Big Time Gaming is one of the best and reputable slot machine developers and is known for its slots that offer big wins. They have been providing lots of slots and games to many big gambling sites. Aside from these, the team behind this excellent software developer comprises leaders who have extensive knowledge about innovations in online gaming.
Big Time Gaming designed and developed Danger High Voltage mainly based on the song with the same title. And in the game, every time you hit the bonus round, you can hear the lines ''Danger, danger, high voltage danger, danger, high voltage!''
Where to Play the Danger High Voltage Slot
Danger High Voltage free play is available in many online casinos. Additionally, it's also available in the Big Time online casinos for people who like to gamble on mobile devices with a free demo version. Any online gambler can register and get a welcome bonus and free spins.
How to Play Danger High Voltage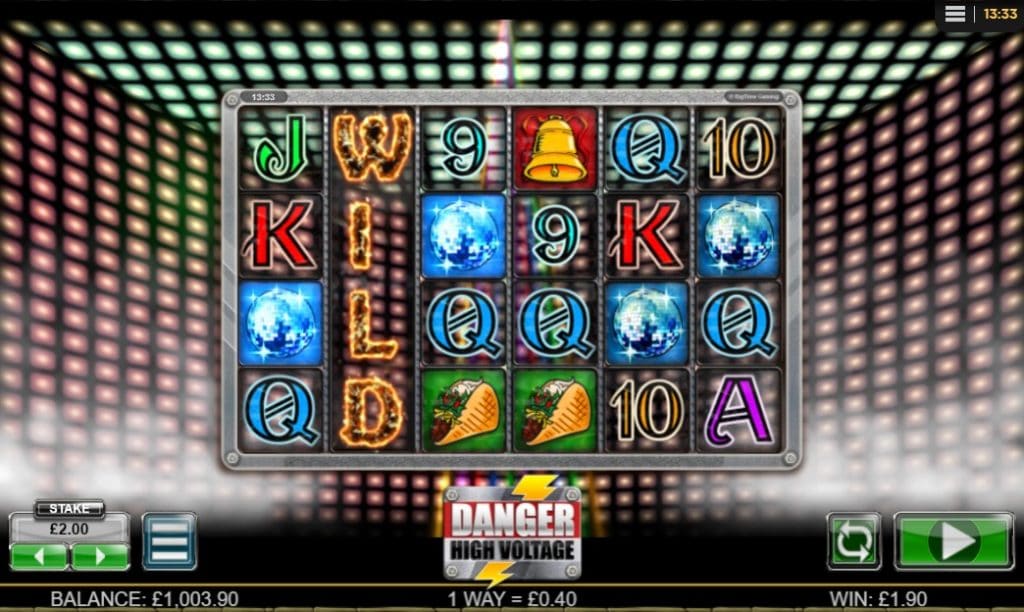 Techniques and strategies are beneficial to win any slot game. In terms of Danger High Voltage, there are many ways you can play and win. These are grouped in four general ways:
Using high volatility
Free spin rounds
Wilds in the base game
Using the 4096 paylines
Play With High Volatility for Massive Payouts
Danger High Voltage slot has high volatility. Volatility is one of the essential aspects that players consider. Since this slot is extremely volatile, it's a perfect game for high-stakes players. If you're completely new to these types of games or if you're a low-stake player with not much budget to bet, the odds won't be much in your favor.
When a game is highly volatile, it's rare to win big prizes unless you're betting big too. This is one way to play the Danger High Voltage – aiming for the major prizes with a large sum of money.
Choose Between Two Free Spin Rounds
There are two free spin rounds in the Danger High Voltage casino game – Gates of Hell and High Voltage. And you can get 6x, 20x, 50x, or 100x of your bet with this free spin selection. To play either of these rounds, you need to land at least three of the "My Desire" scatter symbols.
Enjoy Two Kinds of Wilds in the Base Game
Like any other good slot game, Danger High Voltage also has wilds that help players win. It has two, which are either covered in electricity or fire – the Wild Fire and Wild Electricity. These two are full reel wilds that can land only on reels two and five. They are substitutes for other symbols, except for the scatters.
Spin With an Incredible 4,096 Ways to Win
Danger High Voltage works differently compared to traditional slots. The main goal in this game is to land with matching symbols in adjacent reels that start with the leftmost reel, giving you 4096 ways to win. It's not like the typical lines where you must land matching symbols on the active lines.
Popular Slot Bonus Features
Danger High Voltage is popular for its bonus features and more. This includes the previously mentioned wilds, the free spins, even the audio and design, and the whole collection of symbols and possible payouts. All of these contribute to achieving your possible in-game goals.
Wild Fire
It is one of the two wilds in the game. It's a feature that can be randomly activated, and reels with this symbol can be reels two up to five only.
Wild Electricity
This is the other wild feature, aside from Wild Fire. It's also randomly triggered and lands on the same reels, but this offers more – a 6x multiplier.
2x Free Spins
When playing, you must look out for the scatter symbols because when you land on more than three of these, you get either of the two free spins rounds we mentioned before – the Gates of Hell and High Voltage. Here's what these rounds feature:
Gates of Hell Free Spins
With this feature, you can get seven free spins, with which one symbol is randomly selected to be the sticky wild throughout the round. This symbol can appear on reels two to six, and it will remain locked in the place where it lands.
Also, with every reel filled with sticky wilds, you can get extra free spins. You can get up to 19 free spins if you're lucky enough.
High Voltage Free Spins
You'll be awarded 15 free spins with this feature. This comes with the High Voltage wild reel that can land on reels between two to five and is also a collection of multipliers of 11x, 22x, 33x, 44x, 55x, and up to 66x. Your free spins will be multiplied by any highlighted multiplier that you'll land on.
Here, you can land at least three scatter symbols, and you can get 15 more free spins. Additionally, unlike with the Gates of Hell, High Voltage is possible to be retriggered.
Audio & Design
The game's storyline is based on a rock band song, so the audio and design of the whole game represent this theme. To complete the retro feel of the game, there are also flashing disco lights in the background. Additionally, you can see some Mexican themes going on, like with the tacos symbol. The best part is that you can enjoy the original Danger! High Voltage song as you play.
Symbols and Payouts
The game icons are mostly based on the storylines of the song mixed with some Mexican-inspired symbols. There are 11 symbols in the game overall, including the scatter symbol, and these are:
My Desire scatter symbol
Dead Skull
Bell
Disco ball
Taco
Big letter A
Letter K
Q
J
Number 10
Number 9
The values of each symbol vary from one another. The letter and numbers are low-paying symbols, while the rest are considered premium symbols since you can get big payouts with them. Match symbols and choose your preferred bet ranging from 0.20 to 40 and play up to 4096 ways in a 6 x 4 grid.
With the Danger High Voltage RTP of 95.67% to 96.22%, there's a good chance of you winning. The payouts for each symbol according to the number they matched is summarized in the table below:
| | | | | | |
| --- | --- | --- | --- | --- | --- |
| Symbol | Two Times | Three Times | Four Times | Five Times | Six Times |
| My Desire | None | x6.00 | x20.00 | x50.00 | x100.00 |
| Dead Skull | x0.20 | x1.25 | x3.75 | x10.00 | x25.00 |
| Bell | None | x0.30 | x0.75 | x2.50 | x5.00 |
| Disco Ball | None | x0.20 | x0.60 | x1.00 | x1.50 |
| Taco | None | x0.20 | x0.50 | x1.00 | x1.50 |
| A/K | None | x0.15 | x0.40 | x1.00 | x1.25 |
| Q/J | None | x0.10 | x0.25 | x0.60 | x0.75 |
| 10 | None | x0.10 | x0.20 | x0.40 | x0.50 |
| 9 | None | x0.10 | x0.20 | x0.30 | x0.40 |
How to Win at Danger High Voltage Slot
Winning is the best part of playing, but it's not always simple. In this Danger High Voltage slot game review, various ways you can try will be discussed. Generally, you can win in the base games just by matching symbols. But there are more ways.
Base Game Action
With the 6×4 grid, you're given 4096 ways to win. As mentioned in the above section, each symbol in the reel has its value. To acquire the benefit for each symbol, you just need to land them at least three times in one spin, in adjacent reels. But of course, if you want bigger winnings, aim to match more than three.
Additionally, matching higher-paying symbols like the dead skull or the scatter symbol is better since you can multiply your bet more. Even if slot machines, in general, are unpredictable and results are completely random, it's also best that you have a plan or goal that you want to do to win. For example, you can plan to stake higher than usual or compared to others. The bigger the bet, the bigger the winnings. But remember that luck will play a part with every spin, so don't expect to win with one spin easily and without losing money. Make sure to bet an amount that's within your limits.
Choose Your Bonus Round
We've mentioned countless times that you will activate the bonus round when you land and match at least three scatter symbols. And you're free to choose between two bonus rounds. You can play the Gates of Hell bonus round and win using sticky wilds. Or, you can choose the High Voltage bonus round and win with higher multipliers. Whichever you choose, the chances of winning are high because you're given free spins.
Turn Up the Volume
Playing while listening to good music is a good experience for you when you play Danger High Voltage slot. One of the best ways to win is to feel the game to your heart as you listen to the hit song Danger! High Voltage. When you're enjoying yourself with the music, you feel good. And when you feel good, you can win more since there's no pressure. Turn that volume up, and enjoy!
Stay Calm
Most players tend to lose patience when playing and tend to be consumed by the pressure of continuous losing. When you're not winning, remember to stay calm. Letting the pressure get to you and be agitated when playing only leads to more loss.
Stay calm so that you can think appropriately. Don't get carried away by your emotions, and stop playing if you're losing more than you can afford.
The Best Big Time Gaming Sites
The best sites are usually popular because other players have received great payouts from them. Also, most online casinos or other sites give additional bonuses and offers that you can use in many games aside from Danger High Voltage, like roulette and video poker games.
Try Danger High Voltage Free Play Now
BTG has its site you can access so you can play Danger High Voltage and other games, but they're only in free demo versions. You can play freely with an initial given amount of money that you can use to practice betting. Through this, you can practice or enjoy the slot machine without spending real money.
Danger High Voltage Mobile Slot
It's possible to play Danger High Voltage with your mobile devices. The game is available on any Android and iPhone device. You can play anywhere and anytime; just make sure you have a stable internet connection.
Alternative Slot Games
Aside from Danger High Voltage, you can also try other slot games. Big Time Gaming has more than 20 games you can choose from. And you can also play them on the best gaming sites that are accessible wherever you are.
Pros and Cons
Just like any other casino game, Danger High Voltage has its benefits and disadvantages. Here are some of the most common pros and cons you may encounter with the game:
| | |
| --- | --- |
| Pros | Cons |
| It has great free spins features | Other players might not like the background music |
| The maximum payout is relatively high | The game has a high variance |
| It offers more beneficial features aside from the free spins | It's challenging to activate the bonus features |
| It can be played with a mobile device | |
Final Thoughts
Danger High Voltage is one of the best slot machines out there, especially for people who like music and love the rock band Electric Six. It offers many features that increase your chances of winning. With its high RTP, it might be more interesting for players who bet large amounts of money. Nevertheless, you can win up to 20,000 times your bet, no matter what amount it is.
FAQs
❓ Where Can I Play the Danger High Voltage Slot?
✔️ If you want to play the game for real, you can access the best Big Time Gaming sites like SkyVegas and more. But, if you plan to only practice or play just for fun, you can try BTG's free version of the game.
❓ Is Danger High Voltage an Official Slot for the Hit Song?
✔️ Although not officially announced by any credible source, Danger High Voltage is the only slot game representing the hit song Danger! High Voltage of Electric Six. Truthfully, you can even listen to the song while playing.
❓ Are There Danger High Voltage Free Spin Bonuses?
✔️ Danger High Voltage slot is known for its excellent free spins features. These free spins are the bonuses offered by the game, and you can choose between the two – between Gates of Hell and High Voltage. These two have their specialties and offer, but both increase your chances of winning.
❓ Do I Have to Pay to Play the Danger High Voltage Slot?
✔️ If you're playing on an official gaming site, you probably need to deposit money to your wallet to play the game and to win. But, if you want to play the slot machine without spending money, you can always play the free version of BTG.
❓ Is the Danger High Voltage Online Slot Safe to Play?
✔️ It is safe to play since it's developed and provided by one of the most reputable software developers ‒ Big Time Gaming. Also, the minimum bet is at 0.20, so it's safe when you don't want to lose too much and want to bet with a low amount.