Where to Play the Tombstone Slot
Tombstone (Nolimit City) Slot Game
If you're ready to experience a 19th-century Arizona town and the vibe of a bustling saloon, Tombstone will take you there. Here, you'll get a glimpse of the old tales, adventures of that period, and pale desert sand colors to accompany it. At least, that is what the developers were trying to convey.
In our review, we'll take a thorough look at everything about this slot game: Tombstone free play, average Return-To-Player, bonuses, and pros and cons, among other things. Read on to get a full understanding of what this game delivers.
Briefly Overview of Tombstone
Tombstone is powered by Nolimit City, a Swedish gambling software provider with a focus on mobile gaming. Although not a major studio, it can safely be called one of the bigger "small" studios on the market. The Tombstone slot provider is also behind such games as Deadwood and Punk Rocker. This particular slot was released quite recently ‒ in 2019.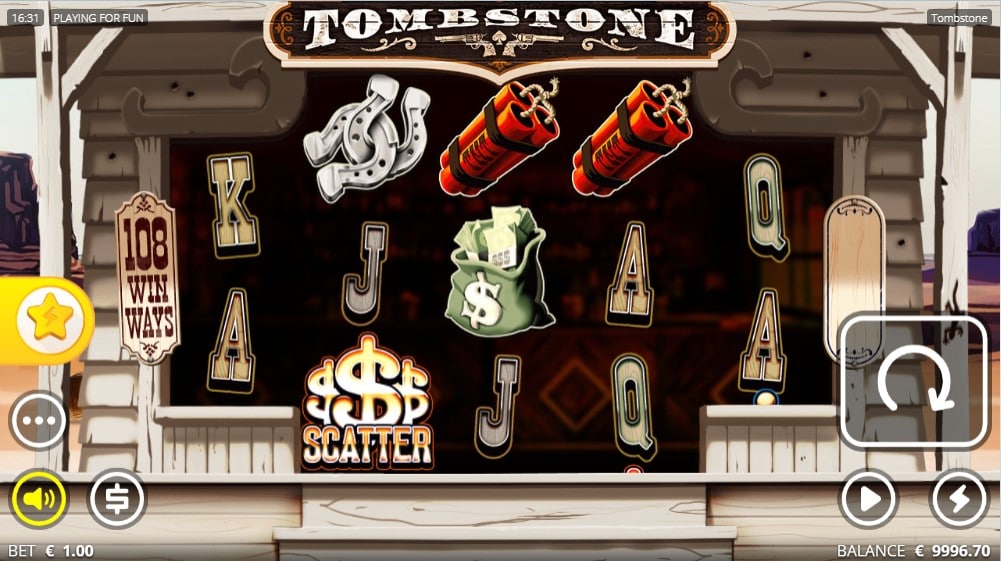 Tombstone has quite a unique layout – 5 reels and 2x3x3x3x2 symbols. In total, the game offers 108 ways to win. All you need for a win is to land at least three matching symbols on consecutive reels, starting from the reel on the left.
Betting is fixed at 10 coins per spin, but you can change the coin's value – the lowest stake is €0.10, and the maximum is €50 per spin.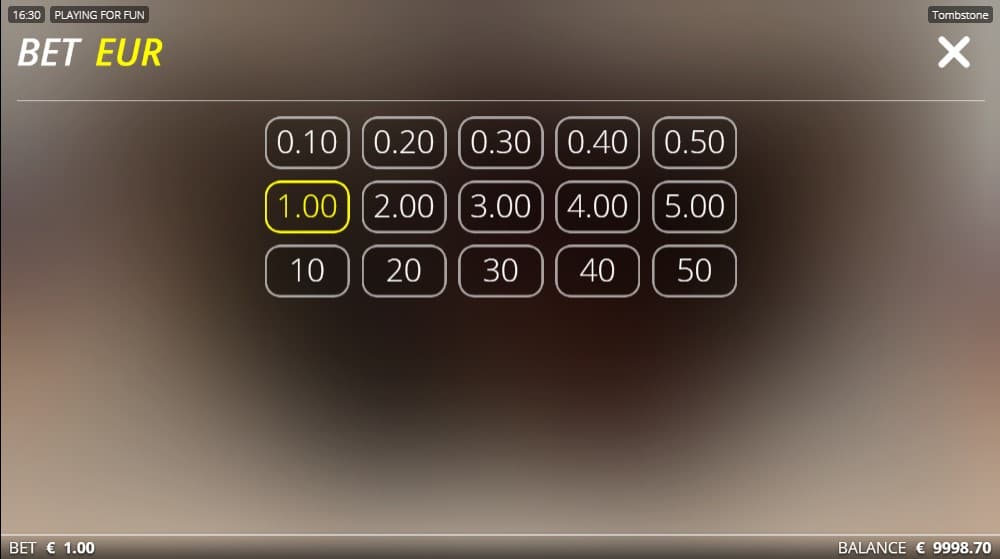 When the Nolimit City developers were doing test runs, they found out that the maximum prize possible is 11,456x. That said, the test involved over 10 billion spins. Still, that is quite valuable information to know.
Let's quickly cover the symbols included in the game:
Sticks of dynamite, gold bars, a bag of cash, a pair of silver horseshoes, and a revolver are high-paying symbols.
The royals (J, Q, K, and A) make up the lower values.
Volatility & RTP
The Tombstone slot is a high-volatility game. What does this mean?
Volatility is a way to gauge the game's inherent risks and the frequency of the payouts. High volatility, which is what we're dealing with here, involves higher risks.
Let's compare. A low-volatility slot extends your gameplay with small but frequent wins. But the downside is that you can't expect substantial money. High volatility, on the other hand, has a better potential for big wins but at a less frequent pace. This style may not suit everyone. If you're into this kind of uncertainty, Tombstone is the right choice.
Tombstone is set at a 96.18% RTP. What does this mean?
RTP (Return-To-Player) is the theoretical amount that a slot pays back to players. If you've heard something about a house edge (statistical advantage of a casino), RTP is the opposite.
Modern online slots are usually set at the 93-99% range. However, it's pretty rare to find something close to 99%. Usually, game developers are less generous.
With Tombstone RTP being 96.18%, it means that for every €100 that goes into the slot, it gives back €96.18.
This doesn't sound appealing, but don't worry. This number doesn't describe the actual possibility of winning. It is calculated on a huge number of spins, usually millions. After all, each slot is guided by a random number generator, so you can win at any time.
Gameplay
For the most part, Tombstone free or paid games are quite similar to other slots. At the very least, you don't need to do anything differently as a player. What makes the game appealing to play is the little details and extras. We'll be describing them in parts over the course of the review.
There are three outlaws ‒ Edda Star, Skinny Joe, and El Gordo. These are special symbols that can substitute for all regular symbols. They can appear on three middle reels and move to cover the whole reel. You'll find more about these wilds in the "Other Features" section.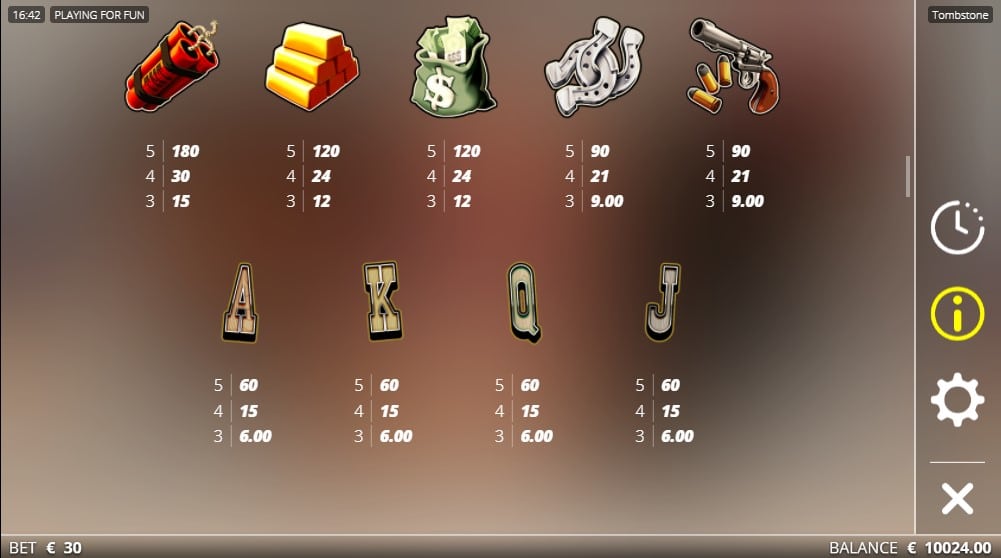 As for the regular symbols, you'll find:
Dynamite for robbing banks is the highest-paying symbol. 5 on a full payline will give you 0.6 times your stake.
Gold Bars and Money Bags are taken after the robbery. These pay less but quite well nevertheless – 0.6 times your stake for 5 symbols.
Horseshoes and Guns are also crucial parts of the Wild West Adventure. Those pay 0.3 times your stake for 5 symbols.
These days, most slots are enabled with an autoplay feature. You don't have to work hard to find and activate it. The machine will play through spins without you touching it. But it can quickly turn into a dangerous game.
Make sure to divide your budget so that it doesn't let you blow all your money on the first run. Specify how many times the game should automatically start, show you the results, and then move on to the next spin.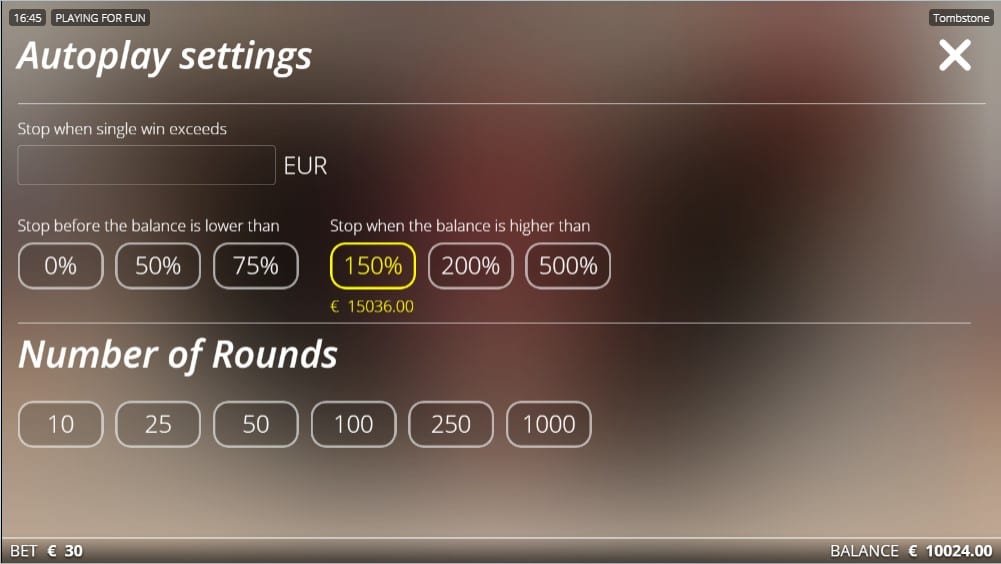 This shows the level of customization for the autoplay mode. You can't really control other parts of the game, but here, you can take liberties and make the necessary adjustments.
Design
The real-life town Tombstone had over 10,000 citizens. Back in the 1800s, the town was known for huge gunfights between groups on both sides of the law. As a form of entertainment, residents could spend their free time going to any of the 100 saloons and gambling halls.
The Tombstone slot's design incorporates this aesthetic. Nolimit City put the game's interface right at the entrance of a typical 19th-century saloon. Additionally, you can see on the screenshot that each wild card features multiple holes from gunshots to support the theme.
If you haven't caught on to where the action takes place, in the background, you can see classic Arizona desert landscapes. However, you won't find a lot of other elements (like houses, cacti, people, etc.). So, the level of detail isn't the game's suit. Some may find it disappointing, while others appreciate that the design was kept simplistic. Anyway, it's a matter of personal choice.
The Tombstone demo play shows the same imagery. The design is kept similarly simplistic, with the only difference being the gameplay.
Music
Many people still underestimate the importance of music. But it's clear that game design relies heavily on the quality and type of music. Here is why we dedicated an entire category to this seemingly minor detail.
When you play Tombstone, you hear soothing, old Wild West music. These classic tracks are only interrupted by bullet sounds when you spin the reel. You can also vaguely hear other reel noises. But overall, they're not too overpowering, so you can enjoy your time playing without annoying music being blasted at you.
Bonus Game (Free Spins)
For the ultimate level of fun, you get to play Tombstone for free. But it's not what it seems – we're talking about three types of bonus games that anyone can trigger in Tombstone. All of them award you additional spins to increase the potential payout.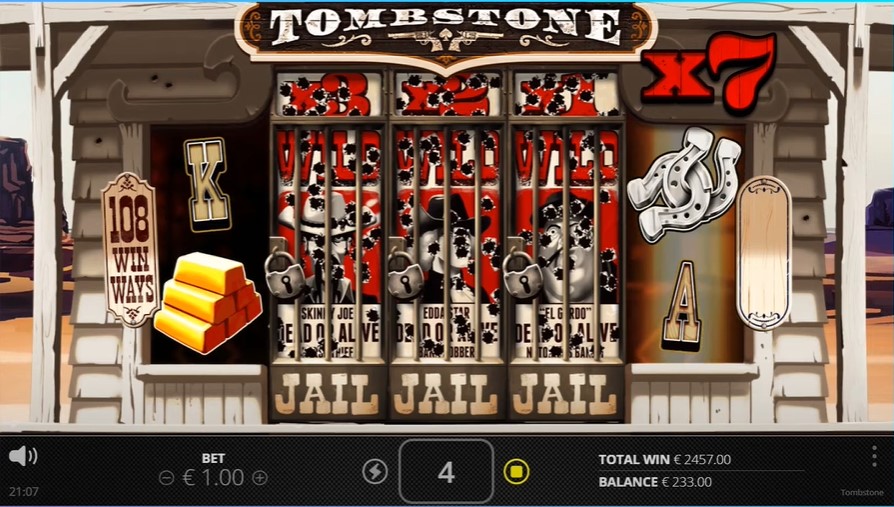 Here are brief descriptions of all three types:
Justice Spins ‒ These are represented by two badges: Sheriff and Marshall. These will appear on the 1st and 5th reels and award three extra spins. Additionally, all the wilds that appear during the three spins will stick for longer.
Gunslinger Spins ‒ This is associated with a dollar-sign scatter symbol. After getting three of them on the screen, you'll trigger 10 Tombstone free spins. Plus, all the benefits from the wilds are increased, and they become sticky.
Bounty Spins ‒ Finally, this is a combo of the first two types of spins. Gather the Sheriff and the Marshall on the 1st reel and three scatter symbols. This will win you 12 extra spins. If you gather more scatters, you'll get more free spins added.
Other Features
Tombstone has an xNudge system. This is a unique development by Nolimit City. We can verify that the xNudge mechanic really comes in handy in this slot and creates heart-raising moments, especially in the bonus modes. So, let us go over what they entail.
There are three gunslingers that can appear on the reels of Tombstone. You can come across them on certain rows in the middle ‒ 2, 3, and 4. If these characters see you, they will try to escape. But while doing so, they will make your rewards bigger. The more they try, the more you benefit.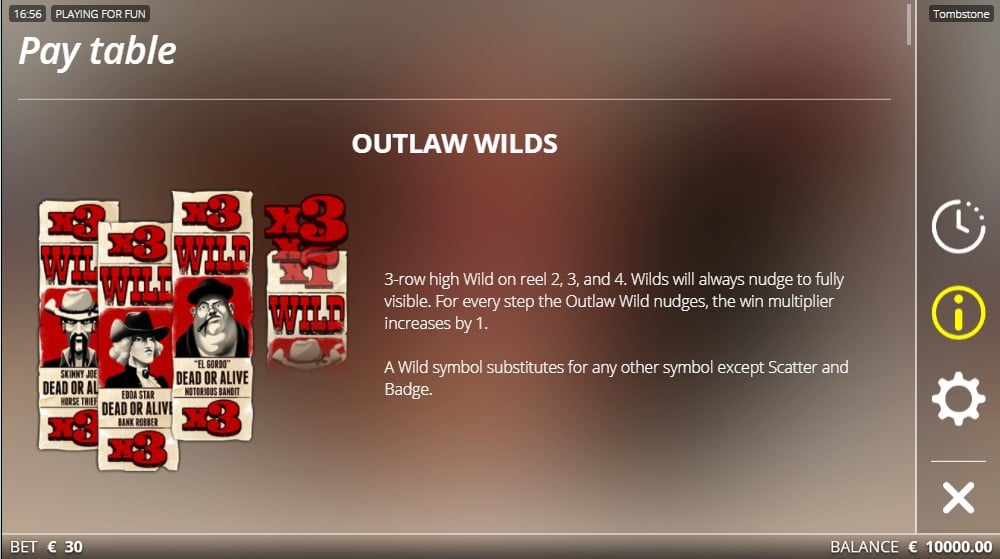 Now you will understand why the system is called xNudge. When one or several of them show up on the screen, they will be nudged up or down. This can increase the multiplier by one. In other words, if the character fills up their entire row, you get x1 on all your returns.
But the multipliers don't only stop at one ‒ if you get more than one wild, you're in luck. For example, let's say it moves 3 times. This will mean that your multiplier is increased by 3.
In this section, we also wanted to mention the Tombstone demo mode. You might be familiar with this concept from other casino games or other slots. When you access the Tombstone free slot, you get awarded €10,000 of virtual money. Remember: these are practice funds.
In this mode, you can get a taste of what the game feels like before jumping in. If you like what the game offers or you even manage to catch a win, you can graduate to real play. For this, you'll have to sign in and make a deposit.
Biggest Win at Tombstone Slot
We're all curious to know who the luckiest players are. Partly, it's because we want to see that it's actually possible to win at this slot. Another important thing is that we want to imagine ourselves in this player's place. Luckily, we've found a great video that captures the exact moment one Twitch streamer won big time.
In the Twitch highlight, the broadcaster called DeuceAce got his hands on 10 free spins from a Gunslinger. On one of the spins, he got two outlaws ‒ Skinny Joe and Edda Star. As they nudged lower on the reel, he received his first of this streak ‒ €3,996.
On the next spin, he was once again presented with outlaws. This resulted in another €2,106 added to his balance. On the next spin, there was a scatter symbol that granted the streamer one free spin. A multiplier added €189, making a total of €6,291 at that point.
As the last, most desirable note, DeuceAce was lucky enough to get two outlaws – Skinny Joe again and El Gordo. So, with 11 spins in total, he acquired a whopping €13,581 in winnings. In his own words, it was a beautiful moment to end the stream on.
Advantages & Disadvantages
Before we draw our final conclusions, here is a recap of the pros and cons of this particular slot game.
Advantages:
Higher than average RTP;
Impressive xNudge progressive multiplier;
Enormous win potential;
High number of Tombstone casinos;
A variety of free spins features;
Low requirements for the minimum bet;
Supported on different devices.
Disadvantages:
The outlaws are hard to catch;
Quite simplistic design;
High risk because of high volatility;
Not everybody fancies the Wild West theme.
Conclusion
With all Nolimit City's releases, Tombstone is one of the best games it currently features. The design is simple (although not everyone likes it), and the gameplay is the right balance of exciting and calm. You're not exposed to crazy colors, flashing lights, or upbeat music. Instead, you're put into an Arizona desert. But an occasional outlaw will set the game into real action!
The game excels at bonus features and extra spins. If all goes well, you can land wins of over 11,000 times your stake. Overall, there are many winning variations, and, chances are, you'll be able to catch some of them.
Hopefully, this Tombstone slot review highlighted all the important information you wanted to know. Before putting your hard-earned money in it, consider trying the game out in demo mode. With the knowledge from this article and experience of playing in the demo mode, you'll maximize your chances of success.
FAQ
❓
How can I get free spins in the Tombstone slot game?
✔️ There are 3 different bonus rounds that you can trigger and get extra spins: Justice Spins, Gunslinger Spins, and Bounty Spins.
❓
What is the RTP and house edge of Tombstone?
✔️ The RTP is 96.18%. Consequently, the house edge is 3.82%.
❓
Can you actually win while playing this slot?
✔️ Definitely! But nothing is guaranteed. If you're curious, you can watch different streams of players winning or open the statistics chart in the game to see the biggest wins ever.
❓
What is the point of the xNudge system?
✔️ In this scenario, the stacked wilds nudge up and down into place each time they appear on the screen. This can trigger the multiplier effect along with free games.
❓
Should I play the Tombstone slot online?
✔️ This game is definitely worth a try. It's simple but has multiple bonus rounds, not overpowering but still exciting. Anyway, it's a great balance of everything you're looking for in slots. But remember that it involves taking a risk.