El Paso Gunfight is a newly released slot (May 2021) from a company with fifteen years of experience. If you are fond of slots with high volatility and classic western themes, you may be pleasantly surprised by this slot.
Reels
5
Rows
4x3x3x3x2 or
2x3x3x3x4
Paylines
216- 44,340
Min bet
$0.25
Max bet
$50
Jackpot
No
Software
Nolimit City
Autoplay
Yes
Volatility
Extremely high
RTP
96.06%
Things to Know About Nolimit City
Nolimit City won the "Best Video Slot Provider" title in the EGR B2B Awards 2020. Indeed, the company's video slots and video poker developers' ideas are what made the company famous in the gambling industry. Special technology and a platform that is controlled by Nolimit City allow providers to set up some amazing game features and customized marketing tools. Even though the selection of games is not as vast as what some other providers have, the quality of the product makes Nolimit City a tough competitor in the market.
Best El Paso Gunfight Casino Sites 2021
When you choose a casino to enjoy El Paso Gunfight, please, remember to check up its license and read some players' reviews. If you are satisfied with those things, go on to have a look at the bonus system. Don't miss a welcome bonus!
The Main Slot Features
There are 8 special features that make the game different from other slots of Wild West storylines and provide you with great help with your in-game goals. Here we are going to talk about only three of them not to destroy the surprise for you. Play the El Paso Gunfight demo to explore them all, and then show off your skills at the real game to win real cash.
The 4 Dead in 5 Seconds Respin
Imagine that all five characters, including Stoudenmire, have landed. It triggers a respin, which covers all 3 middle reels.
The Deputy or Marshal Raid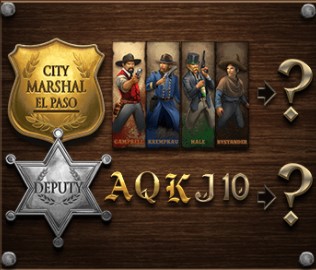 To activate this particular outcome, the Deputy or Marshal Raid must be landed. They both are great and beneficial. When you get the Deputy Badge, your low-value symbols transform into one low-value symbol.
The Marshal Badge gives you a chance to make one high-value symbol from all your high-value symbols.
When the Deputy and Marshal are combined, two badges transform into a wild. The screen becomes 4x3x3x3x4.
The Deputy or Marshall Gunfight Bonus Rounds
Once you get the Gunfight bonus round, you will be awarded nine free spins. Three scatters will turn into jumping wilds, which will change their position each time you make a spin. During these rounds, the maximum amount of money to bet is $25. If you really are a lucky person, the stakes will rise up to 400x.
We sincerely wish you luck in achieving this!
How to Play El Paso Gunfight for Free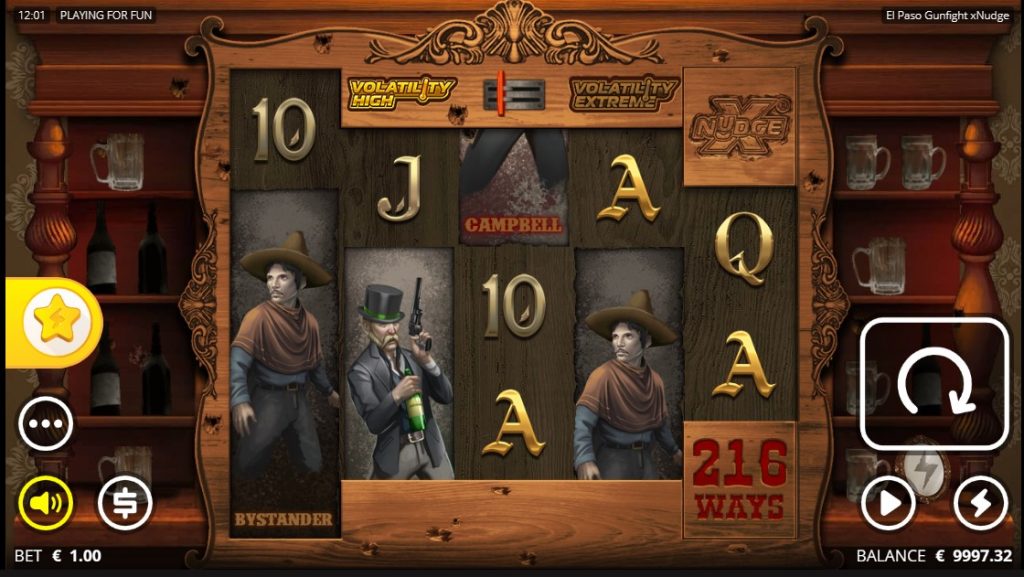 First of all, you can try a demo version to see if you like the game and understand how it works. The big drawback of this choice is the fact that you don't get your winnings in real money. So once you are sure you know what you are doing, try to play El Paso Gunfight.
Quick On the Draw
Guns, saloons, sheriffs, exceptional audio effects, and wonderful graphics – what else can we expect from the king of video slot – Nolimit City? Enjoy the Wild West with the help of very well-drawn characters. They will definitely take you away from where you are and shuttle you to their unique world full of adventure and brave men.
Shoot for Winning Combinations
There are two playing modes – with high and extreme volatility. Try both of them to be sure that you have chosen what suits you. The normal mode presents a 4-3-3-3-2-reel setup, while the second mode is 2-3-3-3-4.
Different symbols bring various multipliers to guide you on your road to the huge prize. The bigger multiplier is Campbell. When you have three of them, it gives you 0.4x your stake. If you manage to land four of them, the multiplier becomes 1x. Finally, with five Campbells, your bet will increase by 6x.
Wild Western Wild Multipliers
Naturally, Campbell is not the only multiplier. The most amazing one is a wild symbol called Marshal Stoudenmire. To activate the 4 dead in 5 seconds feature we mentioned before, you need to have all the characters landed. The wild will be expanded for the whole spin.
Look for skulls and roses – with their assistance, you can get free spins. They can also transform into Jumping Wilds and dance around the game field like crazy. Their dance allows you to make sticky Wilds out of your free spins and expand reels.
What This Slot Game Can Offer
El Paso has a lot to offer. Still, the right casino can even enlarge those bonuses and give you a significant welcome bonus and even free spins. For some of those offers, you will need promo codes, which can be found on the official website of the casino you're using.
Choose a casino with great care and attention! Don't let yourself be fooled by tempting offers of frauds.
Welcome Bonus
The slot itself has no welcome bonus. The bonus system itself can be slightly varied from country to country. For example, some of Nolimit City's bonuses can't be used in the UK. That is why you'd better examine the bonus program to play El Paso Gunfight at the casino you have chosen.
Free Spins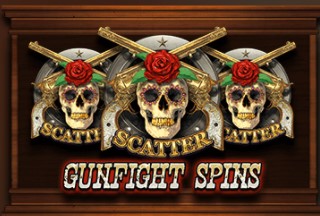 There are three variants to get free spins.
The second road to free spins lies through The Deputy or Marshal Gunfight. You have to land the badge of one of them and three scatter symbols to get 9 free spins.
The first one requires the landing of three scatters and called the Gunfight spins. This gives you 8 free spins.
The last and the most desirable way is called the Drunken Gunfighter. He comes when you have both badges landed along with three scatter symbols. After that, you get 10 free spins and 432 ways to win.
El Paso Gunfight Demo Version
El Paso Gunfight free play version can be found at any casino that offers the real money version. The demo has no bonus rounds; those can only be bought during real money play. Keep in mind that this slot isn't like roulette, where you can't do anything and have to rely on pure chance. There are some skills to master.
Free Play vs. Real Money
Both these versions have pros and cons. What to choose depends only on your goals. El Paso Gunfight slot free play version is not better or worse than the real money one.
If you are about to play the game for the first time, try its demo version first. You will have a clear picture of how wilds and scatters work and determine whether you are a fan of the Wild West theme. With the demo version, it is impossible to lose money, but at the same time, there is no chance of winning.
To experience what the thrill of the Wild West really is, try to play for real money. If you are afraid to lose, start with the smallest bet of $0.25 and see how it goes. When you play real, emotions and tension are real as well. If that's what you are looking for in the world of gambling, a real game is for you. Besides, it gives you a chance to explore additional features, such as bonus rounds.
Other Similar Slot Games for Players
If you are eager to try other Nolimit City products on the Wild West theme, try San Quentin, Tombstone, and Deadwood. But don't limit yourself to this one software provider. Netent, Microgaming, RTG, and many other slot developers have a lot to offer.
El Paso Gunfight Slot on Mobile
The game has a mobile version, which is just the same as the desktop one. Whatever device you choose – a computer, a tablet, or a smartphone ‒ the same world of guns, hot sun, and saloons will be there for you. If a casino has an application, you can also enjoy the game via this application – there will be no difference.
The game is compatible with Android and iOS.
The Good and the Bad
Pros:
Graphics, game icons, sound, storyline, design – everything involved in creating a special atmosphere has been made with great love for details and the final product. There are no limits except your imagination.
The gameplay is highly action-packed.
Bonus Features contain multipliers, jumping wilds, and free spins.
The top winning of 44,440x.
Cons:
The game has high volatility, which goes to the extreme level if you choose. Plenty of people prefer middle or low volatility games. It doesn't mean you shall say no straightaway – just try the game and think carefully if you can afford to play big.
The RTP is not the highest available on the market.
If you are a beginner, It is hard to remember what scatters, wilds, and things like that mean.
Verdict on El Paso Gunfight Slot
The final verdict is up to every player to make. What we recommend is to play the El Paso Gunfight demo version a few times at least. Here are some good reasons why.
For experienced players, it is sometimes hard to find something surprising and new. The rules and the bonus system of El Paso Gunfight slot may become a discovery of the month for you.
Nolimit City has the reputation of a reliable, trustworthy provider that prefers quality over quantity. That's why each game from Nolimit City has a soul. It has special features and new solutions which are rare o impossible to find somewhere else.
The Wild West theme is highly enjoyable.
The bonus system includes various things like free spins and several different multipliers from 1x to over 400x.
FAQ
If you have a question or thoughts you would like to share, don't hesitate to write directly to Nolimit City. But here is what people are interested in most of all.
❓ What is the Return to Player of El Paso Gunfight?
✔️ El Paso Gunfight's RTP is 96,06%. Experts recommend playing games with an RTP of 96% and above. Your odds of winning are quite good.
❓ How Does the 4 Dead in 5 Seconds respin feature work?
✔️ It would help if you had the Deputy or Marshal badge landed with three scatter symbols.
❓ Is there a Free Spins mode in El Paso Gunfight?
✔️ Yes, you can have free spins in three different ways. The Gunfight spins will give you 8 free spins, the Deputy or Marshal gunfight brings 9, and, finally, the Drunken Gunfighter will allow you to try your luck 10 times more.
❓ Is the El Paso Gunfight Slot optimized for mobile devices?
✔️ Yes, El Paso Gunfight slot is very well optimized for Android and iOS.
❓ When I play the El Paso Gunfight Slot, are my deposits safe?
✔️ Nolimit City keeps your budget safe. The soft provider has all it takes to make the game process safe and pleasant for a gambler. Still, it is vital to avoid casinos without licenses and any fraud-like places. Take care!