For anyone interested in slot machines, Fire in The Hole is a must-play. It is an insane game with lots of room to go nuts, with a few thousand different ways to win some big bucks. Is this game for you? Find out in this Fire in The Hole Slots Review.
Where to Play the East Coast vs West Coast Slot
What is Fire in the Hole Slot?
Fire in The Hole is less a game and more a vehicle for insanity. Check out detailed info about it below!
General Information
Fire in the Hole slot is coming from Nolimit City, makers of renowned titles such Deadwood, Punk Rocker, and East Coast Vs West Coast.
Stakes range from 20c to 50 Euros. All the action happens on a 6×3 grid that would usually give you 486 ways to win. However, this is an exploding reels game, so there are a whopping 46,464 ways of winning. No, we weren't kidding when we said this game was nuts!
Theme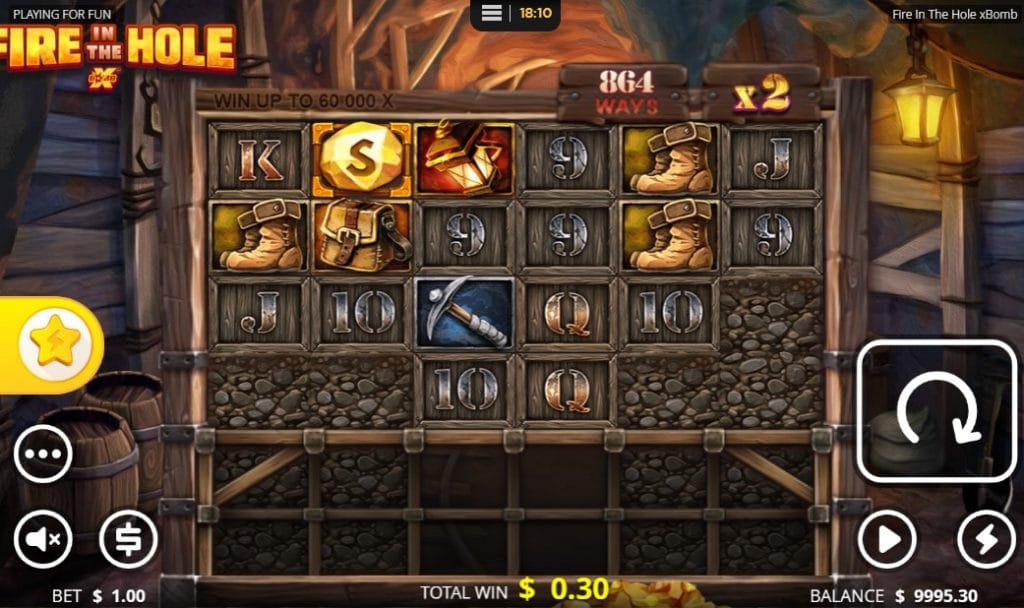 The thumbnail for the game features a dwarf exploding dynamite – which should tell you everything you need to know. This game is themed around mines and all the subterranean treasures hidden therein. It feels like taking a ride on minecarts.
The soundtrack hammers this home, as well. It is a very rhythmic sort of drumming, like the thumping of tribal drums. The graphics are very cartoony, which works for this game, lending it a rather charming vibe.
RTP
Fire In The Hole has an RTP of 96.06%. On average, 63.51% of your wins will come from the main game, and 32.55% of the wins will be from the Lucky Wagons Spin feature – which we discuss below.
However, keep your eyes peeled. There is a version of this game with an RTP of 94.11%. So, double-check with the casino or gaming site you're at to know for sure which you're playing.
Developer
Anything coming from Nolimit City is bound to wow its players, and this game is no exception. Nolimit City is made up of talented professionals from the gambling industry whose every game is geared towards providing gamblers with the utmost satisfaction. They have offices in Gzira, Malta, as well as Stockholm, Sweden, and Gurugram, India.
Fire In The Hole Slot Machine Bonuses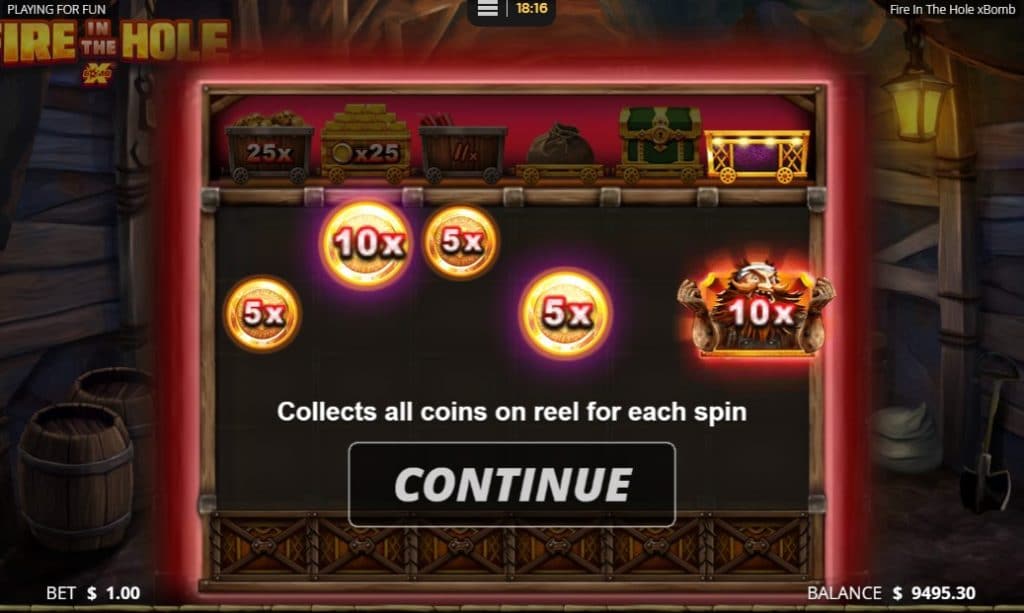 Now it's time to discuss the available options for Fire In The Hole Bonus. A game lives and dies on the bonuses it has, and Fire In The Hole is bursting (hehe) with them! Here, have a look at everything you stand to win:
Collapsing Mine Feature
Like any normal slot game, Fire In The Hole starts out with a 6×3 grid. This gives you 486 different ways to win. Each time you do, the winning combination of symbols is replaced by new ones. Additionally, every time you get a winning combo, the game adds a new row, increasing the number of ways you can win. This is the iconic Fire In The Hole Bonus: The Collapsing Mine!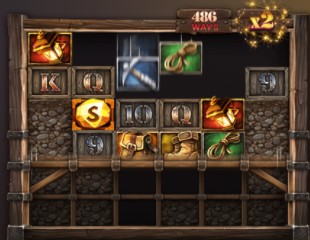 Here is a table showing you the number of ways you can win:
3 Rows = 3x3x3x3x3x3 = 486
4 Rows = 4x4x4x4x4x4 = 4,096
5 Rows = 5x5x5x5x5x5 = 15,625
6 Rows = 6x6x6x6x6x6 = 46,656
Multipliers
The xBomb is a symbol that is wild and replaces everything other than bonuses. This also triggers the xBomb Wild Multiplier, which explodes and destroys all the adjacent symbols except the bonuses. This also raises the multiplier by 1. However, the key part is that the xBomb does not have to be part of a winning combo to trigger.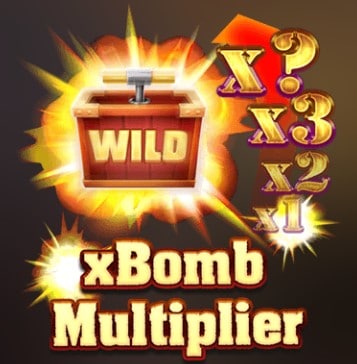 Wild Mining Feature
When you are playing the game and multiple cards of the same symbol line up side by side without activating a winning combo, the Wild Mining Feature is triggered! Depending on the number of the same symbols that line up, you can win a wild. For 3 symbols, you get 1. For 4, you get 2, and for 5, you get 3.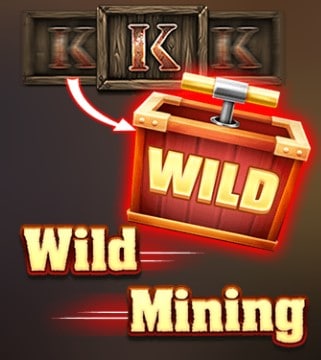 Following this, all symbols save for wilds and bonuses explode, cascading in a new chance to get a winning combo.
No Limit Bonus
This is a staple in all Nolimit City games. This allows you to buy into the Lucky Wagon Spin feature for a free set. What balances out the cost is that this also increases the RTP significantly. You have three options at your disposal, which are:
| | | |
| --- | --- | --- |
| 3 Bonus Symbols | 60x stake | 96.07% RTP |
| 4 Bonus Symbols | 157x stake | 96.2% RTP |
| 5 Bonus Symbols | 500x stake | 96.96% RTP |
How to Play Fire in the Hole Slot Demo
If you have played online slots anywhere, then you will know exactly how to play this. All you need is a good internet connection and a working mouse. If you have that, then you are all set. Spinning is as easy as clicking the mouse, and then the pieces fall and scatter as they may. That is the part you have no control over, but Fire In The Hole slots make up for that by having a lot of innovative new features that will help you win it big.
The first thing you need to work towards is getting free spins. This will allow you to spin for free, maximizing your chances of winning without paying the penalty. We will tell you how to do that, how it works in Fire In The Hole Slots, and what to look out for in this section.
Respins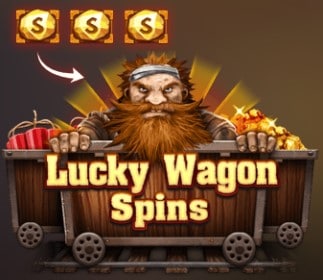 Instead of having a typical respin feature, which is a dime a dozen, to win Fire In The Hole free spins, you need to activate the Lucky Wagon Spins feature. To start this, you will need 3, 4, or 5 bonus symbols. Usually, this will take a player around 200 spins on average. Depending on the number of bonuses you get, this unlocks 2, 3, or 4 of the game areas. Once it is available, you will be able to play 3 spins.
In this extra game, the reels are either blanks or coins. Every coin awards you a cash prize and rests your free spin counter back to 3. There will also be special boosts atop every reel that is active, and when you nab a coin, it is boosted by the enhancer that sits on top of its reel. As you can see, this far outstrips any streak respin feature available in other slots.
Coin Values
The value of any coin ranges from the value of your total deposits up to a hundred times that.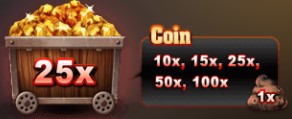 Bag Symbols
Bags are for holding. The bag symbol similarly holds all the coins in the corresponding reel right below it.
Dynamite Symbols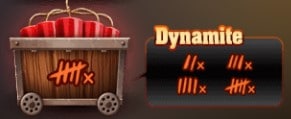 Dynamite symbols, when activated, blow things up, as expected. Usually, they blow up blocked positions. They can also increase the value of coins. Additionally, there is a chance that they will open up chests that are in the bottom row.
Chest Symbols
Chests are like the big brother of the Bags. They collect all the values in an entire reel area and also removes all blocked areas ‒ except Dwarf symbols ‒ and places them on the triggering coin.
Dwarf Symbols
This is what you need dynamite for. When activated, these collect all the values in the reel area for the reel directly above it on every free spin.
Game Verdict
The best way to describe this game is with one word – intense. Everything, from the explosions to the music, lends itself to the utter volatility of the game. Even without the free spins, the base game itself is pretty nutty, what with the xBomb Wild feature.
However, the game is designed around the Lucky Wagons Spin feature. That is what the game makes you want to win, and when you get the chance, it is the most exhilarating experience you will ever have in a slots game. Blow up some dwarf chests and do your best to claim the 1 in 116,000 chance of winning the grand prize if you get the maximum of 5 scatters.
The graphics and the music are in service of the theme, making it a fun, exciting romp. The looks are fun, and the soundtrack is mesmerizing, so be on your guard lest you keep playing till your savings run out!
All in all, Fire In The Hole Slots is a wonderful game that has our highest recommendation!
FAQs
❓ What is Fire In The Hole RTP?
✔️ The RTP of Fire in the Hole is 96.06%.
❓ Are there any Fire In The Hole free spins?
✔️ There are free spins in this game.
❓ What is the Fire In The Hole max win?
✔️ The max win is a whopping 60,000 times what your total stake is.
❓ How volatile is Fire In The Hole slot?
✔️ Fire In The Hole is extremely volatile. On a scale of 1 to 10, 10 being the most volatile, this game is definitely a 10.
❓ How does the xBomb feature work?
✔️ The xBomb feature causes all the symbols adjacent to it to explode ‒ except the bonus symbols.