Pragmatic Play is one of the leading enterprises in the world of online casinos. The company has created numerous thrilling slots for betting lovers. Besides, Pragmatic Play is trying to keep up with the times and constantly develops its products, making them available both on PC and mobile devices.
Where to Play the Gems Bonanza Slot
What Is Gems Bonanza Slot?
We are glad to present the latest hit from Pragmatic Play: Gems Bonanza Slot. It can become one more opportunity for experienced players and newbies alike to win jackpots.
Graphics and Theme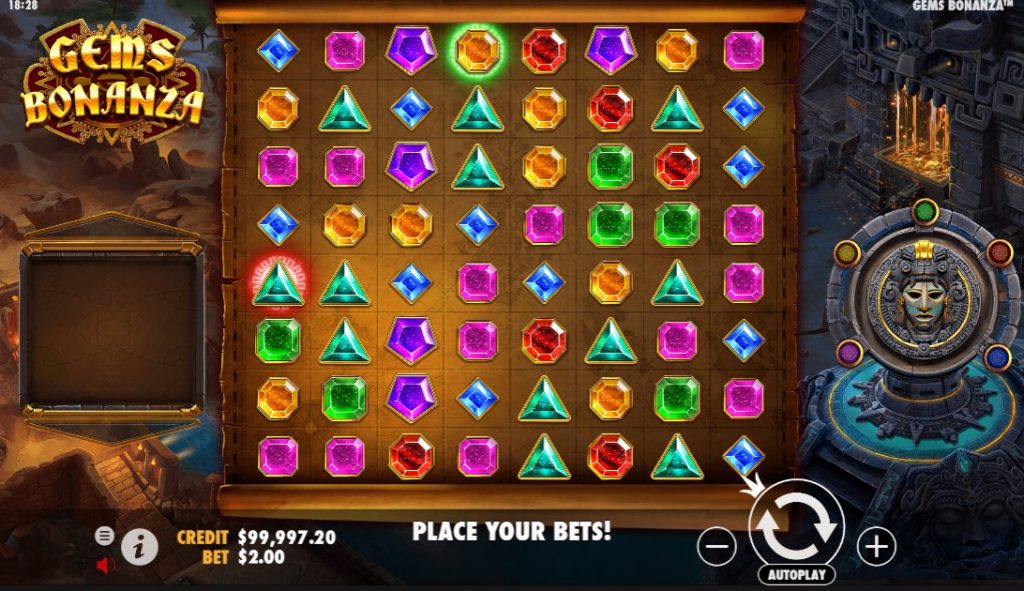 The Gems Bonanza Slot game is a well-designed slot. It shows colorful references to the Aztek culture and history, which is famous for its mysteries and countless treasures. Thus, a player has a chance to feel the charm of the ancient civilization.
On top of that, the game itself is an 8×8 reel grid. It has various winning combinations that appear if there are 5 or more clusters with matching symbols.
Software Supplier
As it was already mentioned, the provider of the Slot Bonanza Gems is Pragmatic Play. The enterprise creates slots, live casino activities, and other variants of gambling games. The developer's games are translated into 31 languages and support all currencies. Besides that, Pragmatic Play is legally certificated in more than 20 jurisdictions.
Volatility
Volatility is the level of risk you face when playing a slot game. When you play Gems Bonanza for free, you should be mindful of the fact that this slot has high volatility. It means that the possibility of winning combinations is rather low. At the same time, the value of the winning is impressive. The game is a good option for patient players who enjoy high bets and corresponsive jackpots.
RTP
Due to the game's high volatility, the RTP is 96.51%. To be more precise, we have shaped a table with the main slot's characteristics for you to look through.
| | |
| --- | --- |
| Volatility | High |
| RTP | 96.51% |
| Provider | Pragmatic Play |
| Available | PC, Mobile Devices |
| Type | Slot |
| Max Win | 10,000x |
How to Play Gems Bonanza Slot
Here, we've provided you with step-by-step instructions on how to start your adventure with Gems Bonanza Megaways Slot.
Decide On the Bet Size
First of all, determine what your first bet is going to be. Your aim is to activate the different levels of the game, which will give you more benefits. We have already noticed that there should be 5 or more clusters of matching symbols for you to win. The bigger the number of symbols is, the greater your win will be. By completing different levels, you can activate multipliers.
Set Lose or Win Limits
Of course, when playing any gambling game, it is crucial to understand your limits. We highly recommend that you define your personal winning before you even start playing. The excitement of betting should remain a pleasure for you; that is why it is necessary to know when to stop.
Turning back to Gems Bonanza review, calculate the approximate amount of bet you are ready to strike. Needless to say, that the slot offers you a wonderful opportunity to increase your winnings. There are a few features that will make the gameplay even more thrilling.
Hit the Spin Button
As soon as you are ready, press the spin button and start your journey. Remember that there are 5 levels you can achieve in order to raise your chances and the amount of your prize. Each level has its own characteristics and lets you activate the Gold Fever Feature. They are as follows:
Level 1. Get 114 symbols and a 2x multiplier
Level 2. Get 116 symbols and a 4x multiplier
Level 3. Get 120 symbols and a 6x multiplier
Level 4. Get 125 symbols and an 8x multiplier
Level 5. Get 130 symbols and a 10x multiplier
Gameplay Special Features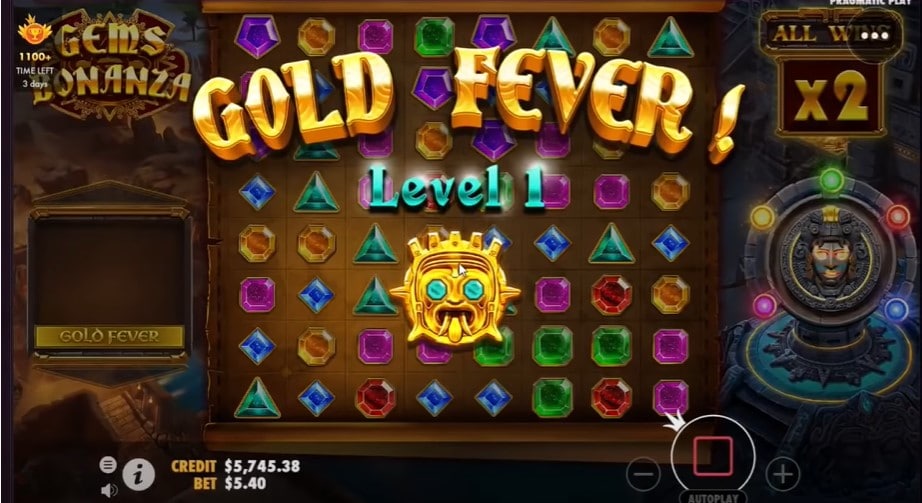 Every slot usually has its own specification, which is important to clarify. Here are some Gems Bonanza bonus features you will definitely enjoy.
Spin Features
When playing, you can notice colored markings behind some symbols. If this symbol becomes part of your winning combination, it is a colored marking that triggers a modifier. It should be mentioned that you can get a few modifiers on the same spin.
Some interesting spin features include:
Nuclear Feature. Triggered by the blue marking. All your symbols disappear, and the new ones come to their place.
Wild Gem Feature. Triggered by the pink marking. When the spins are completed, all the same symbols turn into wilds.
Squares Feature. Triggered by the brown marking. You get a 2×2 symbol block that takes a random position on the grid.
Colossal Feature. Triggered by the red marking. You get a new block added. It can be of 3×3, 4×4, 5×5 sizes.
Lucky Wilds Feature. Triggered by the green marking. You get from 5 to 15 wild symbols to the grid.
Gold Fever Feature
Have you ever heard of the Gold Fever feature? It is something that every player is looking for. Go check out casinos with Gems Bonanza Slot, and you will find out all the benefits you might get. Let's find out how this feature functions.
On the left of the reels, you have a special table. You have symbols added there every time you get a winning cluster from a single set of the tumbles. Your purpose is to earn 114 symbols both from a single spin and one set of spins. Once you do it, the Gold Fever feature is activated.
What does it offer you? It provides you with a so-called spin that guarantees that all modifiers play out in succession. When you fill the table, you will get to the next level. The number of points needed is given above.
Be mindful that when a new spin starts, your meter returns to zero.
Gems Bonanza Slot Free Play Availability
One more obvious advantage of the Bonanza Gems Slot is its availability. Its developers have created a product that lets players spin the reels at home and on the go. Besides the desktop version, there is also the opportunity to enjoy your favorite slot wherever you are – and on any mobile device you possess.
How to Win
It is clear that risks and benefits are high when gambling with Slot Gems Bonanza. Slots are mainly all about luck. It is the reason why they are so appealing for people who enjoy taking risks. Those are all casinos about, are not they? However, there are a few strategies worth sticking to, as they will raise your chances to hit the jackpot.
Bet reasonably. Do not waste a sum of money that you would regret. Remember your limits, and the game will become more joyful for you.
Explore the grid carefully to understand the progress of the game. All in all, sometimes it is just a bad day.
Be ready to increase your level for the Gold Fever feature. This feature is your chance to get everything from your gain. Check the meter often to watch the progress for your level up.
Lucky Wilds is the second beneficial extra feature you should make your bets on. The essence of this feature multiple your chance to get extra symbols. Once you get them, your Gold Fever feature is triggered.
Pros and Cons of Gems Bonanza Slot
Every slot has its advantages and disadvantages. Some things derive from objective factors and characteristics. Other things are based on personal preferences. Here are the pros and cons of Gems Bonanza Slot.
Pros:
Well-developed bonus system
Exciting and thrilling game
A great number of different multipliers
Clusters are dynamic
Cons:
It is not the choice for players who prefer classic slots
Hight volatility means it is all or nothing
No Gems Bonanza free spins are offered
Game Verdict
Taking everything into consideration, we can conclude that Gems Bonanza Slot is quite an attractive latest release from such a reliable gambling provider as Pragmatic Play. It might not be the one for careful and traditional players. However, if you are risky and maybe a little bit reckless, then you will absolutely enjoy this slot. Risks are high, but the prize is just as significant.
You will also enjoy the design of the slot, which is colorful. The bonus system might seem a bit complicated, but it is still worth it. Do not miss your chance to reach the Gold Fever ‒ the height of excitement in this game.
Gems Bonanza Slot FAQ
We are also glad to answer the most frequently asked questions about this slot.
❓ What is the biggest win available on Gems Bonanza?
✔️ The maximum win when playing Gems Bonanza is 10,000x your total bet in one spin. To get that prize, you have to achieve the highest level of the Gold Fever feature.
❓ How do the spin features work?
✔️ Different colored markings activate 5 spin features. Each of them has its own criteria, which we covered earlier in this article.
• Blue: Nuclear Feature
• Pink: Wild Gem Feature
• Brown: Square Feature
• Red: Colossal Feature
• Green: Lucky Wild Feature
❓ How does the Gold Fever feature work?
✔️ When you get winning symbols, you fulfill your meter to the left of your reels. As soon as you get enough of them, you trigger one of the levels for the Gold Fever Feature. The more symbols you earn, the higher level you reach, and the more multipliers you get.
❓ Where can I play the Gems Bonanza slot for real money?
✔️ Gems Bonanza can be plaid for real money at online casinos. You do not need to pay to get access to the slot. You can play at home on your PC. If you enjoy gambling sitting at the office or on your way in a car or subway, you can easily use the version of the slot for mobile devices.