Where to Play the Iron Bank Slot
Gonzo's Quest (NetEnt) Slot Game
Released in 2011, Gonzo's Quest slot machine became the first platinum game of NetEnt, which is a leading global distributor of online casinos based in Sweden.
The game is based on and inspired by a story about a real Spanish explorer named Gonzalo Pizarro y Alonso – however, we just call him Gonzo. Contrary to what he was really like, in this game, Gonzo is depicted as a funny little lad from Spain who has begun his adventurous quest to find gold in the lost city of El Dorado. He wears the typical outfit of an explorer from the 16th century. He's not only there to complete his own mission, but also to entertain you, dear player.
Gonzo strokes his beard or plays with his helmet when he gets bored, or he might even do a dance when you win! He patiently waits while you're gambling, but he can't wait to see how much gold you can win! Try to win big, in order for Gonzo to show off his ability to do a moonwalk – he genuinely loves that, although he won't admit it!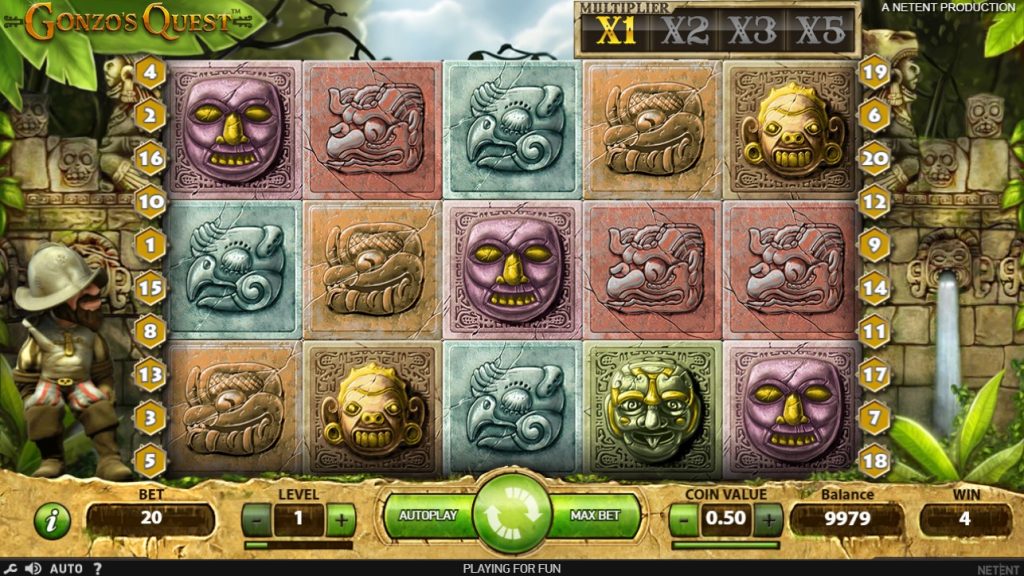 Volatility & RTP
In case you're new here, RTP stands for the "Return-to-Player" rate. It's the percentage of any money wagered that the casino expects will be paid back to players. RTP indicates the long-term performance a player can expect from a slot machine.
The Gonzo's Quest RTP rate is rather average and equals 96%. Most slot machines similar to this one have such RTP rate as well, so Gonzo's Quest is no worse than others!
However, the game is mostly known for its high volatility, which makes Gonzo's Quest ideal for those who are striving for massive wins and are not worried about what happens in between. As King Pyrrhus of Epirus once said, sometimes "you need to lose the battle to win the war." We bet Gonzo was also well aware of this strategy; after all, he lived 1700 years after the Greek king.
So all you need to do is keep your cool, play Gonzo's Quest online, and prepare to be a little patient until you get a huge payout once you win!
Gameplay
As an introduction to the game, you'll watch a quick video about Gonzo's intriguing adventure in order to let you dive into his story. When you're done, the main character will stay with you throughout your journey and, as we've said before, he'll cheer you up and entertain you as long as you try to win your prize!
You'll find the control panel right at the bottom of the screen. It's really not hard to get used to it and learn how it all works. The lines in the game are fixed, so you're free to operate with a fairly flexible range of bets, which is £0.2-£0.5 per spin.
Additionally, you can set the maximum bet amount or use the automatic Autoplay mode. You'll find all information regarding payouts and features in the menu. After you've read all the info and prepared yourself for an exciting game, click on the round button in the centre and proceed to spin the reels!
Design
In terms of design, Gonzo's Quest has incredible 3D graphics and animation. The visuals can make you dream about going on an adventure to find the legendary city of El Dorado.
All the images and elements were beautifully designed to offer you the best experience with this slot machine. There's a temple in the background that, in reality, belonged to the Inca people. The Incas were actually defeated and conquered by Gonzalo and his followers. That's how ambitious and goal-oriented he was, and you should be, too!
The elements of the game are represented by square stones with animal or human faces on them. Such stones have been associated with the Incas themselves, and here in the game, these pieces represent their culture. Every stone has a different colour – particularly, the greyish blue element with golden blotches serves as the most valuable element, followed by green, gold, purple, brown, pink and finally pale blue pieces.
The Wild symbol here is represented by a grey stone with a golden question mark in a circle, whereas the Free Fall symbol is a solid gold medallion with a face on it.
Music
The sound effects totally correspond to the main theme of the Gonzo's Quest casino game. Bird calls, stones falling down, and wildlife sounds make you feel as if you're in the jungle of Central America trying to conquer the Inca people. These realistic sounds are what brings this slot game to life.
Bonus Game (Free Spins)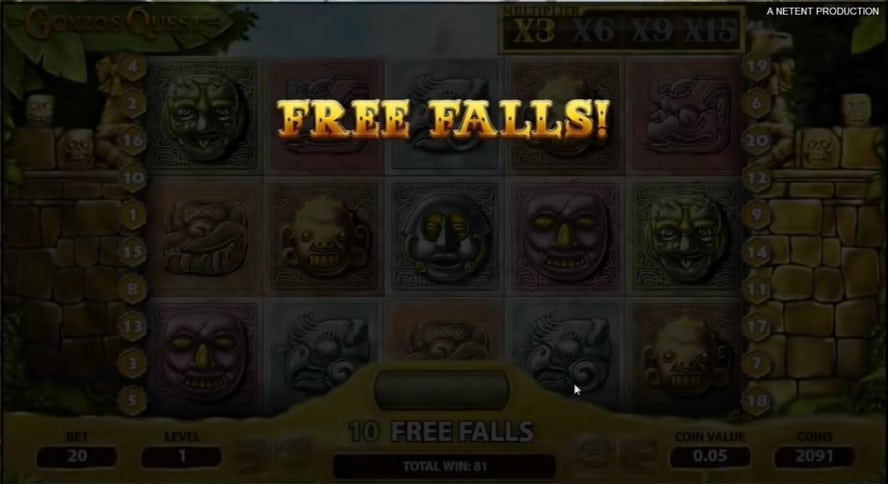 There's another reason why gamblers choose to play Gonzo's Quest: free spins. The Gonzo's Quest free spins feature is called Free Falls. It comes with an animation where you see Gonzo walk through the gate and head towards the glowing golden temple in the background. When you land 3 Free Fall symbols on a payline, you'll get 10 free spins. You can also get 20 free spins if you're lucky enough to get 3 or more Free Fall symbols on two separate paylines at the same time.
During the Gonzo's Quest Free Fall mode, you can earn up to 15x multipliers in the bonus spins mode. Bonus coins also start to fall out, and Gonzo rushes forward to collect them with his helmet. While he's catching the coins, you can see how much you've won right on the screen.
Other Features
When Gonzo's Quest was first released 10 years ago, it immediately attracted the attention of experienced slot machine gamblers with its Avalanche feature. So, this is how it works.
After each spin, elements break into pieces, and new ones fall down, making new combinations. Every winning combination will increase the multiplier points. The main mode offers the maximum of 5 multipliers, whereas in the Gonzo's Quest bonus mode this coefficient equals x15.
This feature is truly generous. Nevertheless, it's important to mention that each spin that results in no winning combination will reset the multiplier to x1. With such winnings, El Dorado is nothing compared to the Gonzo's Quest game!
While it may seem that the Avalanche feature can slow down the gameplay, that's not true. The symbols fall down quickly and smoothly, and the multiplier counter in the top left corner of the screen allows you to keep track of all your winnings, as well as the multiplier points. As the Avalanche feature enhances the gameplay in a certain way, you have a better chance of winning on every spin!
The Wild symbol in Gonzo's Quest appears randomly on the reels and can transform into any other element, including the Free Fall symbol, to increase and maximise your winnings on all 20 paylines.
Biggest Win on Gonzo's Quest Slot
If you've never played slot machines online, you may be wondering: is this for real? Can you actually make money by tapping buttons and watching the Spanish conqueror do his little dances?
We totally get it, as online casinos often become a waste of money and, most importantly, precious time. To make sure playing Gonzo's Quest slot online is safe and profitable, please watch a video by Slotspinner where he keeps playing the game until he wins!
The video is available on YouTube. Slotspinner looks like a cool guy, despite the fact that he's wearing sunglasses in a dark room, but okay. However, be prepared for the F-bombs he drops throughout the video!
The player sometimes reminds viewers of Gonzo himself – rubbing his chin and getting excited when he realises he's about to win. By the time he gets the x15 multiplier, he's all nervous, hoping for a big win. Well, we can't blame him for it, can we?
It's interesting to watch Slotspinner talk to himself while the stones keep making winning combinations. There's no way I would let someone watch me gamble online, ever! But thanks to Slotspinner, the game may have attracted a ton of new players.
Meanwhile, 6 brown monkey elements make a combination – and boom! It's a win! In total, Slotspinner gets over a 1,000€ in just about 4 minutes. How much do you make in 4 minutes?
Advantages & Disadvantages
Gonzo's Quest slot advantages:
The legendary game by NetEnt is based on a real character;
The Avalanche feature;
The Free Falls feature;
High volatility;
Excellent 3D visuals and great sound effects.
The slot's disadvantages:
Conclusion
We reckon Gonzo's Quest definitely deserves the title of one of the best online slots out there. It's a slot machine that will work for anyone regardless of their experience and how much they can bet.
From the game's design, you can tell that designers tried to make its animations and story as fun and engaging as possible. Having Gonzo as sort of a mascot that cheers you up and gets genuinely happy whenever you win is pretty motivating, too. He's the one who has a whole game dedicated to him, and this is what makes Gonzo's Quest so special and lively.
The revolutionary Avalanche feature has also played an important role in how popular the game has become. The feeling of nervousness and excitement that you feel when you're spinning the reels over and over again is inexplicable yet absolutely breathtaking!
All in all, you should try and play Gonzo's Quest yourself to experience all it can offer! Obviously, it might not be everybody's cup of tea to be patient, waiting for a big win, but you won't know it if you don't try.
Anyway, we hope you've enjoyed our Gonzo's Quest slot review, and hopefully, you'll check it out. Gambling and following Gonzo's journey is an interesting way to spend your free time, not to mention that you can also make a great amount of money! Who cares about finding El Dorado when Gonzo's Quest slot machine is right in front of you!
FAQ
❓ Can I Only Play Gonzo's Quest With Real Money?
✔️ Online casinos were obviously made for people to stake real money and win way more in return. However, like any other game, you have to get used to it first and learn the rules by practice. Otherwise, you may lose your cash.
So, to avoid this, you should try a Gonzo's Quest free play first. There's no need to bet any real money, just push the button and play the Gonzo's Quest demo version. All the experienced gamblers started with it, so don't feel bad if you can't stake money right now. The Gonzo's Quest free slot machine feature will surely help you master your gambling skills!
❓ Are There Any Other Online Slot Games Similar to Gonzo's Quest?
NetEnt has come up with different online slot games. One of our favourites is the Dead or Alive slot game released in 2009! It will take you back to the Wild West with its amazing sound effects, Cowboy Hat and Cowboy Boots symbols, and other cool features associated with that time period.
But, if you can't get enough of Gonzo's adventure, Red Tiger Gaming has got something to offer! They made a sequel to Gonzo's Quest, which is called Gonzo's Quest Megaways. It's a typical Megaways slot game, and if you're a fan of them and of Gonzo, you'll love it! The Megaways version of the iconic Gonzo's Quest slot game has 6 reels and up to 117,649 ways to win. The maximum win is 21,000x stake, and the RTP is also 96%.
❓ What Platforms Does Gonzo's Quest Support?
✔️ Pretty much all of them. You can spin the reels on your computer, your tablet, or your smartphone. The game will run smoothly on both iOS and Android devices, so this is another advantage of online casinos, right? Just keep gambling in the office, on the bus, or in the loo, for God's sake!
As long as you're excited about your win and have access to the Internet, you'll be fine. Don't forget to sleep and eat regularly, though!