Go on an adventure back to the Jurassic era with the Primal Megaways Slot. Be careful with its high volatility, but enjoy up to a 50,000x return on your bets. Keep reading our Primal Megaways slot review for all the info you need!
Where to Play the Primal Megaways Slot in 2021
Online casino sites choose the best games from their trusted developers. The Primal Megaways slot keeps its users happy with creative graphics and game features. Find this slot at the following online gaming sites:
You can check their sites and apps to start playing. You can even try other gambling games when you visit them, such as roulette and video poker, but make sure to enjoy Primal Megaways first. One tip also, before choosing where to play, you need to know whether the site is legit and can give you real money payouts. Some sites scam their users, so always double-check.
| | |
| --- | --- |
| Reels | 6 |
| Rows | 6 |
| Paylines | 46,656 |
| Minimum Bet | £0.20 |
| Maximum Bet | £10.00 |
| Gamble | No |
| Jackpot | No |
| Software | Blueprint Gaming |
| Autoplay | Yes |
| Volatility | High |
| RTP % | 96.76% |
How to Play Primal Megaways
Just like any other slot game, you need to land on three or more matching symbols to win. There is a 6-reel and 6-row board on Primal Megaways. You will spin and try your luck on where the symbols would land. You can play Primal Megaways slot free version or have a bet up to £10.
Select Your Bet
Before you can play, you must place your bet. You can start with £0.20 or go up to £10. It's best if you budget your money by dividing your bets into different rounds. Don't risk all your money at once. One trick to avoid losing all your bets is to separate your budget into small bets. The more bets you have, the more chances you have of winning.
Spin the Reels
The main goal of the game is to spin the reels and land on matching symbols. You can manually click on to spin or go on with the autoplay feature of Primal Megaways. Many players would go for the autoplay to just wait and see whether they win on a round of spinning, unlike spinning manually, where they might click other buttons and lose the game. However, it is still up to you, and you have the power to choose how you want to spin the reel. You can even try both features.
Win Primal Megaways Slots
Your goal is to win and multiply the stakes. After spinning, you can try your luck and land on three or more matching symbols. You can have Primal Megaways big wins of up to 50x your stake.
The Main Slot Features
The main feature of Primal Megaways that makes it stand out from other slot games is its free spin round. It can be obtained when you land three or more scatter symbols and get up to 30 free spins and a multiplier of 6x. Also, there is a mystery multiplier feature during free spins where it can land on your last five reels, and you can multiply your stake by about 7,776x.
The high volatility of the game is not a problem, with the guaranteed free spin feature with which you can get free spins when you earn less than 10x your bet. There are also over 40,000 ways to win. The autoplay feature makes it easier for you to play. You don't need much effort, and you just have to wait for matches and collect scores and rewards.
You can also enjoy its mobile compatibility feature. It will allow you to play the game anytime and anywhere. It's convenient for players to go out or enjoy the game as a pastime or recreation. You also have the option to play for free when you just want to have fun. The demo mode of the game is one of its best features.
The game's graphics and sounds are also commendable. The animation for the primitive times is excellent, allowing the players to visualize the animals down to minute details. Even the sound selection is in line with the storylines. You can enjoy the good music together with the cartoon graphics.
There are several reviews of the game out there, but it's still better to experience it firsthand. Try it out yourself and get lost in this imaginative and creative slot game.
Free Spins and Bonuses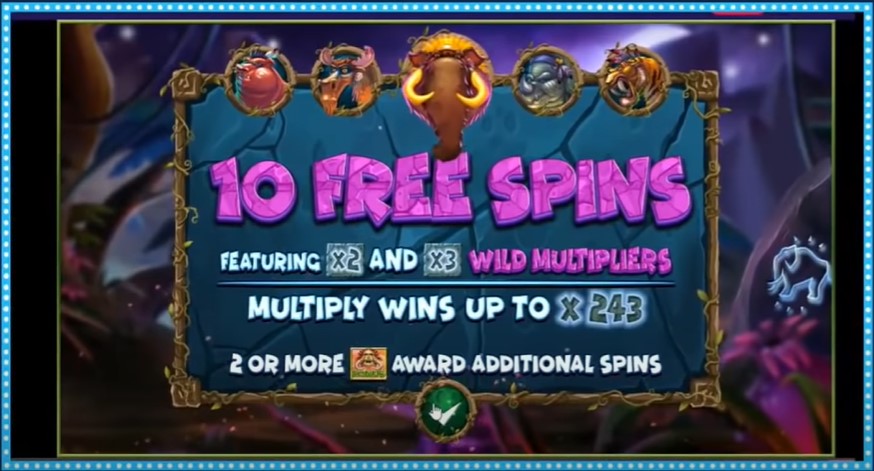 You wouldn't think twice to place that bet with the special bonuses. Users can get free spins and even have big multipliers. These bonuses make up for the high volatility of the game that players who like risks enjoy. Here are the bonuses you can encounter:
Free Spins – The more Scatters you have, the more free spins you earn;
Mystery Icons – These are random icons that can transform into a symbol you've been waiting for in the paytable, except Wild or Scatter symbols;
Free Spins Guarantee – Earning less than 10x your bet would give you a free spin;
Scatter Bonus – Get free spins and up to 6x multipliers.
Multiplier Wilds
Wild multipliers are bonuses you can collect when you gather three or more scatter symbols. The multipliers will boost your scores and earn you a lot.
Collect bonus symbols and enjoy multiplier wilds!
3 scatters – 10 free spins + up to 3x Wild Multipliers
4 scatters – 15 free spins + up to 4x Wild Multipliers
5 scatters – 20 free spins + up to 5x Wild Multipliers
6 scatters – 30 free spins + up to 6x Wild Multipliers
Don't worry. Even without bonus symbols, you can have 10x Wild Multipliers with the free spins you've earned.
Guaranteed Win
Unlike other slot games, Primal Megaways has a feature to assure you of a win. High volatility will be bearable once you know that you have a chance to still win after losing. If you have been unlucky more than ten times, there is an automated retrigger for a second chance to score and win.
Symbols & Paytable
The theme of the Primal Megaways slot is the stone age. Thus, its paytable uses a storyline filled with symbols that dates back to primitive times.
The game icons are divided into their paying value and special deals:
High Value
Wooly Mammoth – 50x
Saber-toothed tiger – 5x
Rhino – 2.5x
Moose, Warthog – 2x
Low Value
10's, J's, and Q's – pay just half your stake back for a full way
K's and A's – double the stake 1x
Wild
Pawprint – substitutes for all other symbols except Mammoth bonus
Bonus
Tusk, Skull of a wooly mammoth (scatters) – can be a multiplier of up to 6x
Play Primal Megaways' Free Demo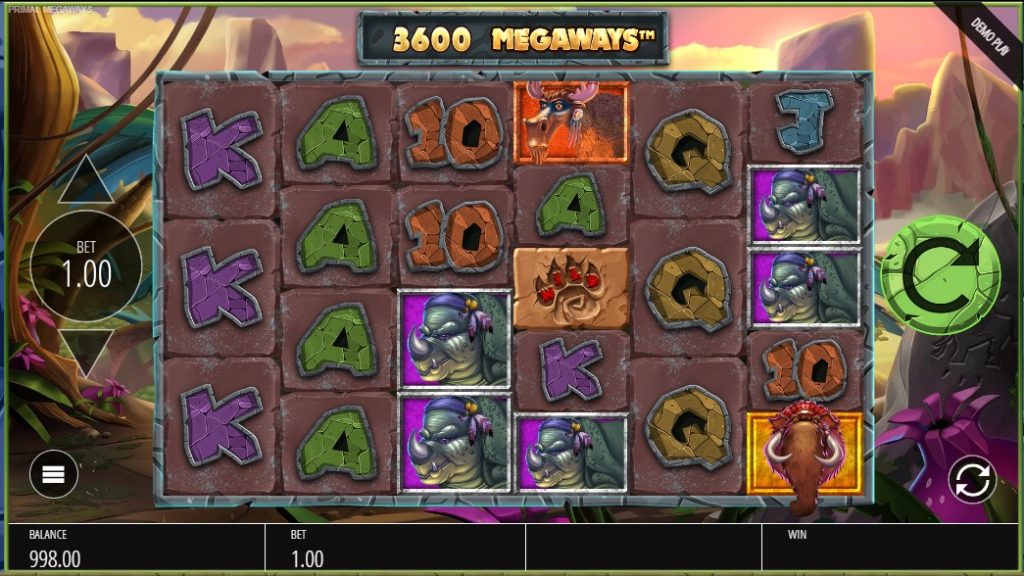 Playing with no limits and having fun without spending a dime is not a problem for Primal Megaways slot's Free Demo. It has the same features as the game that uses actual money. Yet, once you win prizes, you cannot convert them to actual cash.
The Primal Megaways demo allows you to experience the game and be familiar with its mechanics without asking you for any funds. This will help you strategize and aim for the best decisions when you are ready to bet with real money.
You can play the free demo on browsers and apps. However, you have to choose the "Play Free Demo" before you begin. Always remember to check if you're playing in the demo mode because you might end up playing with your saved budget instead.
How to Win Playing Slots
One of your in-game goals is to increase your bet by a lot. You can win in video slot games similar to the slot machines at casinos. You must land on three or more same symbols to win in Primal Megaways. You can earn the top prize of 50x your bet when you get the mammoth symbol.
One tip for newbie players is to play the demo version first. The free version would allow you to be familiar with the game. It will help you strategize on when to bet and not. Since the game is powered by automated technology, you can't win all the time. You have to be wise in betting your money.
Play Similar Slots With Insane Volatility
Blueprint has developed a lot of video slots for its game lovers. You can try other exciting slots with similar features as the Primal Megaways Slot. They are as follows:
Rolling Gold – An explosive mining-themed game with up to 2,304 ways to win.
The Goonies – A Steven Spielberg's 1980's iconic film-based game with 6 main bonus features.
World Darts Championship – For all the darts lovers out there, this game is made up of 5 reels and 10 paylines featuring famous stars.
Ted – It's based on the potty-mouthed teddy bear with 11 bonus features.
Return of Kong Megaways – This features the famous monkey, Kong, with 6 reels and up to 50000x stake wins.
Big Money Frenzy – A luxury-themed game with a money spins feature.
Primal Megaways Slot on Mobile
You will not have trouble having fun while on the go with Primal Megaways. This game is also compatible with mobile phones – you can either play it on the browser or download casino gaming apps.
Android
You can enjoy the game on an Android phone. You can go to the Play Store and download casino apps such as 22Bet. Android also uses HTML5 technology so its players can have a full experience of Primal Megaways features on the browser or app.
iOS
Just like Android, iOS uses HTML5 technology that can power the game. You can either use the browser on your Apple device or download casino gaming apps on AppStore to enjoy the game.
Advantages vs. Disadvantages
Online games always have their advantages and disadvantages. Here are some of the pros and cons of Primal Megaways:
Pros
Cons
Available free-to-play
High volatility
Generous Primal Megaways
RTP of 96.76 %
Extraordinary details of graphics
You can play even with just a
small amount of money
Guaranteed bonus feature
Prime Verdict
The gaming industry is filled with thousands of games. Yet, slot games have always been a favorite since they are games of luck with various features from different software providers. Primal Megaways is a creative slot game by Blueprint. It offers the experience of going back to the ages people have not witnessed. The sound and graphics wouldn't let its players down. You even have the chance to play for free with its demo version. You can also win a lot with its bonuses and have guaranteed free spins on a losing streak. So, what are you waiting for? Start spinning and winning up to 7776x your stakes with Primal Megaways Slot!
FAQs
❓ What Is the Primal Megaways Slot?
✔️ Primal Megaways is a slot game by Blueprint. It's a stone-age-themed game with 6 reels, 7,776x multipliers, and 46,656 ways to win.
❓ Where Can I Play the Primal Megaways Slot in 2021?
✔️ Online casinos that offer Primal Megaways are LVBet, Sloty, Playamo, LeoVegas, Slottica, Gunsbet, and Frank.
❓ How Can I Play the Primal Megaways Slot?
✔️ You can play the Primal Megaways Slot like any other slot machine game. Simply spin the reels and wait for the symbols to match, so you win.
❓ How Can I Play Primal Megaways's Free Demo Game?
✔️ You can go directly to your browser on your desktop and enter online casino sites that feature Primal Megaways. There, you can choose the Free Demo Game. You can also use your phone's casino app or browser and play in Demo mode.
❓ Can I Play the Primal Megaways Slot on My Mobile Phone?
✔️ Primal Megaways is powered by HTML5 technology, which is available for mobile phones. Play and enjoy the game anytime and anywhere with either an iOS or Android system.