Great news for all the Rick and Morty cartoon lovers here! Finally, you can spend the whole evening with your favorite characters. The storyline of the slot has all the guys you are used to, even Pickle Rick!
About Rick and Morty Megaways From Blueprint
Big Time Gaming provides the technology and mechanics used in the slot. Just like plenty of other games by this company, the Rick and Morty slot has action-packed gameplay, a complicated and exciting system of symbols, and multipliers.
| | |
| --- | --- |
| Reels | 6 |
| Rows | 7 |
| Paylines | Up to 117,649 |
| Min bet | 0.10 EUR |
| Max bet | 10 EUR |
| Gamble | Yes |
| Jackpot | No |
| Software | Blueprint Gaming |
| Autoplay | Yes |
| Volatility | High |
| RTP | 96.55% |
Blueprint Gaming is very famous for its unique and irreplaceable ideas and solutions. There are plenty of slots with similar features that the Megaways series has, but you will never fail to recognize the work of the company among other slots. Unfortunately, Blueprint Gaming doesn't have many games to offer because it concentrates on quality, not quantity. But based on the products it has released, the future of the soft provider is going to be bright.
Where to Play This Slot Game
Rick and Morty Megaways free play is available at every casino where the real money version is. When you are searching for the right place to enjoy the slot, remember to check the casino's license and reviews. Don't let yourself be pulled in by a high welcome bonus or promises to be provided with the winning of a lifetime.
A decent casino must have a nicely done website with a perfectly working mobile version and a responsible gambling policy. Pay attention to the deposit and withdrawal limits and fees.
How to Play Rick and Morty Megaways
Register at the casino you trust, make your deposit, and don't forget to claim a bonus for it. It is offered by almost every casino.
With each spin of each reel, there will be from two to seven symbols. But no matter how many of them are on the screen, the winning combination can be created only by the same figures landing from the first position.
At least two symbols must be on adjacent reels to make you a lot happier.
Click on the "i" Button to View Payouts
Once the game is loaded, you'll see a tiny "i" button at the top. If you click on it, there will be all possible payouts for you to see. Their number is 117,649 maximum. The most lucrative symbol is Rick. It can bring you 50x your bet in case you have six of it on the screen.
Press the Bill Symbol to Select Your Stake
The range of stakes here is definitely not for high-rollers. You can choose from 0.10 EUR to 10 EUR. Before you decide what stakes you go to, please, think about how to manage your bankroll in the best way.
As respected game developers and experts say, your single bet mustn't be more than 1% of your game budget. In some cases, it may be raised up to 5%-10%, but this is recommended for progressive jackpots and some other betting strategies.
Select a Number of Autospins Along With Limits
After you have had a look at the payouts and set your bet, you may choose the number of auto spins with some restrictions of win and loss.
Hit the Play Button
When everything is ready, all you need to do is hit the play button. Watch your favorite characters move and hope that at least two of the same symbols will land together.
Rick and Morty Megaways Demo Play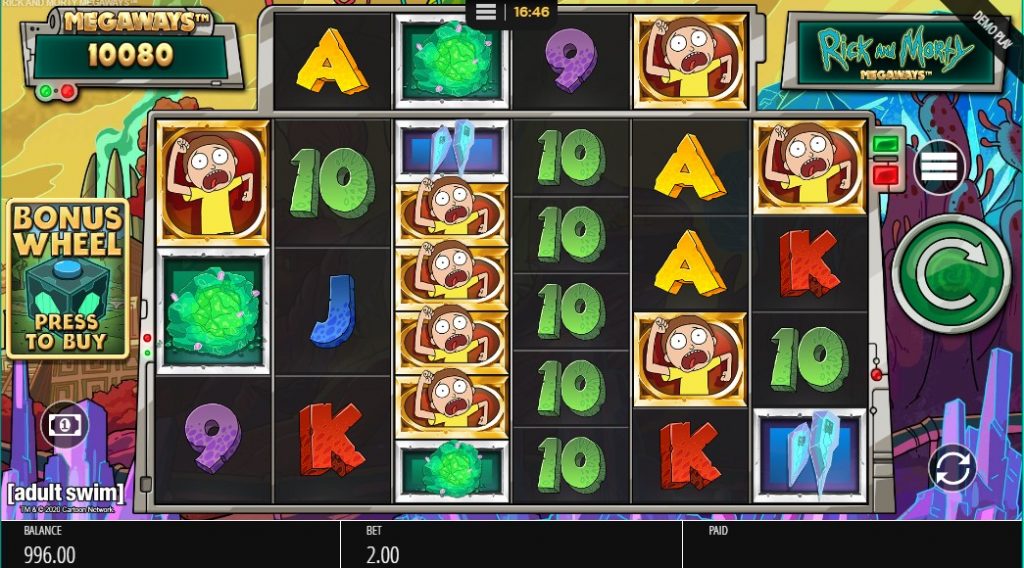 The Rick and Morty Megaways slot free play version has been created especially for players who have never touched a Megaways slot and have no idea what cascading reels and mystery symbols are. It is nice to have a few spins to admire the sound effects and vivid game icons. The designers have tried their best to transfer the min figures from the cartoon to the slot without losing their unique facial features, smiles, and behavior.
However, it is crucial to keep in mind that no demo version is exactly the same as the real version. It doesn't have bonus rounds; it may not have free spins or some symbols. What's more important, nobody can win real money when playing a demo version. Rick and Morty Megaways' free version may give you the top prize of 50,000x, but what's the point if you can't see this money on your bank account?
Possible Free Spins and Bonuses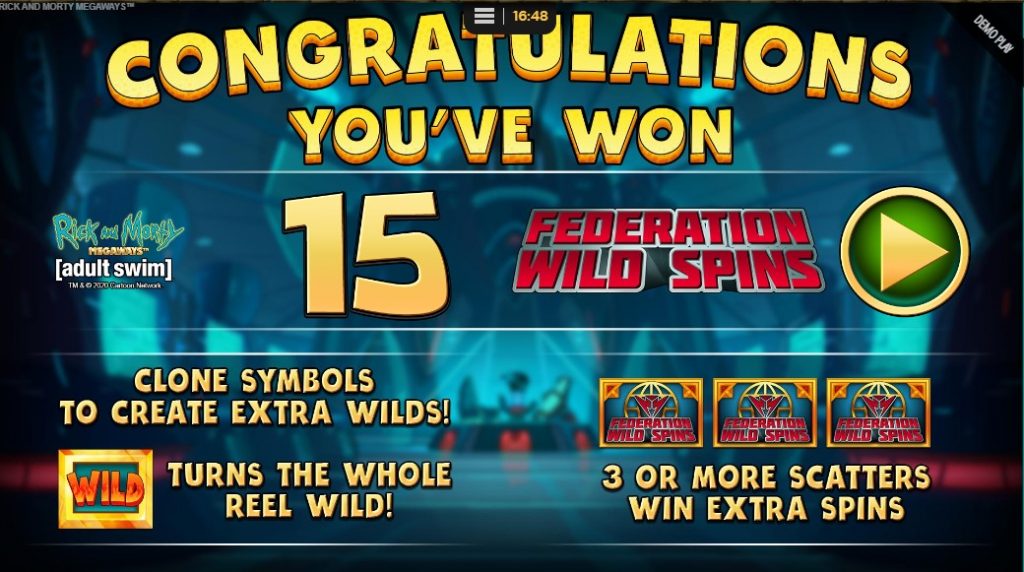 There are low-value symbols, such as 9 to an Ace, and high-value symbols like the green rock, the egg, shards, Morty, and Rick, which is the most desirable symbol as it gives 50x your stake.
Pickle Rick
Pickle Rick is a symbol that activates free spins. This is a standard Megaways bonus; you may have already seen it. All the multipliers increase by 1x if a cascade happens.
Federation Wild Spins
This is a unique spin bonus, where regular symbols are magically transferred into the wild ones. At the same time, expanding wild multipliers are available, so nothing holds you against having additional free spins with scatters.
Vindicators
This is a bonus round. Wish yourself all the luck in the world because here you may get one of the valuable features and from five to fifty free spins.
Mystery Free Spins
A prize wheel also starts this round. The rules are almost the same as for the vindicators – you are going to get a special feature or from five to fifty free spins.
Rick and Morty Megaways Slot Features
When it comes to slot features, Rick and Morty are on top of the world! You can rarely find such unique and TV-inspired features.
One of the most exciting features is a bonus wheel. You don't have to get a bonus round for it, though. If the Mystery free spin feature is yours, the wheel displays from five to twenty free spins. All you need to do is to spin the roulette and test your luck! However, you won't have this amazing feature you don't pay 150x your bet beforehand.
Gamble Feature
When three or more scatter symbols land, you will be given access to a bonus round. A feature is chosen randomly. You may take or leave it as you please. If you decide to gamble for a better one, be prepared that the whole prize may be taken away from you.
Multipliers
The best multiplier is Pickle Rick that gives you 50x your stake. The Pickle Rick free spins feature allows you to get an unlimited multiplier. Everything begins with 1x, then all the multipliers are raised by 1x after every cascade.
If the Wild Zone is activated and a wild lands on a reel, the whole reel becomes wild. When such a thing happens, the payout becomes 5x.
Retriggering
Retriggering is a special mode when you can start another round of free spins without exiting free spins mode. With Rick and Morty, retriggering is activated by three or more scatter symbols landing on the screen.
Basically, retriggering means that you can continue getting more and more free spins when special symbols are activated. If you have three scatter symbols, you get 12 free spins. If you manage to get another three scatters during these spins, you get additional free spins, and so on.
Re-spins
Respin means that you can spin again without losing any of the results. This is a rare second chance, which is not usually given by slot machines.
Developers understand that when you nearly got what you deserve, it is so sad to go away with nothing. With the respin feature, you have more opportunities to reach the in-game goals.
Cascading Reels
Cascading reels is a feature when the symbols are replaced by other ones. It goes with the great visual and sound effects of an explosion. This creates an effect of a cascade that brings unlimited multipliers and bonuses, as well as recalculation of combos.
Similar Slots to Enjoy
Megaways is a wide line of slots that suits the taste of various gamblers. It is impossible to find anything that is similar to Rick and Morty because the slot is so unique. It is based on a particular TV series. But there are slots with similar mechanics and game features.
If you loved Rick and Morty Megaways for free and for real money, try Primal Megaways, Vikings Unleashed Megaways, Diamond Mine Megaways, or some video poker machines.
Mobile Rick and Morty Megaways
The gambling industry has had mobile versions to offer for a long time now. No wonder – our lifestyle often leaves less and less room for fun. We have to manage to fit it in busy working days. Our tablets and smartphones – light, mobile, and useful – are there to help us. The selection of mobile versions of games is vast – it is hard to find a slot that wouldn't have a smartphone version.
Rick and Morty Megaways is no exception. It works on Android and iOS, tablets and iPads, and any other possible device you have. Let Rick and Morty keep you company when you commute or have a rest in the park!
Advantages & Disadvantages
Pros:
Lots of captivating and unique features
The vast number of free spins option
The storylines are taken from the popular cartoon
The top prize is 50,000x your stake
Unlimited multipliers and free spins
Cons:
High volatility
Not a great choice for high-rollers, as the max bet is 10 EUR
Overall Conclusion
The fans of the cartoon must try this slot by all means! If you have never heard about the TV series, you are likely to give a high evaluation to the slot anyway, but those who have watched all seasons several times will surely have more fun! It would be nice if you watch at least the first episode to have the whole picture of what is going on. Who knows, maybe this will fill your film library with one more entertaining and fun yet thought-provoking series.
To play or not to play – of course, the final decision is yours. We can only recommend testing a demo version because the slot looks like nothing you have seen before. That is not just because it is very thematic. Where else can you find such marvelous free spins features, unlimited multipliers, and cascading reels at the same time?
What's more, the slot is very friendly not just because of the atmosphere but also because the minimum bet is only 0.10 EUR. The maximum of 10 EUR may not sound too great for high-rollers, but even they can have a lovely time with Rick and Morty.
FAQ
Here are some things that you may find useful before playing Rick and Morty Megaways. If you haven't found the answer to your question, contact the casino's customer support or go to the Blueprint Gaming website.
❓ What Is the RTP of Rick and Morty Megaways?
✔️ Rick and Morty Megaways RTP is 96.55%.
❓ Does Rick and Morty Megaways Slot Have Free Spins?
✔️ Of course. You can have free spins in a number of ways: 12 Pickle Rick free spins, 12 federation wild spins, 12 vindicators, and mystery free spins.
❓ Is Rick and Morty Megaways a High Volatility Slot?
✔️ Yes, the slot has high volatility, which means your winnings will be huge but rare.
❓ Where Can I Play the Rick and Morty Megaways Slot Game?
✔️ You can play it at almost any licensed casino of your choice.
❓ How Can I Play the Rick and Morty Megaways Slot?
✔️ You have to set the amount of bet you want to make, choose some auto spins if you wish, and hit the play button.