Have you ever tried to make a magic potion or say a spell to transform the reality around you? If not, it is high time to start making childhood dreams come true. The Magic Cauldron will definitely be there for you on this uneasy and bumpy road to success.
About The Magic Cauldron: Enchanted Brew
In this game, you have cascading reels. Each winning symbol on a reel will go to a cauldron that may change into a series of progressive bonus features. Low-value symbols are usually removed from the grid or turned into something more valuable.
Ready for some sorcery?
| | |
| --- | --- |
| Reels | 7 |
| Rows | 7 |
| Lines | 20 |
| Min bet | 0.20 EUR |
| Max bet | 100 EUR |
| Gamble | Yes |
| Jackpot | No |
| Software | Pragmatic Play |
| Autoplay | Yes |
| Volatility | High |
| RTP | 96.44% |
| Release Date | May 27, 2021 |
Where to Play This Slot Game
A lot of casinos all over the world are ready to offer players The Magic Cauldron: Enchanted Brew. Be aware of scams. Always make sure that the casino you have chosen has all the necessary documents and papers. Before you start playing, don't forget to check the cash-out limits, fees, and withdrawal times.
It will be a huge miss if you don't claim a welcome bonus or a first deposit offer. Always do it beforehand. Look carefully at the wagering requirements and see if you can wager your bonus with the help of the Magic Cauldron slot.
How to Play The Magic Cauldron
You will see eight symbols that may form clusters out of four. Jewels give you fewer points than potion bottles. Blue, red, green, and purple gems give you x0.2, x0.3, x0.4, and x0.5, respectively.
Winning symbols are going to be dropped from above. The spellbook can replace missing symbols to create new winning combinations. Your goal is to collect at least twenty-five symbols to trigger a random multiplier. Unicorn Wild symbols move around and give 1x to all the multipliers that you have already got.
Focus on the Hocus Pocus
When playing the Magic Cauldron, keep in mind that bottles with potions bring you more points – and, therefore, more money than bright and vivid jewels. You see the bubbling cauldron on the left from the table covered with different witches' and wizards' tools. Make sure the cauldron gets enough energy and strong symbols.
Mix the Potions
You need to create clusters of five or more matching symbols on the table you play at to unlock multipliers. The best outcome is reached with the yellow potion. It can multiply your prize by 5.
Fill Up on Winning Symbols
Don't miss a bottle with gold potion as it gives you a larger amount of points. If you collect a cluster of five and more from such bottles, you will have an opportunity to multiply your bet by 500 times.
Play the Slot Demo Game for Free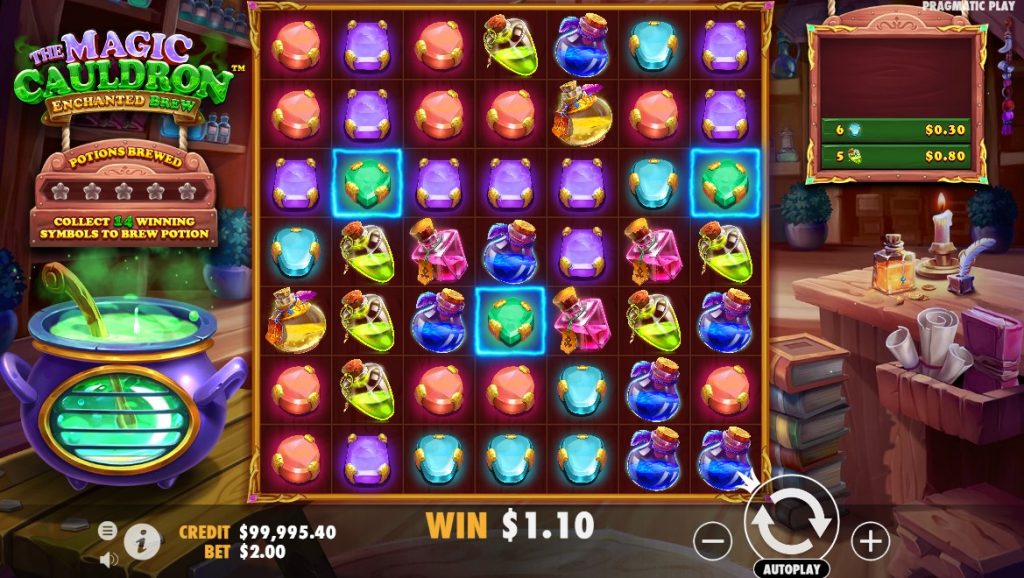 The Magic Cauldron demo is available at many casinos. Usually, it goes along with the real money version. Which one to choose to enjoy depends on your goals and your experience. For novice players, it is not recommended to dive into the world of real risk straightaway. Such gamblers have to try dozens and dozens of games to find out what they prefer and what game style suits them the most.
However, suppose you are an experienced player, or you at least have a clear picture in your head of how slots work. In that case, you are probably seeking emotions and considerable amounts of money as a reward for your skills training. In this case, you may not need to play The Magic Cauldron: Enchanted Brew demo and go on to play for real money.
Main Features of The Magic Cauldron
The game features are suited to the cellar's owner – the witch. She has prepared for you standard bonus features and some progressive ones. Al you have to do is to listen to her and to collect symbols to form winning combinations. If you are a clever and industrious student, the witch will give you wilds, multipliers, transforming symbols, and open up her biggest secrets.
You can also take part in the Moon Seed Mark. If you get five or more winning clusters, you will be treated with a Unicorn Wild.
Hold Option
Nothing must hold you back, according to the creators of the game. Even if you spin and get nothing, the witch can help you with four to eight wilds. Use them wisely! They can form some winning clusters.
Card & Modifiers
You'll get the least amount of money for the jewels or gems. If you manage to have from fifteen to forty-nine of them, your initial bet will be multiplied by up to 10x. If you are looking for something more, pay attention to green, blue, pink, and yellow potion bottles. Once the grid has from fifteen to forty-nine bottles, the minimum multiplier becomes 50x. If your fortune really loves you, you can get up to 500x.
There are two wild symbols – a standard one and a unicorn. The standard wild is in the form of a witch's book, while the unicorn looks like a potion bottle with wings.
Once you reach a certain level in the game, you will be given the potion of darkness. All low-value symbols will disappear from the grid, giving space for the new ones that are usually more valuable than the previous ones. The good symbols will continue appearing as long as you manage to create new winning clusters.
There are four random modifiers:
Befuddlement – it has the ability to transform all high-value symbols into low-value ones.
Invisibrew – all low-value symbols disappear, and new ones, usually better, are falling from the above.
Enlarging Ale – a mega symbol of 3×3 or 4×4 will be given to you and put on any place on the grid.
Balm of Transfiguration – it transfers some low-value symbols into the high-value ones.
Theme and Design
Many men, many minds. Some people find the magic theme and multiple unicorns, potions of darkness, Moon Seed Marks, and elixirs amazing and breathtaking. It is hard to argue with them as the major part of children and teenagers dream about ruling the world in a good way and having some special superpowers.
Some may be down-to-earth and see magic in simple things without the willingness to mix potions and create spells and elixirs.
Pragmatic Play has made the Magic Cauldron free for everybody to enjoy the design, animation, and sounds. Even if you don't consider yourself a witchcraft fan and if you hated Harry Potter as a child, try to have a few free spins. There is a good chance you will be absorbed by the atmosphere.
About Pragmatic Play
Pragmatic Play cares about quality, not quantity. On the one hand, it is a nice way to run a business, as the clients will always stay happy with the product and come back for more. On the other hand, many players would like to have more Pragmatic Play games on the market as they go well with mobile devices. There is no need to download any extra applications. Overall, the company has gorgeous technical solutions, not to mention the nail-biting atmosphere of games. You have a chance to feel the whole spectrum of emotions.
Pragmatic gaming is among the winners of such noble awards as EGR Nordic Awards 2017 and 2018, Malta Gaming Awards for the best slot in 2018 and the best game vendor in 2019, Which Bingo Awards for the best bingo software, and the best slot provider in 2020. On top of that, iGaming claimed Pragmatic Play to be the best software supplier in 2020.
Play The Magic Cauldron: Enchanted Brew on Mobile
As with all the Pragmatic Play games, The Magic Cauldron's free play version and the real money one can be played on various devices, regardless of what operating system or the manufacturer is. If you prefer to play on your tablet, you may do it, as the Magic Cauldron looks beautiful on a big screen.
If you prefer to use your mobile phone on your way – why not? Android or iOS, the game won't freeze or stop at the least suitable moment you can imagine.
Hits and Misses
Pros:
Action-packed gameplay
Win up to 5,000x your stake
High-RTP
Unique game features
Cons:
No free spins feature
No bonus round
Other Magic-Themed Slot Games
Unfortunately, there are not as many high-quality and high-RTP magic-themed slots. Something similar includes Sorcerer's Guild of Magic and Blirix Workshop. Playtech and Iron Dog Studio created those two games – both of them are famous and trustworthy slot machine developers, which guarantee the fair playing policy. Besides, slots connected with a magic theme can be found among Microgaming products.
Final Thoughts
The game is based on the cascades without any bonus rounds or free spins feature. This fact can be a problem for some people. Nevertheless, different triggers, modifiers, and cascades can easily make up for it. What's more, they make the game unique and unlike anything else you might have played. You need also be patient, as multipliers don't pop up here and there most of the time.
The winners of this game usually have a certain level of nostalgia for the good old games when you had to put clusters together. If you feel fancy playing something like "3-in-a-row" or "5-in-a-row," this game is right for you. Moreover, it will provide you with money, which is even better.
FAQ
If you have any suggestions or issues, don't hesitate to contact Pragmatic Play. However, it would be better if you look at the following frequently asked questions or at the same section at the casino you play.
❓ How Volatile Is The Magic Cauldron: Enchanted Brew?
✔️ The volatility is quite high. The maximum win you may get is 5,000x your stake. But if you take into consideration that you may bet 100 EUR, the maximum win looks pretty tempting.
High volatility means that the winning will be less frequent, but they will include more money. If you are not looking for big sums and just want to enjoy the game without emptying your wallet, it is better for you to choose low volatility slots or so-called penny slots.
❓ Is There a Free Spins Mode in The Magic Cauldron: Enchanted Brew?
✔️ Unfortunately, there is no free spin feature. But the fact is pretty well made up for by cascading reels and numerous multipliers and combinations of clusters. The game is unlike other games, so it has features you won't see anywhere else.
❓ Can I play The Magic Cauldron: Enchanted Brew Slot for Free?
✔️ Yes, you can play a demo version to find out whether you like the theme and atmosphere or not and see how the game works. Once you are over with those tasks, switching to the real money game will help you to get the full experience.
❓ What Other Games Can I Play Alongside The Magic Cauldron?
✔️ There are some magic theme games at various casinos regardless of the location you are currently in. For example, it can be Abundance Spell, Enchanting Spell, Madame Destiny Megaways, and Dark Queen.
❓ Can I Play The Magic Cauldron Enchanted Brew Slot on My Phone?
✔️ Yes, the game goes well with smartphones and tablets.