Warrior Graveyard Slot is software developer Nolimit City's sequel to the popular Barbarian Fury game. One of the features of Warrior Graveyard is two free spin rounds, wild multipliers, increasing multipliers, and nudges. Besides, the impressive Warrior Graveyard RTP is 96.15%.
Warrior Graveyard by Nolimit City
Warrior Graveyard slot's biggest win was won by a lucky player on December 13, 2020. It offers players new tricks by introducing some new heroic feature buy options.
The theme takes the player to the dark era of the Middle Ages. The main characters are the revived dead. The background features a cemetery with ancient gravestones, and 3D graphics are used to enhance the atmosphere of horror. The disturbing soundtrack amplifies the creepy atmosphere.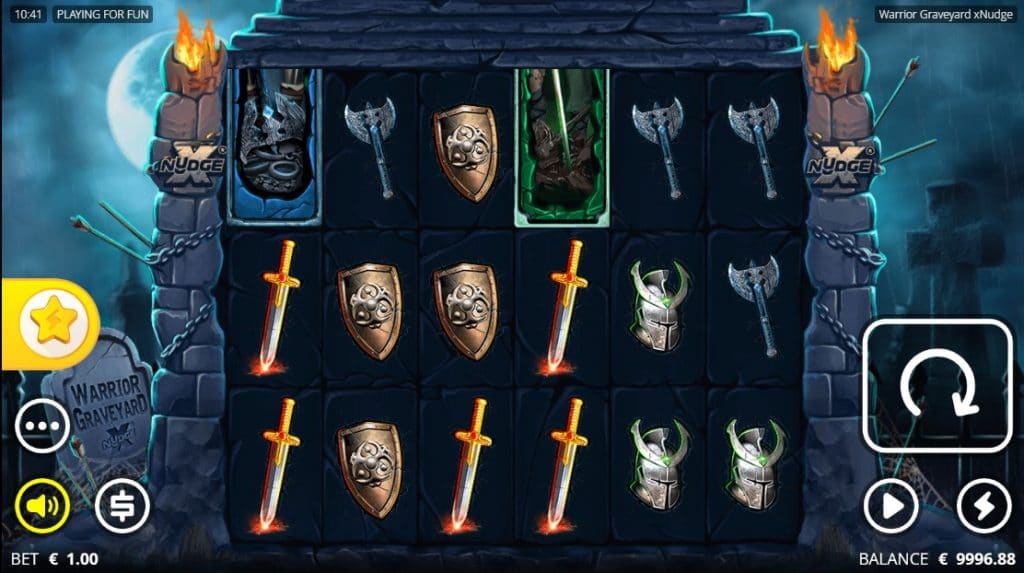 The structure of the main field contains 25 fixed lines, the number of which cannot be changed. The bet on each of them is from 0.25 to 100 coins. 6 reels are launched in two ways – automatic and single spin. In the first case, the number of spins is selected (10, 25, 50, 100, 250, 1,000). Common symbols include images of armor and edged weapons.
About Nolimit City
Nolimit City's development team comprises experienced hands in the gambling industry, and it is located in Sweden. Their gambling software can be played on mobile, tablet, and desktop devices.
Slots Casino
Slots Casino has everything for you to win coins and hit jackpots on the go.
Some other worthy mentions are:
Fastpay
SlotV
Gunsbet
Slottica
Loki
Playamo
How to Play Warrior Graveyard Slot
Warrior Graveyard's control panel is intuitive and suitable even for beginners. Select the bet amount by clicking on the dollar icon. Auto spins are launched by clicking on the triangle, while the single spin – by pressing on the rounded arrow. The three-dot key is used to open the paytable.
The result of every round depends on the built-in Random Number Generator (RNG) algorithm. Winning combinations include three to six identical symbols. They are scored from left to right.
Hero portraits, when appearing on the screen, stretch by three cells vertically. The skull is a special Wild / Scatter symbol. Thanks to the xNudge function, it moves both up or down. The multiplier increases with each shift.
You've just read a brief overview of how to play the Warrior Graveyard slot. However, it is best to go into detail to fully understand the gameplay and succeed at playing this slot game. The following steps will get you playing the Warrior Graveyard slot game in any casino in no time:
Check Out the Payouts and Features
You can play the slot for free to check the hidden parameters and decide on your strategy. Click on Warrior graveyard demo game. When it loads, get familiar with how the system works. You can see the included payouts and features by clicking on the options buttons on the interface. The Warrior Graveyard paytable is as follows:
ax – x0.16 / 0.36 / 1 / 2.8; Warrior Graveyard Paytable
helmet – x0.2 / 0.4 / 1.2 / 2.8;
shield and sword – x0.2 / 0.4 / 1.2 / 3;
skeleton with a hammer – x0.2 / 0.48 / 1.4 / 3.2;
zombie with an ax – x0.2 / 0.52 / 1.6 / 3.6;
a hero with a green sword – x0.24 / 0.56 / 1.8 / 4;
character with a shield – x0.24 / 0.6 / 2/5;
skeleton with a bloody sword – x0.32 / 0.72 / 2.4 / 6.
Adjust Your Bet Size
| | |
| --- | --- |
| Features | Details |
| Slot Name | Warrior Graveyard |
| Reels | 5 |
| Top Win | 9797 |
| Paylines | 25 |
| RTP | 96.15% |
Click on the "$" key and select your Warrior Graveyard demo bet size. The amount selected will pop up. Please note that wagers are between 25 -100 coins.
Turn Up the Spin Speed
You can set Warrior Graveyard's spin speed to fast if you click on the button till it turns yellow. To reduce the spin speed, click on the button again till the yellow button goes off.
Autoplay
To locate the autoplay settings screen, click on the Graveyard Warrior's play button, then set the loss/win limits and the number of rounds you intend to play.
Spin!
Hit the spin button and watch the reels go! Play as many times as you'd like.
How to Win
Six reels and 25 pay lines are featured in the Warrior Graveyard Slot. This online slot has the potential to land more matching symbols for a player – and as a result of these numbers of reels, great combinations can be made.
When the red skeleton symbol appears in your stack, your chances of winning skyrocket!
Warrior Graveyard Demo Play
Play Warrior Graveyard demo is possible at any time, and guess what? All you need to do is to hit the "Spin" button; there's no need to register or log in. You can play the demo to find out what the real game is like.
Warrior Graveyard Free Spin and Respin Features
Nolimit City's Warrior Graveyard comes with a variety of bonus rounds, and each one has unique selling points.
Warrior Attack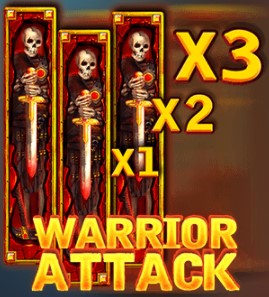 When a player lands three or more matching symbols of graveyard warriors on the reels, this attack feature is opened. The xNudge feature, developed by the programmers of the Nolimit City, is used. What this means is that the matching symbol will cover the whole reel, with its multiplier increasing for each nudge. A payout is made when all the entire symbols are moved to the left; it's that easy.
Graveyard Spins
Another feature known as Graveyard Spins is prompted when a player lands three to five scatters. What this means is that the Tombstone Wilds have infinity multipliers that are sticky the entire bonus. A scatter is needed to prompt the bonus for an additional free spin again.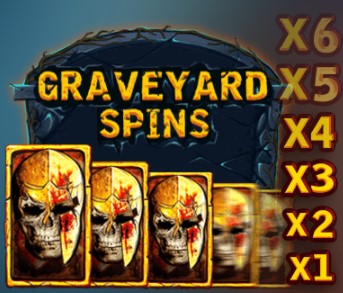 Death Spins
What prompts 14 death spins is landing six scatters. Tombstone Wilds are sticky in this bonus, and they give prizes every time they are prompted.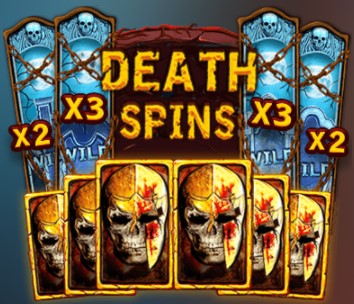 Other Possible Slot Bonuses
Features and bonuses that can be found in the warrior graveyard slot are as follows:
XNudge Tombstone Wild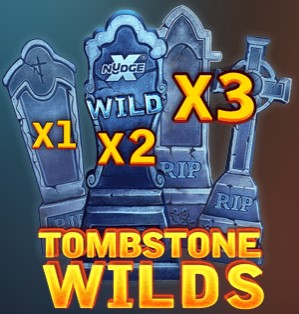 The X Nudge Tombstone Wild feature is seen on the 2nd and 5th reels of the game; however, if the Tombstone Wild overtakes the entire reel, that is 1×3, it will go into nudging form until it is able to cover a whole reel.
Also, the wilds will bring along with them a win multiplier that expands by one every time there is a nudge. They are all represented on all four middle reels, which give you 12x multipliers (3 x 4).
Warrior Graveyard Mobile Compatibility
Warrior Graveyard is designed with effective 3D effects and cool animations. The game can be loaded from your smartphone, tablet, or Apple iOS mobile phone. It delivers a seamless experience on any device. Just load Warrior Graveyard and play from wherever you are. Feel the chills of the free spins and excitement of the xNudge wilds at once.
| | |
| --- | --- |
| Pros | Cons |
| Unique horror theme | Very volatile |
| Top prize of 9797x | Graveyard Spins are not always generous |
| Huge range of bonus features | |
Comparing Warrior Graveyard With Other Games
When Nolimit city created Barbarian Fury, it turned out to be one of the developer's best games. It was an instant hit with players because of its great blend of features and games in an exciting environment.
With this huge acceptance of the online gaming industry, Nolimit was encouraged to create Warrior Graveyard along with a more excitingly dangerous vibe and huge potential. Warrior Graveyard Slot, therefore, comes with some heroic feature buy options and a darker atmosphere. These features include xNudge, Death Spins, and 9797x win compensations. All of these make Warrior Graveyard even better.
Final Verdict
Truly, the Warrior Graveyard slot is an exciting slot produced by the best hands in the gaming industry, Nolimit City, and is ready to take over the gambling world.
This is, therefore, another milestone in the hats of Nolimit city; kudos to them for a great job. This journey began in 2020 with the incorporation of Barbarian Fury into the market and then the Warrior Graveyard Slot.
What then makes Warrior Graveyard great, you may ask. It uses the additional features from Barbarian Fury and blends them to make an exciting gaming experience. Another amazing feature of Warrior Graveyard is the spooky, thrilling atmosphere it enhances when playing. Therefore, if you are in the mood to feel suspense in a creepy ambiance and enjoy detailed graphics and awesome bonuses, Warrior Graveyard by Nolimit City is your ultimate choice!
FAQ
❓ What is the biggest win on Warrior Graveyard?
✔️ The biggest win available on the Warrior Graveyard slot is 9797x your stake.
❓ Is there a free spins bonus available in Warrior Graveyard?
✔️ Two types of free spins exist in Warrior Graveyard. 12 Graveyard Spins are awarded when the wilds' multipliers are sticky. 14 Death Spins are awarded when the wilds give their payouts and have multipliers attached to them.
❓ How can I play Warrior Graveyard slot?
✔️ Simply select the online gambling site that offers Warrior Graveyard free play, access the game, and start playing. It's simple as one-two-three!
❓ How is Warrior Graveyard mobile compatibility?
✔️ Warrior Graveyard is compatible with all devices, including mobiles, tablets, and laptops, of course. Therefore, you can enjoy your favorite game wherever you go!