Starburst (NetEnt) Slot Game
Starburst video slot combines two themes at once: space and collecting various jewels. In large part, precisely this combination explains the popularity of the video game. This creates an amazing atmosphere through which players can fully immerse themselves in the gameplay and go on a space journey in quest of precious stones. All in all, Starburst definitely lives up to its reputation as one of the best slot machines.
In this Starburst slot review, we will provide all the info you need to know before you start playing this game. We will tell you about everything: from gameplay, bonuses, and bets to graphics and music. We will also consider all the features of this game and tell you about the possibility of playing on mobile devices. You will see the pros and cons as well as our recommendations you may find useful while playing Starburst.
Where to Play the Starburst Slot
Briefly about Starburst
Starburst was released by NetEnt back in 2012, but its graphics quality is not inferior to the latest in modern video slots. This is a real hit that has attracted the attention of millions of players. It conveys the nostalgia of playing real classics with the thrill of adrenaline-filled arcades. The Starburst slot machine offers 10 active lines to collect winning combinations. The minimum number of coins you can wager in one round is 10, but you can increase your bet to 100 coins per spin. The denomination of the coin can also be changed. Bets start at 0.10 dollars and can go up to 100 dollars.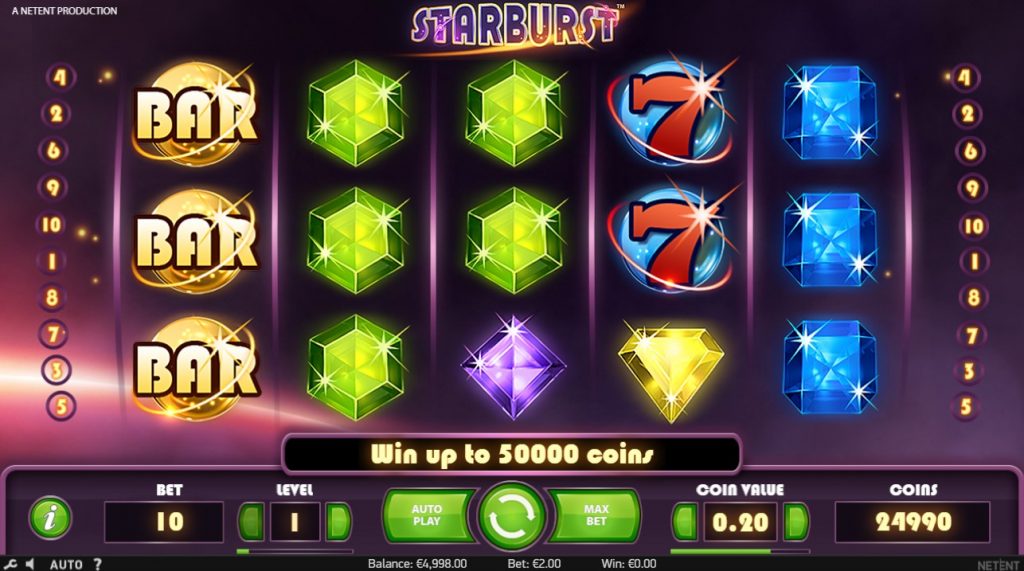 The amount of slot reward depends on how many identical symbols a profitable combination contains. Payouts start when 3 symbols appear in a row, and when the number of symbols reaches 5, they become maximum. Starburst has a large maximum win that reaches up to 50,000 coins. Also, the game has a bonus feature that helps to improve results.
Volatility & RTP
TheStarburst RTPis 96.1%, and this rate is slightly above average ‒ most slot machines have an RTP of about 96%. RTP stands for "return to player", which is a theoretical number indicating how much a slot will pay in the long run. Thus, the house edge in Starburst is equal to 3.9%.
As with most of the NetEnt games, Starburst is considered a low variance slot machine. Low volatility means that you can often expect to receive a lot of small payouts and your bankroll will not fluctuate much when you play Starburst in a casino. This is very good if you want to win back a bonus or just want to have a lot of fun without taking too much risk. In addition, Starburst max winwill please any player, as it equals 50 0000 coins.
Gameplay
The rules in Starburst are straightforward enough even for beginners, and enjoyable for experienced players as all of them can expect frequent payouts. To receive payouts, players need to collect at least three symbols on one of the lines. In this case, characters must be identical to each other. There are 10 standard levels that can be set from a few cents to 100 dollars. The size of the bets depends on the casino you play in. This simple system means that players can easily adjust their bets according to their budget.
There are 7 standard symbols in the game. The most expensive symbol provides players with 250 coins for collecting a combination of 5 in a row. The 7 symbol earns players as many as 120 coins for 5 in a row. The yellow, green, and red gems pay 60, 50, and 40 coins. The blue and purple stones are the lowest paying symbols. To view payments and the cost of each symbol in detail, just click on the information section. There are no specific bonus games, but this does not make this video slot game less popular. Starburst offers a fairly large number of additional features, thanks to which you can get benefits and significant payments. That is why this Slot video game brings such maximum pleasure to players!
It is difficult to imagine such a bright game without special symbols. So, Starburst provides a wild symbol that has unique properties. This is a star with multi-coloured rays, located exclusively on central game wheels. Therefore, it does not build a winning combination on its own, but only replaces other thematic symbols.
This wild symbol has a few principles of how it influences the game:
It appears on 2, 3, or 4 reels;
The wild remains in the initial place when the player makes a re-spin;
Players have three re-spins to collect additional wild symbols.
Appearing on a playing field, the wild symbol spreads over the entire line, turning available symbols into wild symbols. During the spin, rows filled with stars remain stationary. If a wild symbol appears again during re-launch, then the user gets another additional round, without spinning two reels.
The panel in Starburst is very simple, as in all NetEnt products. It has a few typical functions. It includes the Maxbet function, which allows gamblers to play only with maximum bets. There are also displayed the coin value and cost of each spin. The bet amount can be increased gradually by using the corresponding button. If desired, users can turn their game into a real comfortable adventure by using the automatic mode.
In addition, many online casinos provide an opportunity to try a free-play mode of Starburst slot. You don't even need to register or make a deposit at an online casino. This way, you will be able to improve their skills and learn the secrets of the game without risking money. At the same time, you will not be able to withdraw your winnings.
Design
The games developed by the NetEnt studio are popular for their remarkable graphics, visuals, and ground-breaking bonuses. It is safe to say that Starburst includes the best features of the slot machine industry. The color scheme and visual component of the game are captivating and evoke the spirit of classic slots.
The graphic design of Starburst is concise, without unnecessary design components. The main background is a starry sky as if somewhere in space. You can see a lot of small details that create an attractive overall picture. The dark color favorably highlights bright thematic symbols, which are used as multi-colored crystals ‒ this is typical for classic slot games. The animations in the slot are also very attractive and create a sense of lightness. For example, each time you win, you will see an animation of flashing and flicking symbols.
Music
The musical accompaniment is an important element that makes Starburst even more exciting. Here the gameplay and music complement each other perfectly, so it creates excitement among the players.
This mesmerizing soundtrack has influenced countless soundtracks for other slot machines. Calming background music brings a sense of detachment from the world to the game. But everything changes when a winning combination comes up. Players experience excitement, and the soundtrack is replaced by joyful music that evokes intrigue and anticipation.
Bonus Game (Free Spins)
Actually, Starburst doesn't provide any standard free spins features. But the slot machine is focused on the unique expanding wild feature. It will be triggered when the wild symbol will appear on 2, 3, or 4 reels. After that, the wild will expand on the whole reel. It will stay locked and the player will be awarded additional spins. If another wild appears, the process is repeated. The function ends only when no new wild symbols appear during the re-spin. In total, the player can receive a payout of 500 times the original stake.
Other Features
While not really a bonus, Starburst offers a great feature: a both-way win possibility. While most slots only pay out winnings when combinations are reached from left to right, Starburst will also pay combinations received from right to left. This gives players a lot more opportunities to win.
The big advantage is the principle of collecting paid chains. Wins will be paid for each combination that is collected from both sides. If several combinations fall out at once, then the most expensive one is the subject of the payment.
When it comes to payouts at Starburst, the Gold Bar Symbol brings the most, and gamers will receive 250 coins for five in a row. Next up is Lucky Seven, offering 120 coins for the same combination. The largest win is 50,000 coins per spin ‒ if you set the maximum value, you will have the opportunity to win 50 000 dollars.
Biggest Win on Starburst Slot
All information about the current winnings of the Starburst game can be found in the central lower part of the screen in the "Win" section. There are many huge wins in the Starburst slot machine, and you can find a lot of videos on YouTube. For example, you can watch this video to see one of the most incredible wins in Starburst (RnP Casino):
Advantages & Disadvantages
Pros:
Magical atmosphere
Low variance
Potentially huge wins
Eternal Conversion
Starburst expanding wilds
Cons:
Conclusion
Starburst is a great choice if you like dynamic slot video games. It boasts a lot of great and exciting features that will make the gaming process truly unforgettable. For example, this slot has a special expanding wilds feature that can create impressive payouts of thousands of coins. And, of course, the astronomical potential of huge winnings is a great benefit. Although the slot has low volatility and usually provides small wins, there is still a possibility of a huge win.
Without a doubt, Starburst can be called a legendary game that has dominated in the industry for many years. Thanks to its various features and incredible gameplay, millions of players around the world are enjoying the game these days. There are many similar games out there that have tried to imitate Starburst in many aspects, but there is nothing better than the original. This classic will remain at the top for many years to come.
FAQ
❓ What Makes Starburst Video Slot So Special?
✔️ The main attraction and sparkling gem of this game, without a doubt, is the special Expanding Wilds feature. When the wild appears on the reels, it expands to cover the whole line. Thus, players have the opportunity to claim a considerable winning. So, if you like Starburst, you can also try Dead or Alive 2, Iron Bank ‒ these games are also considered the best online slots.
❓ What are the Minimum and Maximum Bets on Starburst?
✔️ This slot machine is suitable for both ordinary players and high rollers. You may choose a coin value from 0.01 to 1, and there are 10 different betting levels. Thus, you can bet from 0.1 dollars to 100 dollars.
❓ Are there any Free Spins Features in Starburst?
✔️ Actually, this video slot doesn't provide any traditional free spins feature. But on the other hand, the developers made a special function for expanding wilds and free respin. Thus, if a wild symbol appears on reels 2, 3, or 4, you have the option of a free respin.
❓ What is the RTP in Starburst Online Slot?
✔️ Starburst has an RTP of 96.1%, which is quite an ordinary rate for video slots. Besides, the hit frequency is about 22.65% ‒ this means that on average you will win for every fifth spin of the reel. Starburst is a low variance game, so the bankroll should last a pretty long time.
❓ What devices can I play Starburst on?
✔️ Starburst is available on any device: PC, notebooks, tablets, smartphones. So, you can play on the go by using your mobile device. It doesn't matter if you prefer Google's Android or Apple's iOS. You can play with your iPhone, iPad, and any other mobile device you want.