Wild Booster is a 5 reel, 25 payline video slot powered by Pragmatic Play. It comes with high volatility, an RTP of 96.4%, and a maximum win amount of 5000x your bet.
Wild Booster Slot Overview
As you might tell from the title, this Wild Booster slot is all about the wilds. There is a wild multiplier that goes off randomly and can multiply your base game wins by up to 100 xs.
There is also the free spins mode, where you can influence the way the game flows, having 2 options to choose from. Whichever one you select results in a special progressive round where your goal is to gain scatters for the sake of triggering additional multipliers and free spins.
Wild Booster is not a complex slot, but it manages to be captivating for thousands of players. There is some definite winning potential here, even during the base game. This is thanks, of course, to the aforementioned multipliers; although, the progressive free spin feature remains our personal favorite.
Introduction to Pragmatic Play
Pragmatic Play is a company that has had a rapid rise in the online slots world, becoming a big name in the industry in just a few years. We're going to let you know a little bit about this online casino software provider. Here, you'll find an overview of all slots and games by Pragmatic Play. Read our reviews or just start playing; it's up to you!
Top-Rated Wild Booster Slot Casinos to Play
The Wild Booster slot is available to play at most top-rated casinos 2021 that have Pragmatic Play as a gaming software provider. They include:
Popular Wild Booster Slot Features & Statistics
| | |
| --- | --- |
| Features | Details |
| Name | Wild Booster |
| Provider | Pragmatic Play |
| RTP | 96.47% |
| Maximum Payout | 5000x |
| Jackpot(s) | No |
| Free Spins | Yes |
| Bonus rounds | No |
| Minimum bet | 0.10 |
| Maximum bet | 100 |
As the gamblers aim for the big maximum win of 5000X the bet, they receive help from the game's features, which include the Wild symbol, Wild Boost, Super Boost free spins, Mega Boost, and Ultra Boost. Play Wild Booster demo to experience all those without any investments.
Wild Boost
When the player spins the reels in the Wild Booster casino game and manages to receive one or more of the slot's Wild symbols, the Wild Boost feature may be activated randomly. Perhaps, you are lucky enough for this feature to kick in! Then, you can experience the festive multiplier in action, which will affect all winning combos that contain a Wild symbol. This multiplier can be worth from 2X up to 100X of the winning sum.
Free Spins
The lucky gamblers will manage to receive three or more of the Wild Booster slot's Diamond scatters. If you succeed in doing so, the Super Boost free spins feature will launch. Then, you will receive a choice of a bonus feature. You can decide between Mega Boost and Ultra Boost.
Mega Boost
In this option, you receive a chance to get a 2X win multiplier. This bonus applies to all winnings you have made throughout the game. It also provides you with 5 free spins. When you receive it, you will have an opportunity to increase both the multiplier and the number of free spins by collecting Diamond scatters. The scatter that you obtained while enabling the features will stay with you alongside the Mega Boost feature. Each time you manage to collect 5 Diamond scatters, you will get 5 extra free spins and an increased multiplier of 5X, 10X, and, finally, 100X.
Wild Symbols
The game's Wild symbol is one of the highlights of the game, as it makes the creation of even more winning combinations possible by covering all other symbols. The only symbol it does not substitute for is the Diamond scatter symbol.
Ultra Boost
Even if you play Wild Booster for free, you will be offered this alternative to the Mega Boost function. For this feature, the same conditions as for Mega Boost apply when it comes to collecting Diamond scatters and increasing the number of win multipliers and free spins.
The only significant distinction is that the player begins the bonus round with a 3X win multiplier. Later on, after you collect 5 scatters, the multiplier can increase up to 6X, 12X, and, finally, 50X.
Bonus Buy
If you don't have the time and patience to wait for the perfect number of Diamond scatters to appear, you can use the Bonus Buy feature to your advantage during the Wild Booster demo. You then pay 75X the bet and get to take part in the Super Boost free spins feature where 3 to 5 Diamond scatters can land.
How to Play the Slot
To start playing Wild Booster at a casino, you have to follow the steps below:
Click the Appropriate Button
Click the play button that is available on the slot title label in the casino.
Download the Game
Once you are taken to the next page, Pragmatic Play's logo comes up on your screen, and the game starts downloading. This will only take a little while.
Start to Play the Slot Game
Simply adjust your bet level and use the spin or auto spin buttons, and you'll be on your way to hitting the jackpot. Once the reels stop spinning, you'll find out if you have won an instant cash prize. You could also start the Wild Booster bonus game on any spin.
Wild Booster has five reels and three rows and has a classic slot appearance. The slot has high volatility, while its RTP is way above average, with a value of 96.47%. There are 20 pay lines, and the players can place bets from €0.20 to €100.
The symbols used in this epic game are related to the fruit theme, paying from left to right on adjacent reels. You will be receiving the following multiplier for 5 symbols on a payline:
Lucky Seven – 30x
Lemon – 15x
Strawberry – 10x
Orange – 7.5x
Cherries – 5x
Spade and Heart – 3x
Diamond and Club – 2.5x
Also, there are the following features that will aid you throughout the gameplay:
The Wild symbol can hit all reels and substitutes all symbols except the Scatter one. You might want to look out for this symbol, as it may help you win big.
The Scatter is a gorgeous diamond featuring the word SCATTER at the bottom. This symbol can land on all reels. Besides, if you spot at least three diamonds on the reels, the game will activate a fun feature.
Play the Free Wild Booster Demo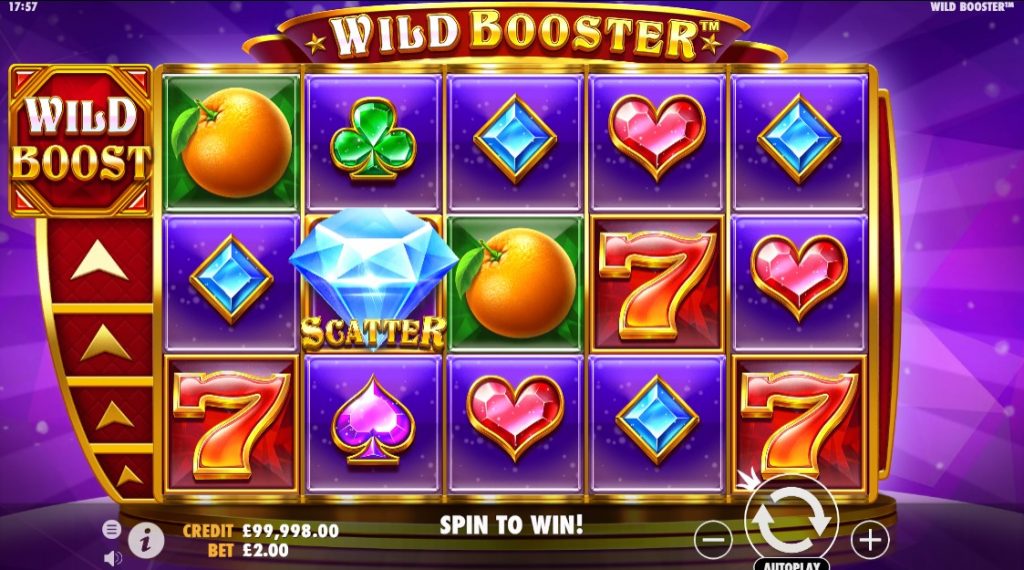 You can play a free Wild Booster demo version of the Wild Booster game. You don't need to register or log in to play this version of the game. This version of the game allows you to play free of charge while showing you exactly what playing the real version looks like.
More Pragmatic Play Slot Games
Throughout the years, Pragmatic Play has managed to make a name for itself in the slot industry; their slot games are available in over 80 countries and in over 20 languages.
Other great slot games offered by Pragmatic Play software company include:
Juicy Fruits: It is one more fruit-themed game that allows the player to dive into a cocktail glass.
Temujin Treasures: A slot that is all about gold and generous bonuses and sets you on a journey of Asian culture exploration and familiarizes you with Genghis khan's dynasty.
Gates Of Olympus: A legendary slot that enables you to learn more about Greek mythology and visualize the gods in all their might.
The rest are Gold Rush, Sweet Bonanza, Lucky Dragons, Vegas Nights, Release The Kraken, Wild West Gold, Vegas Magic, Mysterious, Buffalo King Megaways, Joker King, and The Dog House Megaways.
Best Winning Strategies
We cannot predict or tell you the best winning strategies on Wild Booster free game. Like every other online slot, it is completely random, and your overall winning depends on the outcome of every spin. Therefore, the results of the rounds you play don't depend on a particular strategy and cannot be guaranteed. For instance, your upcoming Wild Booster jackpot or a bonus round may take hundreds of spins or could kick in during the next game you play. After all, the only way to cope with that is by trusting your luck and acting according to the situation. Besides, the unpredictable course of the game is often the reason why so many players find online slots incredibly enjoyable.
Wild Booster Slot RTP
Wild Booster offers an amazing return-to-player rate of 96.47%. The Wild Booster RTP signifies the probability of winning $96.47 if you bet a total sum of $100 within a gambling session. What you actually win or lose in reality will fluctuate around the Wild Booster RTP, however, as it's only a statistical average.
The Good and the Bad
| | |
| --- | --- |
| Pros | Cons |
| Play on Desktop and Mobile | Highly volatile game |
| Free Demo Play | |
| Win up to 5,000x your stake | |
| Random Wild Multiplier up to 100x | |
| 2 multiplier trail bonus round options | |
Wild Booster Slot Verdict
The Wild Booster slot is a relatively new online slot game from Pragmatic Play software gaming developers. It gives players a chance to enjoy a game with awesome graphics that can also give high multipliers. With random activation of the Wild Boost, you will definitely get enthusiastic as soon as a wild symbol appears on the reel. This bonus can give you up to 100x of your bet.
But the true excitement and thrill come when you succeed in activating the Super Boost free spins round. With this, you will be able to make a choice between two different game modes. One option is Mega Boost – it features a rather low multiplier in the beginning but can become extremely high by the end. The second one is the Ultra Boost – its multiplier from the beginning is higher but can't get as grand as in the Mega Boost.
On a positive note, the Wild Booster slot play free version is decent and can offer a couple of great spins while still making us remember the good old fruit-themed games.
FAQ
❓ What is the Wild Booster RTP?
✔️ One of Wild Booster's great advantages is its return to player that equals 96.47%, which is better than what you may typically encounter. The slot's variance is high (5/5), so be careful. Also, keep in mind that bigger wins will derive from the wild multipliers.
❓ How does the Wild Boost feature work?
✔️ When the player manages to hit a win with a wild, the Wild Boost feature is likely to activate. A random multiplier up to 100x is applied to your win. The multiplier can be as low as 2x, too.
❓ What are the top-rated Wild Booster casinos to play in 2021?
✔️ On our page, a list of recommended top-rated Wild Booster casinos to play 2021 is available.
❓ What are the popular Wild Booster slot features & statistics?
✔️ Wild Booster popular slot features include scatters, a Super Boost free spin feature, and 100x wild multipliers.
❓ How can I play the Wild Booster demo for free?
✔️ You can try the Wild Booster free play version by clicking on the demo option in any casino that offers it.